NFL Picks Against the Spread for Each Week 10 Game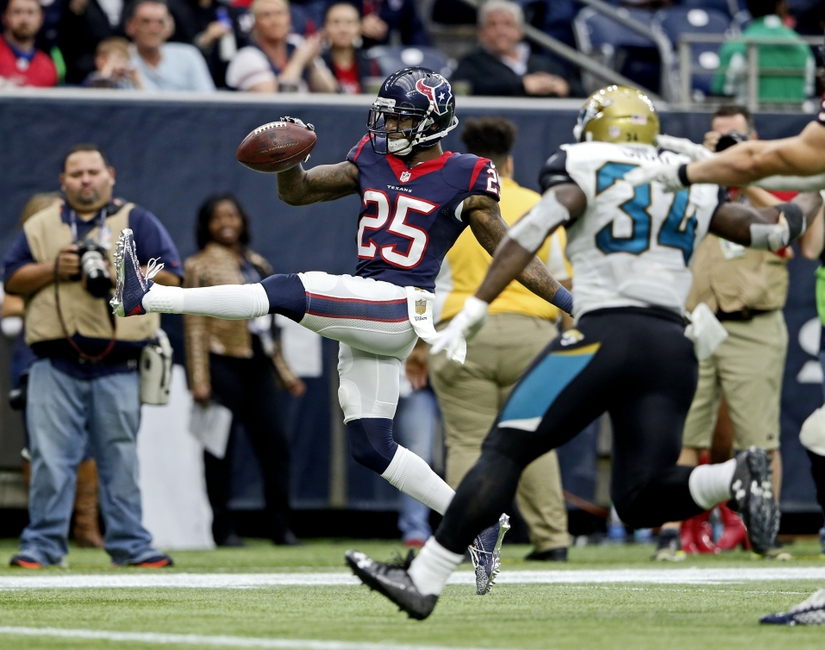 Full NFL picks against the spread for each Week 10 game of the 2016 season.
Whenever you're making NFL picks against the spread, it always gets at least marginally easier as the season goes along. There are a number of reasons for that, be it because of injuries, fatigue, or just generally having a better understanding or feels for teams. While that showed with an over-.500 record with my picks last week, color me worried about Week 10.
Of the 14 games on the schedule (including Thursday Night Football's already concluded matchup), 10 of them have a point spread of three points or fewer. That's an inordinate amount of minuscule spreads. What that tells is that even the oddsmakers don't know what to make of Week 10 and how to play against you making NFL picks against the spread. Oh joy.
Despite my apprehension looking at the Week 10 slate of games, though, I am coming off of a week where I performed quite well.I finished over .500 and just two half-points away from only having three losses on the day. That's no excuse, but it does allow me to make up a little ground on my dismal season-long record.
The hope would be that I can continue that trend with these Week 10 NFL picks against the spread. Of course, I started things off by being abhorrently stupid and picking the Cleveland Browns:
The Browns are now 0-10 after getting blown out—and I'm an idiot. Let's hope an idiot can recover from a loss, though, and either replicate or improve upon last week's positive performance.
Here are my Week 10 NFL picks against the spread.
Week 9 Record ATS: 7-5-1
Season-Long Record ATS (No Picks Week 1): 52-61-4
Atlanta Falcons (-2) at Philadelphia Eagles
If not for this game being in Philly, this spread might even be four points higher. Nothing about how the Philadelphia Eagles have been playing suggests that they have a chance. Carson Wentz has come down to earth a bit. But more importantly, the Eagles secondary has been getting torched over the past two weeks. Maybe you've heard, but Matt Ryan is in the MVP discussion for what he's done with Julio Jones and this Atlanta Falcons offense. Even on the road, I think the Falcons lay a hurtin' on the Eagles come Sunday.
Pick: Falcons -2
Kansas City Chiefs at Carolina Panthers (-3)
I'll say this, the Carolina Panthers have looked like a much different team their last two times out than they did prior to playing the Arizona Cardinals. The team that started the season would've lost in a slugfest like the one they found themselves in last week against the Los Angeles Ram, but they prevailed. However, this is still a flawed team with problems on the offensive line and secondary. While I think it's close and far from a blowout, the Kansas City Chiefs have enough firepower with Dee Ford and the defense to give the Panthers all kinds of trouble. As Alex Smith returns, I'll take the Chiefs as road-underdogs.
Pick: Chiefs +3
Los Angeles Rams at New York Jets (-1)
Neither the Los Angeles Rams or New York Jets have inspired confidence in me this season. The Jets are bad on both sides of the ball, turning the ball over incessantly offensively and getting torched defensively. On the opposite sideline, the Rams defense has been good, but their offense has lows exponentially worse than any other unit playing in this matchup. That said, LA's defense is the best unit that'll take the field and that's going to be my deciding factor. Expect ugliness and a great deal of hapless football, but the Rams win on the road.
Pick: Rams +1
Chicago Bears (-2.5) at Tampa Bay Buccaneers
You can argue until the end of the season about whether or not Jay Cutler should be the quarterback of the Chicago Bears going forward. However, it's unavoidable that the offense looked substantially better in his return. Now they get a favorable matchup against the generous Tampa Bay Buccaneers defense. While the Bears defense is nothing to write home about, this game should at least wind up being a shootout. If that's the case, I like Cutler and the Bears to prevail on the road.
Pick: Bears -2.5
Denver Broncos at New Orleans Saints (-3)
Just a few weeks ago, would anyone have predicted that the New Orleans Saints would be favored in this game? Of course, that was back when the Denver Broncos and everyone else was operating under the assumption that Trevor Siemian could competently carry the offense at quarterback. Questions about the validity of that have since been raised. However, the Denver defense still slows the pass relatively well, which is obviously the strength of Drew Brees and the Saints offense. But after the way Mark Ingram and Tim Hightower ran the ball last week, I see New Orleans being able to mix it up and move the ball. Ultimately, Denver drops their second-straight game.
Pick: Saints -3
Green Bay Packers (-3) at Tennessee Titans
Considering preseason expectations and the notion that the Green Bay Packers started the year with a healthy receiving core, it's a bit stunning that they sit at 4-4. Last week's loss to the Indianapolis Colts may have been the most shocking of all, though. And now they go on the road for a sneaky matchup against another AFC South team, the Tennessee Titans. The home Titans love to run the ball, but the Packers have the No. 1-ranked run defense in the league. Something's got to give—and I think it's Green Bay's defense. Marcus Mariota, despite some turnover troubles, can burn opposing defenses and that Tennessee offensive line should create room to get some work done on the ground. This wasn't who I thought I would pick when I initially looked at this line, but it's where I've landed.
Pick: Titans +3
Houston Texans at Jacksonville Jaguars (-2.5)
One of the idiosyncrasies of the 2016 season up to now has to be this Jacksonville Jaguars team against the spread. Despite sitting at a dismal 2-6 straight-up, they're 5-3 against the spread on year. However, I'm still unsure as to why they would be favored against the Texans, even at home. Even if Brock Osweiler isn't good, this Jags team just took an L from Nick Foles. Maybe there's something I'm missing, but I'm rolling with the Texans in this AFC South matchup.
Pick: Texans +2.5
Minnesota Vikings at Washington Redskins (-2.5)
The tailspin of the Minnesota Vikings has been both shocking and revealing in recent weeks. Three-straight losses and it appears that their opening five-game winning streak was fool's gold. This offensive line might be the absolute worst in the league. Because of that, even their biggest strength in the defense suffers from being on the field far too often. All of these issues can be exploited by a Washington pass rush capable of getting after Sam Bradford and an offense capable of piecing together long drives. This line feels right and I like the home team to cover.
Pick: Redskins -2.5
Miami Dolphins at San Diego Chargers (-4)
Both the Miami Dolphins and San Diego Chargers are riding hot streaks after shaky starts to the 2016 season. Miami has been led by the arrival of Jay Ajayi as a potentially elite running back while the Chargers simply figured out how to close games behind Philip Rivers and the offense. However, I think San Diego simply brings more to the table on both sides of the ball. Their front seven should be able to slow down Ajayi and get after Ryan Tannehill. Moreover, Rivers and Melvin Gordon can move the ball on anyone. This should go to the home team.
Pick: Chargers -4
Dallas Cowboys at Pittsburgh Steelers (-2.5)
One week removed from the Pittsburgh Steelers getting blanked for four quarters by the Baltimore Ravens, they welcome the 7-1 Dallas Cowboys to Heinz Field. Given the peak of the Steelers offense, this line is right. The issues, though, is that it doesn't look like Pittsburgh is at their peak right now. Ben Roethlisberger looked like he's still laboring and I'm not sure another week fixes that. Meanwhile, the Cowboys have proven they can put up points on anyone. Even in a hostile environment, I'm taking Dallas to pick up their eighth win in a row.
Pick: Cowboys +2.5
San Francisco 49ers at Arizona Cardinals (-13.5)
For all of the ridiculously small spreads in Week 10, this one makes up for it. Despite being labeled a disappointment, the Arizona Cardinals are favored by almost two touchdowns at home. However, that should be the case. Even with the Browns being 0-10 now, the San Francisco 49ers are the worst team in the NFL in my book. What's more, the Cards have the personnel to attack their every weakness. Even with the line being enormous, I'm still taking Arizona.
Pick: Cardinals -13.5
Seattle Seahawks at New England Patriots (-7.5)
You can bill this as a Super Bowl XLIX rematch all you like, but there are two different caliber of teams playing on Sunday Night Football. Tom Brady has the New England Patriots playing on another plane than most other teams in the league. Meanwhile, the Seattle Seahawks still have glaring holes that can be exploited. Moreover, Seattle is on the road, traveling cross-country, and playing on a short week. Touchdown Tom, you've swayed me again.
Pick: Patriots -7.5
Cincinnati Bengals (-1) at New York Giants
Sitting at 5-3 and in second place in the NFC East, it's understandable to be a bit enticed by the New York Giants getting a point at home. It's even more appealing considering the struggles of the Cincinnati Bengals through their first eight games. Still, the Bengals seem equipped to attack the weak points of the Giants defense while New York has been a mixed bag on both sides of the ball all season. With the thought of A.J. Green and Tyler Eifert having their way, I'm taking the Bengals on the road on Monday Night Football.
Pick: Bengals -1
This article originally appeared on