NFL Must Make Pass Interference Reviewable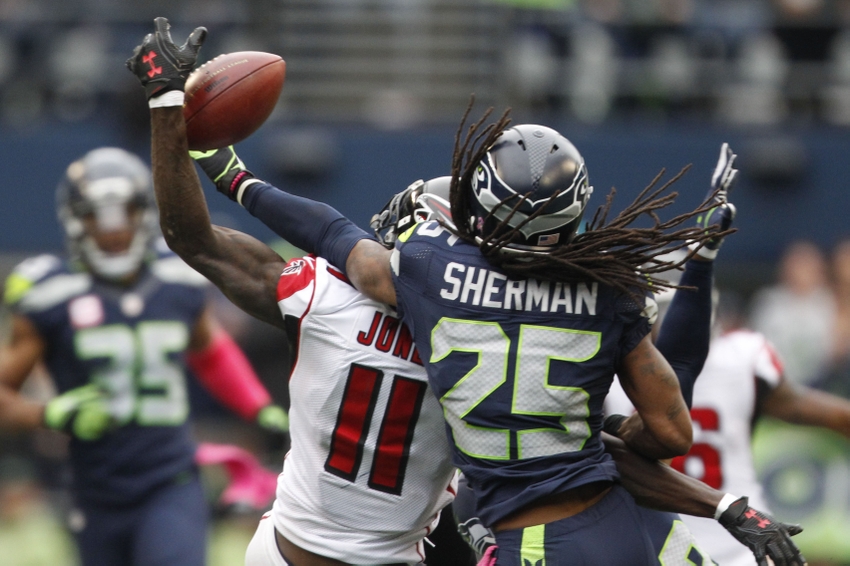 The topic comes up every NFL season and it's time once again for the league to seriously consider making all pass interference calls reviewable.
Pass interference calls that occur during NFL games are the most controversial in all of professional sports—even more so than an umpire's strike zone during a MLB contest. Under the current rules of the NFL, any pass interference penalty results in an automatic first down with the ball spotted where the foul occurred. Currently, pass interference penalties are not reviewable because they are judgment calls.
It's 2016. All of us in the football community can admit something needs to change.
Before getting to the main point, it's worth noting not everybody in the NFL believes pass interference calls should be reviewable. Per Brady Henderson of 710 ESPN Seattle, Seattle Seahawks cornerback Richard Sherman does not want pass interference to be reviewable:
"If you watched every offensive snap of the line play in slow motion, it would look like a hold of some sort or a hands-to the face," he said. "It's just football. If you replay everything, then it's going to be on every play. Every play on the line, every play in the secondary, you can call a penalty anytime, on both sides of the ball."
Sherman also believes pass interference penalties should be 15-yard fouls, not spot penalties, on both sides of the ball. I respectfully disagree with one of the best cornerbacks in the NFL today, even if I do understand the points he was trying to make.
The Seattle corner's idea of making pass interference calls 15-yard penalties is, to borrow from a song lyric, equal to putting a band-aid over a bullet hole. Echoing what ESPN's Kevin Seifert wrote this past July, marking-off pass interference penalties to 15 yards gives a cornerback who is badly beaten on a deep ball an opportunity to save face and a touchdown by bringing a wide receiver to the ground when that player has no chance of making a play on the ball.
Such an idea isn't going to fly in this sports universe where fantasy football is king and teams scoring offensive points is desired by those running the NFL.
Week 6 of the 2016 season provided multiple arguments for making pass interference calls reviewable, particularly in the contest involving the Baltimore Ravens at New York Giants and the game featuring the Atlanta Falcons and the Seahawks.
Giants cornerback Dominique Rodgers-Cromartie was flagged for pass interference late in the fourth quarter of the Week 6 contest when replays showed he made no contact with wide receiver Breshad Perriman. That call, fortunately for the Giants, did not cost New York the game.
Atlanta wasn't so lucky. The previously mentioned Sherman grabbed the arm of Falcons wide receiver Julio Jones on a fourth-down pass play with roughly 1:30 left in the game. Atlanta would've received the ball near the Seattle 35-yard line with a timeout in-hand had pass interference correctly been called. The referee kept his flag in his pocket, though, and the Seahawks ran the clock out to win, 26-24.
Replay would've been beneficial for the officials and teams on the field in both instances.
In a piece posted on October 18, ESPN's Seifert answered those who would wish to prevent the NFL from making pass interference calls reviewable:
Alarmists use the slippery slope argument as a shelter. They're like the people who bought stock in dial-up internet companies as broadband was being introduced. Protecting familiar territory can't stop progress, and the NFL has a clear choice here.
A pass interference penalty can make or break a game unlike any other call in the NFL. "At 14.5 yards per pop," Seifert wrote, "pass interference penalties can have an outsized impact on a game's outcome, and it should be classified separately."
Sherman's concerns, while likely selfish and at least somewhat motivated by a worry he'd be flagged more often if pass interference becomes reviewable, are valid and need to be addressed. Enter a personal favorite idea of mine:
I call it the "Common Sense Official."
You're a passionate football fan. You've been watching football for years, maybe even for decades. I've been watching football for roughly 30 years. We know the difference between blatant pass interference and two athletes making equal contact as they attempt to catch or deflect a pass. This isn't rocket science. I'd argue, with the help of high definition and multiple camera angles, no fewer than 8-of-10 pass interference calls are obvious decisions with the help of replay.
Yes, pass interference penalties would still be judgment calls under this system, but the individual or individuals makings these calls would have better looks and ample time to get these crucial decisions right. That's what matters most.
Remember that pass interference would be reviewable both ways under this rule change. A coach could, for example, challenge that an offensive player and not his defensive back was guilty during a given play. Sherman and other defensive backs in the NFL could benefit from this change, as well.
There is no perfect system for anything, let alone for pass interference. There will be hiccups and bad calls if pass interference becomes reviewable. Maybe a couple of years after pass interference becomes reviewable, we'll yearn for the old days. The NFL can always go back if that happens.
Making pass interference reviewable is something the NFL's competition committee must seriously discuss this coming winter. It's for the best for players, teams, coaches and fans.
This article originally appeared on