NFL Mock Draft: Week 14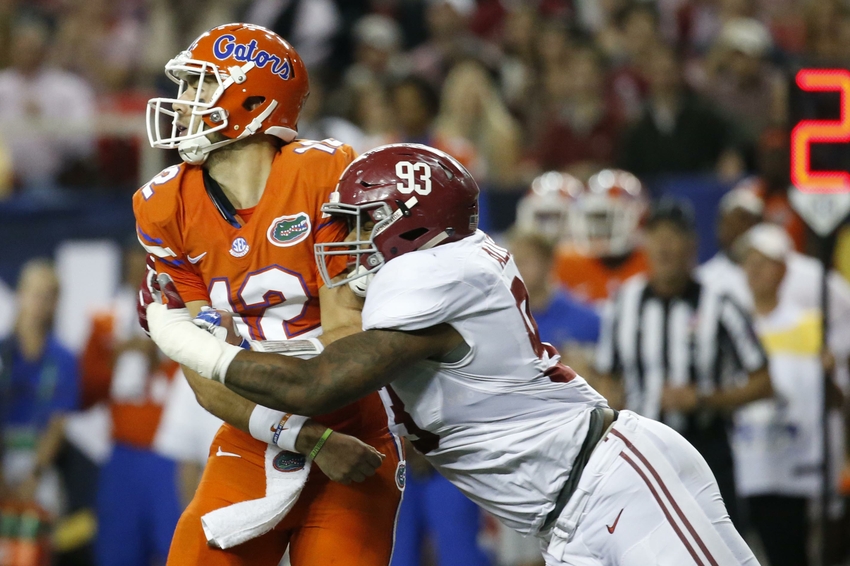 The 2016 NFL season is entering Week 14, and the Cleveland Browns are still searching for their first win. Here is our 2017 NFL Mock Draft entering Week 14.
The Cleveland Browns had a bye in Week 13, avoiding a loss for the first time all season, but are still slated to draft first in the 2017 NFL Draft. Picks No. 21 through 32 reflect the playoff seeding if the season ended today, beginning with the lowest seeds.
Here is our latest mock draft with the draft order based on record, and using strength of schedule as a tiebreaker.
The Cleveland Browns did not lose a game this weekend, but that was only because they had their bye week. After 13 weeks of the NFL season, the Browns are in line to pick first in next April's draft, and are on pace to be one of only two teams to ever finish a season without a win. With that said, they have some glaring holes on their roster, and they actually end up trading this pick away for a couple more draft picks.
If the Browns do hold onto the first overall selection, we like them to go defense, and defensive lineman Jonathan Allen is the best defensive player in this draft. While Myles Garrett of Texas A&M would also be a nice grab, Allen is currently the better of the two prospects. Cleveland needs to be strong up front if they want to climb out of the cellar in the AFC North, and Allen would be a nice starting point.
Allen has played on some great teams during his time at Alabama, and he should play for a second consecutive national title this season. He has the size and speed to play all along the defensive line, and could be used in different schemes if need be. Whether or not the Browns hang onto this pick, Allen should be the first player selected, and Cleveland desperately needs some star power on its defensive line.
Last week, the San Francisco 49ers looked like the worst team in football, and they just may sneak into the top spot in this draft if they continue to play the way they did against the Chicago Bears. They absolutely need help on the offensive side of the ball, as the Colin Kaepernick tenure is most definitely over. There just is not a sure-fire franchise quarterback in this draft, so taking an elite defensive prospect is the way to go.
Myles Garrett of Texas A&M could be the first player taken overall, but if the Browns do decide against it, do not expect him to be on the board for long. In fact, Garrett and Allen are pretty close in terms of their NFL potential, and both are likely to have an immediate impact on the NFL level. Garrett is extremely explosive off the edge, and would instantly upgrade one of the worst pass rushes in the entire league.
The 49ers are in bad shape, and they will likely try to upgrade the quarterback position in this draft. The thing with this quarterback class is all of them are hit and miss, meaning they can reach for one in the later rounds and possibly find a gem, kind of like the Dallas Cowboys did last year. Whatever the case may be, the defense is going to have to come up big if the team is going to compete next season, and Garrett would give them the kind of pass rusher they are seriously lacking this season.
On Monday, Michigan's Jabrill Peppers was named a finalist for the Heisman Trophy. Following in the footsteps of another great defensive player for the Wolverines, Peppers will look to join future Hall of Famer Charles Woodson as winners of the coveted award. While he is not the front-runner to win, he is definitely a front-runner to be picked within the first three selections in next April's draft.
Peppers is a do-everything type of player, and his position at the next level will be decided once he gets to camp. While he did play linebacker at Michigan, he may grade out to be a safety, as he has the speed and size to be an elite player at that position. The junior also has tried his hand in the return game, and on offense, and would give the Jacksonville Jaguars a versatile player who could make an impact all over the field.
Jacksonville was supposed to take the next step this season, but that certainly has not happened. Quarterback Blake Bortles is likely to get another season to figure things out, but the team may look to go that route in next year's loaded quarterback class. For now, they would be getting an elite player if they were to select Peppers, who is one of the better all-around athletes to play college football in recent memory.
The Chicago Bears won their first game with Matt Barkley as their starting quarterback this past weekend, as they trounced the hapless San Francisco 49ers. While Barkley did play well in the game, his future is not as a franchise quarterback, so the Bears should look to draft a new signal-caller next April. University of North Carolina's Mitch Trubisky is the best quarterback prospect in this draft, and he would be a perfect fit in Chicago.
The best thing about Trubisky is that he rarely makes mistakes, which is something the organization has had to deal with since making Jay Cutler their starting quarterback. Trubisky is also the best pocket passer in this draft, so his learning curve is going to be shorter than the other quarterbacks available. Chicago is awful this season, but injecting a player like Trubisky under center next season would give them the light at the end of the tunnel they have been looking for.
It is always difficult to stick a rookie out there and expect wins, but it has happened before. Trubisky is going to go into the 2017 NFL season as the most NFL-ready of all the quarterbacks drafted next April, and Chicago needs someone who can jump in and start right away. He did not get a ton of experience at North Carolina, but from everything I have seen, he is ready to lead an NFL franchise. The only issue is going to be bolstering the offensive line in front of him.
The New York Jets put on an embarrassing display this past Monday night, as the Indianapolis Colts came into MetLife Stadium and destroyed them in front of their home crowd. Head coach Todd Bowles looks to have lost his team, as they do not even have an identity on defense. We know that quarterback Ryan Fitzpatrick is done in New York, and it will be Bryce Petty's show the rest of the way, but it is the performance of the team's defense that has people scratching their heads.
This Jets team was supposed to be led by their defense, as they have some incredibly talented players up front and at the linebacker position. Veteran Darrelle Revis was supposed to lead the way in the secondary, but he looks like a player who does not want to play football anymore. On a few occasions on Monday night, he just decided not to play defense, and it appears that Revis Island is officially open to whoever wants to visit.
Adding a shutdown cornerback is going to be a necessity next April, as it appears the team will roll with Petty and possibly 2016 second round draft pick Christian Hackenberg at quarterback. Alabama's Marlon Humphrey is the best corner in this draft, and should be the first one off the board. He would slide right in as the top cornerback on this roster next season, enabling Revis to move to safety, or possibly call it a career.
Marcus Mariota is establishing himself as one of the better young quarterbacks in the NFL, and his Tennessee Titans have definitely taken a step forward this season. During the 2016 NFL Draft, the team selected Heisman Trophy Winner Derrick Henry, and the rookie running back has played very well this season. In 2017, the team should look to give Mariota another weapon, but this time, make it an elite wide receiver.
The best wide receiver in this draft is Mike Williams, who is an absolute freak for the Clemson Tigers. Teaming with star quarterback Deshaun Watson, Williams is the kind of wide receiver who can jump right in and be that WR1 that everyone covets. Mariota is only going to get better, and having a true top wideout is going to make him even more dangerous next season.
The Titans play in a horrid division, one that is led by the 6-6 Houston Texans right now. They will pick twice in the first round next April, as this first pick is due to them trading their first overall pick last year to the Los Angeles Rams. If they can hit a home run next April, they could be the favorite to win the division as we head into the 2017 season.
It looks to be the end of the line for the Carolina Panthers, who were blasted by the Seattle Seahawks on Sunday Night Football this past week. Quarterback Cam Newton had an issue with dress code policy, and had to sit out the first series, which resulted in an interception on the first play. There seems to be some dysfunction going on in an organization that is only a few months removed from playing in Super Bowl 50.
While Newton is definitely not going anywhere, the front office has to be concerned with the amount of shots he has been taking. He is the kind of player that you build a franchise around, but that won't be the case much longer if he continues to take a beating. Carolina has a lot of needs this upcoming offseason, but protecting Newton has to be priority No. 1.
Alabama's Cam Robinson is the best NFL prospect at the tackle position in this draft, and he will likely be the first one off the board. He would be a welcome addition to a Panthers team that way too often lets Cam get crushed by the opposition. Robinson can play both sides of the offensive line, but he definitely has the size and strength to protect Newton's blind side for at least the next five years.
What a terrible season it has been for the Cincinnati Bengals, who some believed would challenge for an AFC championship this season. Well, that certainly has not been the case, and they are now looking like they may be drafting in the top 10 next April. The team has a few big holes, but the main fix they need is to bolster their linebacking corps for the 2017 season.
Reuben Foster of the Alabama Crimson Tide is one of the more NFL-ready linebackers that we have seen in recent years, and he would be a perfect fit for the Bengals and head coach Marvin Lewis. Foster is a high-energy kid who is great at going sideline to sideline, and would team with guys like Vontaze Burfict and Rey Maualuga to give the Bengals a dominating set of punishing linebackers.
Quarterback Andy Dalton is a solid player, and once they get wide receiver A.J. Green back healthy, their offense should be fine. They play in a division where they are going to be a contender every year, so they need to make sure this 2016 season is just a fluke. There is only a quarter of the season left, and once training camp rolls back around, you better believe the experts are going to be picking the Bengals to be back at the top of the AFC North.
Drew Brees and the New Orleans Saints are still one of the more high-octane offenses in the NFL, even if they laid an egg against the Detroit Lions this past weekend. They are pretty well set on the offensive side of the ball, as rookie Mike Thomas has emerged as a top option at the wide receiver position this season. The issue forever has been the play of their defense, and more specifically, their secondary.
Lions quarterback Matthew Stafford made easy work of the Saints secondary in Week 13, and that is becoming a pattern for this squad. Bringing in a top cornerback is going to make them so much scarier in the secondary. Luckily for the Saints, this draft is loaded with solid cornerback prospects, and they should definitely be able to grab one of them picking as high as they likely will.
The University of Florida has the best cornerback tandem in college football, as Teez Tabor and Quincy Wilson have absolutely shut down the opposition on nearly every occasion this season. I believe Tabor is the better of the two, and he should be at least the second corner off the board next April. Wilson likely to go later in the draft, but expect the Saints to nab Tabor early, as they make a play to improve their weak secondary this offseason.
It has been a pretty disappointing season for the San Diego Chargers, who have definitely played well enough to be considered a playoff team at this point. The issue has been letting games slip away late, as without some early season blunders, they could be in line for a wildcard spot. However, they are likely out of playoff contention now, after being beaten pretty soundly by the Tampa Bay Buccaneers last weekend.
Quarterback Philip Rivers is still a fantastic player, though his mistakes are starting to become an issue. His real problem has been a lack of a WR1 this season, as his best wideout tore his ACL during the team's Week 1 loss at the Kansas City Chiefs. There are a few wideouts in this draft that could be a WR1 as soon as next season, and Washington's John Ross is one of them.
Ross may be overlooked a bit due to the fact that his quarterback, Jake Browning, gets a ton of publicity. However, he has been the best wide receiver in the Pac-12 this season, which is saying a lot considering USC has a guy named JuJu Smith-Schuster playing the position. He would fit in perfectly with the Chargers offense, and if Keenan Allen can come back healthy, Rivers would have one of the better 1-2 wide receiver duos in the AFC.
While Joe Haden is one of the best cornerbacks in the league, the rest of the secondary struggles mightily against the pass, and their safety play has been atrocious. The LSU Tigers have a man patrolling that position that will make an impact during his rookie season in 2017, and the Browns should look to select him if he is still available at No. 11. Jamal Adams is the most complete safety in this draft, and possesses the skill set that will make him one of the better players at his position at the next level.
The best part about Adams is that he excels in both areas of his game, as he is great in coverage, and coming up and playing the run. He hits with incredible force, and is the kind of safety that can give wide receivers alligator arms when they go across the middle. Cleveland has a ton of holes, but getting two very good defensive players in the first round may be just what they need to kick-start the franchise.
Sure, the Arizona Cardinals may take a quarterback in the first round next April, as starter Carson Palmer is starting to get up there in age. However, there really is no sure-fire player in this draft that he can hand the reins to, so they may wait until a later round before grabbing his backup for next season. I like for the Cardinals to continue to bolster their impressive defense, as that has become the team's identity under Bruce Arians.
The Alabama Crimson Tide have the best defense in college football, and linebacker Tim Williams is a big reason why. Although he has had some character issues while at the school, he seems to have put all of that behind him, and has become a leader of this elite unit. He will likely be playing for another national title next month, and after that, he will definitely be a top pick in next April's draft.
The best part of Williams game is that he goes all over the field, and delivers some punishing hits. He and Reuben Foster give the Crimson Tide such intimidating presences in the linebacking corps, and the Cardinals could definitely use some depth there. Arizona's offense is getting old, but it is going to very important to the team to keep adding quality pieces to a defense that could lead them back to a Super Bowl.
The Buffalo Bills lost a tough game to the Oakland Raiders this past weekend, as they let a huge lead slip away in the third quarter, eventually losing by two touchdowns. Quarterback Tyrod Taylor played very well under center, and running back LeSean McCoy dominated in the run game once again. The Bills defense looked very shoddy, but they have played decent football for head coach Rex Ryan this season.
In the first round next April, we like the Bills to go after some offensive line help, and Wisconsin's Ryan Ramczyk is one of the best offensive tackles out there. Ramczyk helped pave the way for a huge season from running back Corey Clement this season, being an anchor on a line that led the Badgers to a Big Ten West title. Although they lost to Penn State in the Big Ten Championship, Ramcyzk and the Badgers had an unbelievable season, and will now play in a major bowl.
Ramczyk was named first team All-Big Ten, an honor in itself considering how loaded the conference was this season. He has been one of the better offensive lineman in the conference for a few years now, and has helped the Badgers become one of the better running teams in the country. The Bills need someone who is going to protect Taylor's blindside for the next few years, and the big guy from Wisconsin can certainly do that.
With their second pick in the first round, the Tennessee Titans will likely go defense, and they should focus on their secondary. Starter Jason McCourty has been plagued by injuries this season, though he is a very solid player when he is healthy. Adding someone alongside of him is going to be very important for the team next April, and this draft is loaded with talent at that position.
One player who is certain to go in the first round is Washington cornerback Sidney Jones, who grades out very well at the next level. Jones has been the leader of the Huskies defense, as the Pac-12 school rolled through their schedule and into the College Football Playoff. Tennessee is very close to being a contender in the AFC, and adding some quality depth to their secondary is very important, especially in their division.
The Titans are very young, and this season has had its share of growing pains. However, if there is any team in the AFC South that is trending upward it is them, and trading away the No. 1 overall pick in last year's draft may have been the best thing they could have done. This draft has a ton of talent, and the Titans will be a lot better once the draft ends next April.
Andrew Luck is hands-down one of the best young quarterbacks in the NFL, and on Monday night, he showed he can dominate behind a very bad offensive line. Luck and his colts put up 41 points against a New York Jets defensive line that was supposed to be a strength for the team this season. During the game, running back Frank Gore passed Tony Dorsett for eighth all-time in rushing, as the 33-year-old continues to chug along.
The issue for the franchise is that Gore likely does not have many good years left, and they are going to have to replace him very soon. Luckily for them, LSU star running back Leonard Fournette announced he will enter next April's draft this past week, which could mean he may be wearing the Colts blue and white next season. Fournette is a game-changer at the position, and would instantly give Luck the safety blanket he needs.
Obviously the Colts need to bolster their offensive line, which they will likely do in the offseason via free agency. Grabbing a running back is so important because it will finally take some of the pressure off Luck. He has been pounded throughout his young NFL career, and you have to start to wonder when all of those hits are going to start taking a toll on a player whom the franchise once "sucked for Luck" to get.
The Philadelphia Eagles were not supposed to draft in the first round, as they traded away their 2017 first round pick to the Cleveland Browns in order to draft Carson Wentz this past April. While Wentz has played well as a rookie this season, he has started to plateau, and the Eagles season is starting to go down the drain because of it. He is going to be fine, as he has shown that he is the kind of quarterback who can lead a franchise, so no way the team will be looking to draft that position in April.
Thanks to the Minnesota Vikings, the Eagles will actually get to draft in the first round, as Sam Bradford actually paid off for the organization. One area of need they should target is in the secondary, where they can use all the help they can get. The defensive backs have been torched on a regular basis this season, so bringing in some added depth is only going to make them better next season.
Ohio State has one of the better cornerback tandems in college football, as Marshon Lattimore and Gareon Conley have been lights out for the team this season. We like the Eagles to go with Lattimore in this spot, as he has the cover skills needed to play in the a very tough NFC East. The division has become so reliant on good quarterback play, so grabbing a corner in the first round will enable the Eagles to defend against that in the future.
It has been quite an up and down season for the Green Bay Packers, who will likely need to win out if they are going to make it back to the playoffs. Quarterback Aaron Rodgers got off to a rough start this season, but he seems to have found his old magic. Wide receiver Jordy Nelson appears fully healthy after tearing up his knee last season, and Davante Adams and Randall Cobb are great supplementary wideouts.
The issue is at the running back position, where the team has gotten nothing lately. They have tried everything, including signing players nobody else wanted. They need to draft a running back in the first round next April, and Florida State's Dalvin Cook could be just what the doctor ordered. He is a legitimate NFL back right now, and would give the Packers the back they need to get back to the Promised Land.
There is no telling how many years are left in Rodgers' right shoulder, and Nelson is no spring chicken either. This team needs to win now, and bringing a playmaker like Cook is going to take so much pressure off of Rodgers going forward. Cook may very well be gone by this pick, but if not, the Packers would hit the lottery bringing him in to carry the load next season.
The Washington Redskins are so fun to watch play offense, as Kirk Cousins has established himself as one of the better signal-callers in the NFC. While he does make his fair share of mistakes, his never-say-die attitude is a breath of fresh air. The Redskins play in a very tough division, so just being able to put up points is not going to be enough to win year in year out.
Up front, the Redskins could use some help, as they often get pushed around on the defensive side of the line. Michigan State defensive lineman Malik McDowell is one of the more talented players in this draft, and would fill a huge void in the Redskins defensive line. He has the size and speed to play all over the line, and could help the team against the run, and getting after the quarterback.
The Skins play in a division that features guys like Eli Manning, Dak Prescott and Carson Wentz, so being strong up front is so important. McDowell is one of those hybrid players that can be moved around based on the matchup. He has played very well on a pretty bad Michigan State team this season, but it is time for him to leave school and make an impact at the next level.
The Miami Dolphins were one of the hottest teams in football leading up to Week 13, as they had won six straight games. Quarterback Ryan Tannehill is playing better football, and running back Jay Ajayi has turned into a star. The team has also gotten good play from the wide receiver positon, giving head coach Adam Gase some serious weapons on offense.
However, the Dolphins need to do a better job on the defensive side of the ball, as they just cannot seem to get stops on a consistent basis. One area that needs help is getting after the quarterback, which makes finding an edge guy next April so important. This draft is loaded with talented defensive ends, and Tennessee's Derek Barnett is one of the better ones.
Barnett may be the most explosive player in this draft at that position, as he has the size and speed to get after the quarterback on every play. At the next level, he may be used as an outside linebacker or defensive end, but regardless, he is going to be disruptive in the passing game. Miami needs to get some star power on the offensive side of the ball, and Barnett is one of the more NFL-ready players in this draft.
When one thinks of the Pittsburgh Steelers, one thinks of defense, as the Steel Curtain has been putting the hurt on teams for decades. While the current Steelers have some incredibly talented offensive stars like LeVeon Bell and Antonio Brown, they will always be synonymous with having a standout defense. Some of their stars on that side of the ball are getting up there in age, and it is time for the team to find their next great linebacker.
Over at Vanderbilt, Zach Cunningham is making quite a name for himself. Not only is Cunningham one of the more punishing hitters in all of college football, but his athleticism is off the charts. When he isn't jumping over the line to block field goals, he is putting lightning fast moves on offensive lineman to get to the quarterback. He truly is one of those player that you can look at and know they are going to make an impact at the next level.
The Steelers' James Harrison is getting up there in age, and already has retired once in his career. He is nearing the end of his rope, and while physically he looks like he could play forever, it is time for him to pass the torch. The ideal situation would be the team drafting Cunningham, and Harrison coming back for one more year, as the kid could learn a lot from a guy who was once the Defensive MVP of the league.
Out of nowhere, the Tampa Bay Buccaneers are in line to play in the playoffs this season, thanks to an incredible month of football. This young team went into Kansas City and pulled out the win three weeks ago, then suffocated the Seattle Seahawks two weeks ago at home, before beating a very good San Diego team this past weekend. It has been quite a run for a team left for dead only a couple of weeks ago.
The big reason for their resurgence has been the play of their quarterback, who sometimes appears as if he simply wills his team to victories. Jameis Winston has been well worth the No. 1 overall pick spent on him a few years ago, and the franchise is definitely pointing upwards with him under center. Their defense does struggle at times, but they have looked like world beaters lately, and are getting surprisingly good play out of their secondary.
While they could definitely add to their secondary next April, especially at the safety position, we like for them to bolster the defensive line. Out in Utah, Lowell Lotulelei is an absolute beast up front for the Utes, and he actually grades out to be a better pro than his brother, Star, who is a starter for the Baltimore Ravens at the same position. The Bucs just need to follow the plan and keep adding pieces, and eventually they will be a serious contender in the NFC.
Last season, the New York Giants defense was atrocious, as they could not stop anybody through the air, or on the ground. They made some serious investments in the unit this past offseason, and just like that, they have one of the better units in the NFC. However, they may be without star defensive end Jason Pierre-Paul for the rest of the regular season, as he is dealing with a sports hernia, and headed to Philadelphia on Tuesday for a consultation.
While the team is solid on defense, they could always add more, and they may look to bring in their next Jason Pierre-Paul next April. Taco Charlton of Michigan is a freakishly good player, who could be the kind of edge rusher that could make JPP expendable. While it appears JPP has some good football left in him, the team spent a ton of money bringing in Olivier Vernon this past offseason, and may not be able to pay both.
The Giants are loaded on offense, but like we saw in 2015, that is not going to help them win the NFC East. They need to keep bringing in defensive players that are going to help them stop high-powered offenses like the Washington Redskins and Dallas Cowboys. Charlton showed against Ohio State a few weeks ago that he can be as disruptive as any player in college football, and the Giants need that kind of player up front.
The Denver Broncos once again have one of the best defenses in the league, but that does not mean that the rich cannot get richer. The team needs some help at the safety positions, as their secondary is starting to creep up there in age. Bringing in someone to inject some youth into the group is only going to help a team who needs to shut people down due to their inefficiency on the offensive side of the ball.
Denver should look to bring in a safety who can make plays. That player is Malik Hooker, who behind Jamal Adams, is the second-best safety in this draft. Not only is Hooker a solid player, but he has the kind of attitude and work ethic needed to succeed in a team that is led by head coach Gary Kubiak. Hooker has earned everything he has gotten at Ohio State, and it is time for him to begin to dominate at the next level.
During his time at Ohio State, Hooker has been a hawk in the defensive secondary, leading the Buckeyes to the College Football Playoff twice. Not only does he have soft hands, but he is a bruiser when it comes to making plays in the run game. He is so athletic that he can break back on balls after making a mistake, which is going to make him very hard to beat at the next level. The Broncos need to keep adding to their defense, and Hooker could make an instant impact.
While the Kansas City Chiefs may be one of the best teams in football, their quarterback isn't playing well. Alex Smith seems to do just enough to win, which is all well and good as long as the other pieces of the puzzle are doing their job. During their loss to the Buccaneers a few weeks back, Smith proved he cannot win games on his own, which should be alarming for the franchise going forward.
Smith is definitely not the long-term answer at the position, but he could give them a year or two more of serviceable football. Bringing in the next quarterback for the franchise is definitely a priority next April, and there are some names out there who could eventually be a good player the next level. One such player is Deshaun Watson, who has been incredibly solid under center for the Clemson Tigers these last two years.
Bringing in Watson would be perfect for the Chiefs because it would enable him to learn behind Smith. While he is no Dan Marino, Smith is definitely a student of the game, and has the kind of work ethic you want a young quarterback to see. Being drafted this low may be a shock to Watson's ego, but it could wind up being the best thing to ever happen to him.
How in the world are the Houston Texans still in first place in the AFC South? This past offseason, the team went out and spent a ton of money on a quarterback who only started seven games in his NFL career. While it is clear the Brock Osweiler experiment is off to a rocky start, he is going to get to play out at least next year as the team's starter, which means no quarterback for the Texans in round one.
Another alarming issue is the health of J.J. Watt, who has been the best defensive player in the league since he made his debut for the Texans back in 2011. The team does not know what kind of player he is going to be once he returns, and it is time to start planning for life without him. There are a ton of good defensive ends in this draft, and while none is likely to ever be the player Watt is, adding depth to that position is a priority.
One such player is Takkarist McKinley of UCLA, who is regarded as one of the most athletic players at his position in college football. McKinley could play linebacker or defensive end at the next level, as he is fast enough and strong enough to do both. He would fit perfectly into a Texans defense that should hopefully have a healthy Watt, Jadeveon Clowney and Brian Cushing next season.
Don't look now, but the Baltimore Ravens appear to be back, and they certainly are the cream of the AFC North this season. Quarterback Joe Flacco had one of the better games of his season on Sunday, throwing for four touchdowns against a red-hot Miami team. He is getting good play out of an odd collection of wide receivers, and his defense looks up to the task of possibly making a run this season.
Next April, the team should look to continue adding pieces to their defense, and Auburn's Carl Lawson is a very intriguing talent. Not only does Lawson do a nice job getting to the quarterback, but he also has the skill set to play both linebacker and on the edge. He would fit perfectly into the Ravens system, and would give the team another defensive star that opponents fear.
Adding a player like Lawson would give the team some star power that is currently lacking on the defensive side of the ball. Terrell Suggs is getting up there in age, and while safety Eric Weddle was a nice pickup, he also may only have a few years left. Lawson would fit right in with the culture around the building in Baltimore, and it also won't hurt that he would have Suggs' ear early in his career.
The Atlanta Falcons are going to be right up there with the Dallas Cowboys and Seattle Seahawks this year, and they may actually be the best offensive team in the NFC. Quarterback Matt Ryan is having an MVP-type season, and Julio Jones may be the best wide receiver in football. Add to that the fact they have two stud running backs, and this team is going to be able to score with anybody.
The issue with Falcons is that they need help on the defensive side of the ball, as they often let teams creep back into games. All the scoring in the world is not going to help you if you cannot get the other team's offense off of the field. They need to add a playmaker to their defensive line, and Florida State's DeMarcus Walker would be a perfect fit.
Walker is a beast on the defensive side of the ball, and can absolutely kill you in the run, and passing game. He has a knack for getting to the quarterback, but he is also good at filling gaps and making stops in the backfield. He has been a leader on a very good Florida State defense for the past few years, and would have a huge impact on a Falcons teams who may be one or two pieces away from being a Super Bowl contender for the foreseeable future.
What a year the Detroit Lions are having, as they have shaken off the loss of star wide receiver Calvin Johnson, and have actually become a better team without him. While Johnson should one day be enshrined in Canton at the Pro Football Hall of Fame, his former quarterback is having the best season of his career, and is doing it with a cast of wideouts who do not come close to being as talented as Johnson was.
Next April, the Lions should look in-state for their draft pick, as wide receiver Corey Davis has been outstanding for Western Michigan this season. The star wideout has helped the team to an undefeated season, and his highlight reel catches have caught the attention of the entire country. He is a first-round talent for sure, and what a thrill it would be for him to stay in Michigan and play for the Lions.
Davis possesses incredible hands and speed, and would team with guys like Marvin Jones and Golden Tate to give Stafford a plethora of weapons on the outside. In his final regular season collegiate game, Davis set the FBS record for receiving yards in a career, and will go down as the most decorated player in the history of the program. Playing for the Lions would make him an instant fan favorite, and would give them their most talented receiver since Johnson.
The Seattle Seahawks shook off a tough loss in Week 12 against the Tampa Bay Buccaneers in style on Sunday night, throttling the Carolina Panthers at home. With the win, the Seahawks showed why they are considered a Super Bowl contender this season, as they will likely battle the Dallas Cowboys in the NFC Championship. There are not many holes on their roster, so the NFL Draft will be used to bolster their already impressive roster.
One area where they need to get younger is in the secondary, so adding another quality defensive back will be the way to go next April. Cornerback Richard Sherman is still one of the best in the business at his position, and would be an incredible teacher to whomever they add to the roster. Quincy Wilson is one of the better cornerbacks in the all of college football, and has the kind of skill set that would work perfectly in Seattle.
This team is built around their defense, and though they will not have star safety for the rest of the season, they should be able to make a nice run in the postseason. Regardless of what happens in the playoffs, the Seahawks will be picking late in the first round in April, and being able to get a talent like Wilson would definitely be a huge win. Sherman has at least a few good years left, but there is nothing wrong with looking toward the future.
It has been quite a season for the New England Patriots, who had to tread water during the first four games of the season with quarterback Tom Brady suspended. They were able to win three of those four games, setting the stage for what has been a 10-2 season thus far. They are going to have to find a way to replace tight end Rob Gronkowski, who is out for the rest of the season with a back injury.
One area where the team needed help was at the running back spot, though their group of backs have done a nice job as of late. The fact is, they can likely grab a back in the second round, as guys like Christian McCaffrey, Royce Freeman and Jeremy McNichols should be available. Protecting Tom Brady has to be a priority at this point in his career, and the team may want to go offensive line in April.
Dan Feeney of Indiana is the best guard available in this draft class, and he would fit in perfectly in New England. He is a no-nonsense player, who has incredible strength when going up against defensive lineman. Feeney also has great feet, enabling him to block extremely well in the passing game. Brady looks to have a few good years left, so adding some quality offensive lineman should help keep some tread on his tires.
The Oakland Raiders have been the surprise story of the NFL season, as their 10-2 record currently has them as the No. 1 seed in the AFC playoff picture. The team is loaded on offense, and quarterback Derek Carr has established himself as one of the best signal-callers in the game. Wide receivers Michael Crabtree and Amari Cooper are arguably the best tandem in the AFC, while running back Latavius Murray has run very well when healthy.
The issue for the team has been the play of their secondary, which has shown the propensity to allow the big play each week. Oakland brought in Sean Smith from Kansas City to be their top cornerback, but even he has had his games that have left the coaching staff scratching their heads. Fellow corner David Amerson has also played down from his career-year in 2015, leaving the Raiders very thin in the secondary.
Cornerback Desmond King of Iowa has had an incredible career with the Hawkeyes, coming back for his senior season this year to help the team to an upset win over Michigan. After being named an All-American last season, King was basically avoided by offenses in 2016, leading to him seeing a dip in his numbers. Still, there is no question that he was one of the better corners in college football, and should make a fine pro.
Who would have thought when Tony Romo broke his back that the Dallas Cowboys would have the best record in football? Well, the Cowboys have surprised everybody with their 12-1 record, and can clinch the NFC East with a win on Sunday. Two 2016 NFL Draft picks have led the way, as quarterback Dak Prescott and Ezekiel Elliott could both be considered as the NFC Rookie of the Year.
One area where the team could use help is in the secondary, where a solid cornerback would go along way in bolstering the depth in the defensive backfield. Cornerback Adoree' Jackson is so much more than just a cornerback, and would become an absolute star in Dallas. Cowboys fans love big time players, and Jackson has that swagger about him that would team well with likes of Elliott and Prescott.
Dallas is in the middle of a youth movement, and thanks to their huge 2016 NFL Draft, they should be good for a very long time. Not only will Jackson help in the secondary, but he will also play a key role in the team's return game. He is one of the more versatile players in this draft, and if he does make himself available, he should definitely go in the first round.
This article originally appeared on