2017 NFL Mock Draft 4.0: Where the teams that missed the playoffs should turn
Chris Burke/Sports Illustrated
The NFL regular season has wrapped. The bowl schedule, save for the Alabama-Clemson national title showdown, is in the books.
It's time to talk about the 2017 NFL Draft.
O.K., so we've been talking about the 2017 draft since approximately the day after the 2016 draft ended, but we're really due to get into it now. The top 20 spots are set, occupied by the franchises sitting out the postseason. The remaining 12 slots will be settled via the playoffs. (For our purposes here, 21-32 is organized in terms of playoff seed, bottom to top, with overall record used as a tiebreaker.)
Mock Draft 4.0, hot off the presses:
 1. Cleveland Browns: 

M

yles Garrett, DE, Texas A&M
The Browns should be one of those teams keeping an eye on the developing free-agent QB market. Tyrod Taylor in Hue Jackson's system may not be Super Bowl-worthy, but it'd be interesting. Regardless, they should stick with Garrett here. He is the best, most dominant player available, and the Browns' positioning at spots 12 and 36 give them ample opportunity to draft a quarterback.
2. San Francisco 49ers: Deshaun Watson, QB, Clemson
The debate over this draft's QB1 is going to be a ceaseless conversation for the next four months. You'll see Watson anywhere from the top of the draft to Round 2. He should be closer to this spot. Yes, he must improve in his decision-making, reads and mechanics, but he has an outstanding arm — an element of his game that somehow has become underrated — plus the athleticism and experience to put him ahead of the curve.
3. Chicago Bears: Mitch Trubisky, QB, North Carolina
Trubisky is one of those QB prospects that stumbles through stretches where he makes people wonder why he's a top-10 possibility — there were a couple of these stretches in the Sun Bowl. Then, he'll make a throw that reminds everyone of his gifts. He's going to take some time. Perhaps Matt Barkley or another vet buys the Bears a window to let Trubisky develop. The payoff could be massive.
4. Jacksonville Jaguars: Jonathan Allen, DL, Alabama
The Jaguars' secondary took significant steps forward this season, even though the team as a whole stumbled again. Adding Allen would continue to stockpile talent along the D-line. He offers some similarities to Malik Jackson, but whereas Jackson is most dangerous pass rushing inside, Allen actually can kick wide to a 5- or 7-tech and be lethal.
5. Tennessee Titans: Reuben Foster, LB, Alabama (Pick via Los Angeles)
Foster is a special talent. Linebacker may not be the Titans' most pressing need, but it is a need, especially when we're talking about a potential defensive centerpiece. There aren't a lot of linebackers out there who can be equally effective playing the run, dropping in zone or matching up with a running back or tight end. Foster has that skill level. He'll be a long-term defensive anchor in the NFL.
6. New York Jets: Jamal Adams, S, LSU
It's kind of amazing given how impressive he has been all year long, but Adams seems to get better and better each time out. He was phenomenal in LSU's recent bowl win. Adams would make for an intimidating pairing with current Jets safety Calvin Pryor — the LSU product has the range to play mostly high, while Pryor serves as a hammer.
7. San Diego Chargers: M

ike Williams, WR, Clemson
San Diego's need for a physically gifted outside receiver is not as high as it was a few months ago because of Tyrell Williams' rise. Still, another big-play option for Philip Rivers should be a must, regardless of how quickly Keenan Allen gets back from his season-ending injury. Williams can get deep and win 50-50 balls in the air.
8. Carolina Panthers: L

eonard Fournette, RB, LSU
The Panthers may wait to address their other issues if Fournette (or Dalvin Cook) is sitting there for the taking. Jonathan Stewart is about to turn 30, has a contract that essentially expires after 2017 and has been injury-prone. Good luck to the defense that has to contain both Fournette and Cam Newton on those read-option plays.
9. Cincinnati Bengals: D

erek Barnett, DE, Tennessee
Bad season for the Bengals, but they've landed in a nice spot to find a premier pass rusher or a playmaking wide receiver, both of which they need. Barnett wrecked SEC defenses en route to 32.0 sacks. He is a work in progress against the run, but he's also shown noticeable signs of improved strength there.
10. Buffalo Bills: J

abrill Peppers, S, Michigan
There seems to be a lot of angst over Peppers right now because a) Adams and Malik Hooker legitimately might be better overall prospects, and b) it's hard to nail down his position. On the latter subject, his NFL role is at safety — a versatile safety like Tyrann Mathieu or a safety/standout slot corner like Malcolm Jenkins, but a safety. The excitement is in Peppers' upside. He played out of position this year and was a Heisman finalist.
11. New Orleans Saints: Tim Williams, OLB, Alabama
An NFL area scout recently told The MMQB's Albert Breer that "off-field stuff" — like a September gun charge — will hurt Williams' draft stock. Based on what he can do as a pass rusher (and better-than-advertised run defender), Williams is top-10 worthy. Whether it's here or later on, the Saints have to add help off the edge.
12. Cleveland Browns: Quincy Wilson, CB, Florida (Pick via Philadelphia)
Two Cleveland picks, two defenders. Maybe that's not where the safe money lies in predicting the Browns' plans, but how badly could the league's 31st-ranked defense use a potential perennial All-Pro in Garrett and a true lockdown corner type, like Wilson? The Florida DB is big, strong and won't shy away from the league's best receivers.
13. Arizona Cardinals: DeShone Kizer, QB, Notre Dame
It almost makes too much sense for the Cardinals to take a quarterback, so I'm a little hesitant to keep giving them one. Carson Palmer plans to be back in 2017, and Arizona expects to bounce back into contention, so a Round 1 draft-and-develop QB could be a reach. On the other hand, they have to plan for the future — and possibly the present, depending on how Palmer plays — at the position. Either Kizer or Texas Tech's Patrick Mahomes would pair well with Bruce Arians.
14. Philadelphia Eagles: Dalvin Cook, RB, Florida State (Pick via Minnesota)
Cornerback? Sure. Wide receiver? Of course. Offensive tackle? Maybe. The Eagles have ample pressing needs. But running back should be on that list, too. And here, they get what may be the best skill-position player in this class. Cook's Orange Bowl provided a perfect Cliff's Notes on his game: He'll take a few negative plays, but he can explode through the smallest of holes for game-changing gains, be it via run or pass.
15. Indianapolis Colts: Malik Hooker, S, Ohio State
At this point, Hooker would be a steal — flip him into Adams' spot at 6 or Peppers' at 10, and no one would bat an eye. The Colts' defense has to become faster andmore athletic. Hooker checks both boxes as a ballhawking threat at safety. A scary thought: For as great as he was this season, he played just 19 games at Ohio State. The best is yet to come.
16. Baltimore Ravens: Corey Davis, WR, Western Michigan
If a team wants to take Davis in the top 10, I'll be here to pat them on the back. He has WR1 traits that translate to the next level, like his exceptional burst after cutting upfield and his ability to run crisp routes from all alignments. With Steve Smith bowing out, Davis could become a Joe Flacco favorite from the get-go.
17. Washington Redskins: S

olomon Thomas, DL, Stanford
Did you see the Sun Bowl? This dude already looked like an NFL veteran playing against overmatched college linemen. Thomas has the power to push through OTs off the edge, coupled with the quickness to slip past interior blockers. He's a fit for all schemes and all downs. Exactly what Washington is missing up front.
18. Tennessee Titans: Marshon Lattimore, CB, Ohio State
Comparing Lattimore just to his Buckeyes teammate and fellow draft hopeful at cornerback, Gareon Conley, sort of ignores the other dozen or so corners with realistic Round 1 hopes. Should Lattimore emerge from the pack (and separate from Conley), it'll be thanks to his combination of size and willingness to play a physical game for 60 minutes. Rugged man-to-man corners who want to be involved against the run are rare.
19. Tampa Bay Buccaneers: J

ohn Ross, WR, Washington
If a defense loses Ross for even one play during the course of a game, the speedy receiver will burn it. For as reliable a weapon as Adam Humphries has become in Tampa Bay, he does not have the eye-popping acceleration Ross possesses. This is the mold of wide receiver the Buccaneers need taking advantage of the space created by Mike Evans.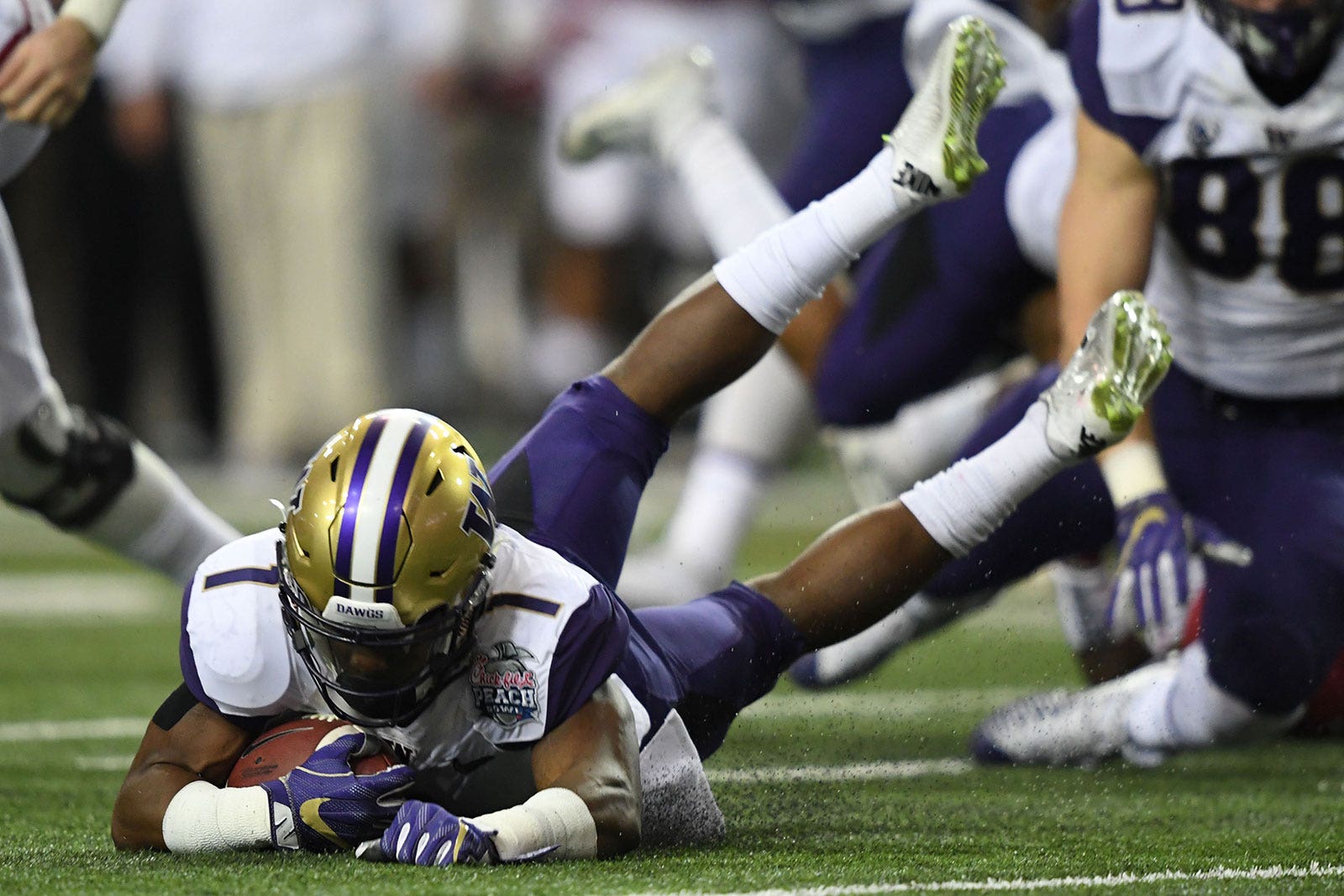 20. Denver Broncos: R

yan Ramczyk, OT, Wisconsin
Now that Wisconsin's season is over, Ramczyk will undergo surgery to repair a torn hip labrum. The recovery timetable could make it so that he's not 100% until after the draft, which might complicate the redshirt junior's decision. Should he go … well, what's not to like? He's long and athletic on the move as a run blocker and was an absolute rock in pass protection this season.
21. Detroit Lions: Z

ach Cunningham, LB, Vanderbilt
Cunningham is a tremendous run defender with the physical makeup to hone his coverage skills beyond what they are now. Foster may be the clear No. 1 LB in this class, but Cunningham is just as solidly in that No. 2 slot. The Lions' linebackers are better when DeAndre Levy's out there, but can they count on him to stay healthy? Without him, that's a woeful unit.
22. Miami Dolphins: J

arrad Davis, LB, Florida
Davis projects best as an inside/middle linebacker but would fit as a weakside defender, too. Those are the spots currently held in Miami by Kiko Alonso and Jelani Jenkins, respectively. The rub: Both are set to be free agents (Alonso restricted). So, Miami could tap Davis as a replacement for either, or depth behind both. The Gators linebacker is a force against the run and he's a sneaky good blitzer.
23. New York Giants: O

.J. Howard, TE, Alabama
Credit where it's due for Will Tye, who caught a combined 90 passes the past two seasons, but he's nowhere near the mismatch-creating mold of the modern tight end. Howard is. Maybe it's overkill to keep adding receiving threats to this offense. Maybe Howard would turn a very good passing attack into one of the league's best.
24. Oakland Raiders: D

esmond King, CB, Iowa
Admittedly, I am higher on King than it seems that the NFL would be. As a cornerback, though, he has the understanding of his position and the physical wherewithal to be a top-two player on the depth chart. And if he winds up shifting to safety, as has been the recent rumor, he might be an even better fit for Oakland.
25. Houston Texans: M

alik McDowell, DL, Michigan State
Jadeveon Clowney just earned a Pro Bowl nod after moving from outside linebacker to defensive end, and J.J. Watt remains an all-world end himself when healthy. Why, then, would the Texans draft another 3-4 defensive end type? Because McDowell would provide them even more versatility up front. He can rush inside, as he did often for Michigan State. He could play defensive end on passing downs, allowing Clowney to kick farther outside. Use your imagination.
26. Green Bay Packers: Teez Tabor, CB, Florida
When healthy, Green Bay's cornerbacks are not nearly as much of a problem spot as they can appear at times. The problem is, with Sam Shields on IR due to a concussion, the depth sort of dies after Quinten Rollins, Damarious Randall and LaDarius Gunter. Tabor would help, both outside and in the slot. His quick feet put him in position to get after the ball.
27. Seattle Seahawks: Cam Robinson, 

OT, Alabama
Should the board fall this way, the Seahawks could face a tough choice between Robinson and Utah's Garrett Bolles. The latter would fit well in their scheme. That said, Robinson flashes ascendant tackle traits and is just begging for an NFL staff to clean up his game.
28. Pittsburgh Steelers: J

ourdan Lewis, CB, Michigan
Tough closing note for Lewis, who struggled in the Orange Bowl. Don't let that cloud the big picture. Lewis has the footwork to mirror quick receivers in tight spaces, and he battles for the ball in the air. (Florida State's game-winning TD over him was an outlier.) The pressing need teams have for excellent slot corners can get overlooked, but that's a place the Steelers can focus. Lewis could be a star there.
29. Atlanta Falcons: D

eMarcus Walker, DL, Florida State
Mentioned above the ability prospects like Thomas and McDowell have to play inside or out. Add Walker to that list, too. He can anchor on the edge against the run, but he's also at times an overwhelming force blasting through the line from closer to the ball. The Falcons' defense would benefit from pairing a player like Walker with Vic Beasley.
30. Kansas City Chiefs: C

hristian McCaffrey, RB, Stanford
Cook has been the player drawing Jamaal Charles comparisons thus far. McCaffrey could be the one to replace the veteran back in Kansas City's lineup. Stanford's star can be a workhorse back if an NFL team needs him to be, but his real value is in how much he can move around on both offense and in the return game. Playing with a QB like Alex Smith who usually thrives in short and intermediate spots, McCaffrey would be a statistical monster.
31. Dallas Cowboys: C

harles Harris, Edge, Missouri
I understand why we can be quick to assume even moderately undersized players will have to swap positions in the NFL. Harris, listed at 235 pounds by Missouri, falls into that DE-to-OLB transition range. But why push a guy out of his comfort zone before seeing what he can do? Harris has been electrifying off the edge for the Tigers, with a spin move that's NFL-ready. At the very least, he could be a passing-situation playmaker for Rod Marinelli.
32. New England Patriots: S

idney Jones, CB, Washington
Washington lost in the playoffs to Alabama, but its defense showed what it could do. Jones was one of the key pieces of that unit, a lanky but strong defender outside. Logan Ryan and Malcolm Butler (RFA) could hit free agency this offseason. Drafting a DB like Jones would make it easier to potentially lose one of that duo, or it would add to the depth New England has outside.
This article originally appeared on