NFL Hot Seat: 5 Coaches who must win in Week 12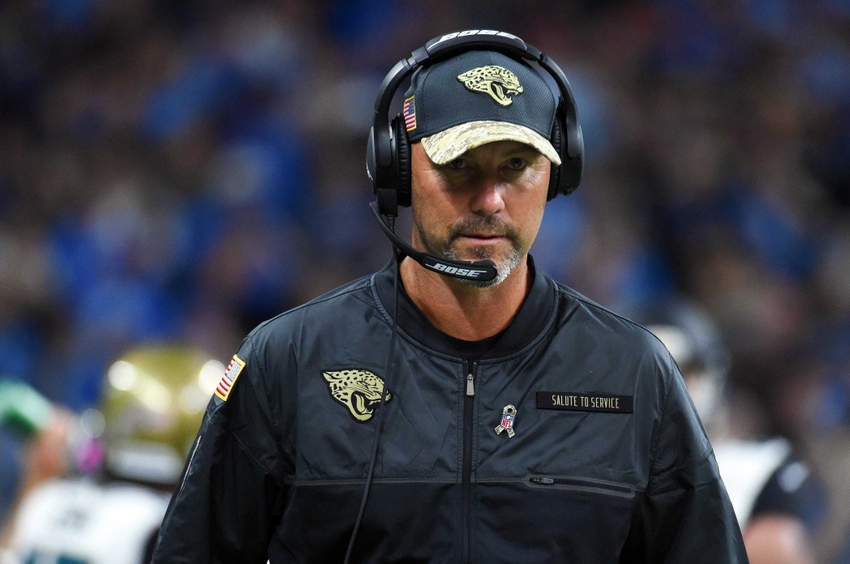 As the NFL regular season starts to wind down, these five head coaches need a win in Week 12 to avoid the hot seat.
It has been a tough season for a lot of reputable NFL franchises, and that means that there are a handful of head coaches who are at risk of losing their jobs at the end of the year.
Teams like the Green Bay Packers, Indianapolis Colts and Arizona Cardinals have had some disappointing seasons so far. However, these five head coaches desperately need to get a win in Week 12 if they want to still be with their respective employers for the 2017 season.
5
Ron
Rivera
Carolina Panthers
I still feel like it's not exactly fair to put a head coach who took his team to the Super Bowl a year ago on the hot seat. However, the NFL is a "what have you done for me lately?" league, and the final few weeks of the regular season could have a major impact on Ron Rivera's future with the Carolina Panthers.
The Panthers barely squeaked by the New Orleans Saints with a 23-20 win last week on Thursday Night Football, but they are still just 4-6 on the year. The playoffs are still a possibility for this team, but with three of their next four games against the Raiders, Seahawks and Redskins, it's not going to be an easy path.
This week's game against the Raiders is almost a must-win. Oakland is firing on all cylinders thanks to Derek Carr's Pro Bowl-caliber season, and the Panthers have had few answers for good quarterback play thanks to a secondary that's without Josh Norman.
A loss this weekend could carry over for the rest of the year, and if the Panthers wind up missing the playoffs, Rivera is going to at least have to have a tough talk with the front office and ownership. He probably won't be fired, but he'll be put under the microscope in 2017.
4
Bruce
Arians
Arizona Cardinals
This is a season that the Arizona Cardinals would like to forget already. Despite coming into the season with expectations of another run at the Super Bowl, the Cardinals have fallen off with just a 4-5-1 record that includes another disappointing loss to the Vikings last week.
Bruce Arians have been a lovable guy that has brought the Cardinals together, but the team is quickly starting to fall apart. Carson Palmer looks like he's at the end of his career, and there are plenty of questions about the future of this offense once their veteran quarterback and franchise player Larry Fitzgerald hang up the cleats.
Yes, the Cardinals still have David Johnson, but there's no clear successor behind Palmer at this time.
Sunday will present another tough challenge for the Cardinals, who will be taking on the Atlanta Falcons. The two-headed rushing attack of Devonta Freeman and Tevin Coleman will be putting Arizona's solid run defense to the test.
The Seattle Seahawks are starting to run away with the NFC West, and if the Cardinals keep stumbling, they can kiss any chance at the playoffs goodbye. Like Rivera, Arians' job is relatively safe, but he'll be firmly on Hot Seat watch for the 2017 season is he can't produce this year.
3
Gus
Bradley
Jacksonville Jaguars
The Gus Bradley era in Jacksonville looks like it's just about over. The Jaguars officially look like a dumpster fire once again this season with a 2-8 record despite some flashes of potential in 2015.
There are countless reasons for the Jaguars' struggles this season, but the biggest disappointment has been the regression from Blake Bortles. The 24-year-old has failed to cut his turnovers down with 13 interceptions already on the year, and his throwing mechanics look flat-out broken.
The Jaguars desperately need Bortles to step up against the Buffalo Bills secondary this week. Jacksonville has some talented weapons in Allen Robinson, Allen Hurns and Julius Thomas, so it will be up to Bortles to get them the ball.
Bradley has gone just 14-44 during his time with the Jaguars. Another loss should all but seal his fate and have him looking for work this offseason.
2
Jeff
Fisher
Los Angeles Rams
Jeff Fisher preached to the Los Angeles Rams all offseason that he wasn't interested in any "7-9 bulls**t". Unfortunately for Fisher and the Rams, they'll be lucky if their season is that successful.
The Rams are currently 4-6 with an absolutely brutal schedule coming up with upcoming games against the Patriots, Falcons and Seahawks coming up after this week. Sunday's game against the New Orleans Saints is winnable, but there's no guarantee that they come out on top.
Many criticized Jeff Fisher for sitting No. 1 overall pick Jared Goff until last week, but the rookie didn't exactly have a great game. The rookie QB will have a chance to put up some solid numbers against an atrocious Saints secondary this week, but a poor performance could spell disaster for Goff.
As for Fisher, he'll be getting plenty of heat for the devision to wait until last week to start Goff. If the Rams can't pull it together to finish out the year, then there's a good chance that their head coach will be on his way out.
1
Mike
McCarthy
Green Bay Packers
How do I put this gently? The Green Bay Packers are, well, they're not very good right now. At 4-6, the Packers are coming off of an embarrassing loss to the Redskins in front of a national audience on Sunday Night Football.
Now, the Packers go into another primetime game with a matchup against the Philadelphia Eagles on Monday night. Green Bay is currently third in the NFC North, the secondary has been depleted due to injuries, and the entire team is falling apart.
McCarthy continues to assure the public that he's not worried about losing his job, but he should be. The offense is in shambles and Aaron Rodgers doesn't seem to trust the system he plays in anymore.
Packers fans are getting sick of making it to the playoffs and losing before they can reach the Super Bowl. If this team misses the playoffs entirely, its fanbase is going to be furious, and they're going to be calling for McCarthy's head.
Every game is a must-win for the Packers at this point, and if they lose their fifth straight on Monday night, McCarthy's seat is going to be the hottest in the league.
This article originally appeared on