NFL Game Preview: Cleveland Browns at Tennessee Titans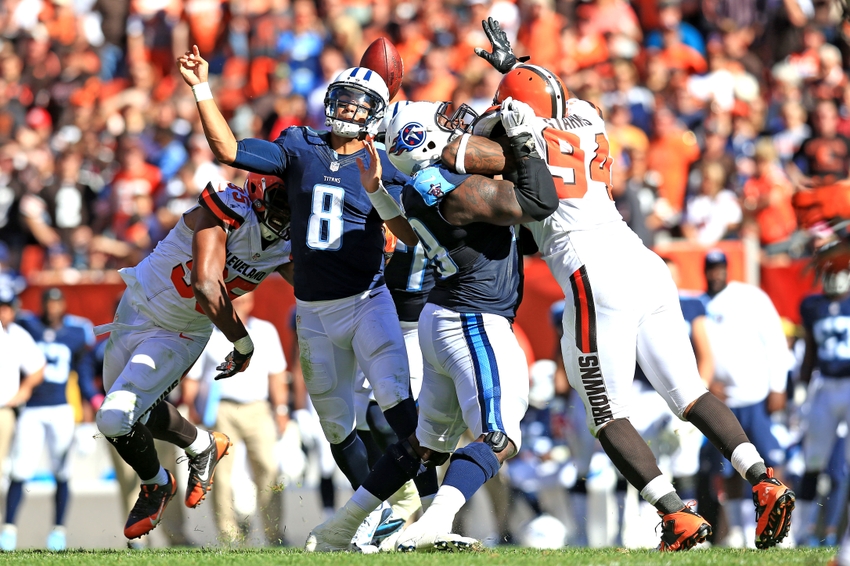 The Cleveland Browns (0-5) will travel to the Music City to face the Tennessee Titans (2-3) in what could be a pivotal game for the Titans.
The last two times these two teams clashed, Cleveland came out on top. In 2014 Brian Hoyer lead the largest comeback in NFL history to win 29-28, and in 2015 the Browns and Johnny Manziel harassed Marcus Mariota and won 28-14.
Cleveland's in no position to win this time, rookie quarterback, Cody Kessler, is banged up and they just haven't been able to put together a complete game yet. The Titans rushing attack will give the Browns run defense problems, and even a decent game from Mariota could spell problems for Hue Jackson's team.
This is a battle of young, and developing teams that are still years away from serious contention, but this win for the Titans could put them in a good position in a division in which it seems nobody wants to win.
Isaiah Crowell, RB: "The Crow" is currently fifth in the NFL in total rushing yards with 416, and is facing a Tennessee defense that ranks in the middle of the pack (16th) in terms of rushing defense. Crowell's in the middle of a career year, and outside of the outlier game against New England in which they played from behind from play one, he's been a workhorse. Expect the Browns to feed the Crow on Sunday, especially with a banged up rookie quarterback.
Cam Erving, C: Cam Erving is expected to play his first game back after bruising his lung in week two against the Ravens. Before the injury he wasn't playing terribly, and after his injury the line wasn't clicking like they were previously. It will be interesting to see how the offensive line reacts and performs with their starting center back in the lineup which will allow them to shift John Greco back to right guard.
Carl Nassib/Emmanuel Ogbah, EDGE: These two rookies will be relied on heavily to get to Marcus Mariota, and prevent him from taking off out of the pocket. These two have been promising os far into their rookie seasons, and it will be interesting to see how they respond to playing their first true dual threat quarterback yet. They haven't been stuffing the stat sheets (17 combined tackles, one sack) but their play and ability to get in the backfield has been promising.
Demarco Murray, RB: Demarco Murray has experienced a year of resurgence thus far following a massive bust of a season in Philadelphia. So far he has 461 rushing yards and three scores on the ground, and 172 receiving yards and two touchdowns through the air. Murray can exploit a weak Cleveland defense on Sunday, and have himself a day unless they come ready to stop the run.
Marcus Mariota, QB: Last year the Browns got after Mariota at home, tallying seven sacks and forcing three fumbles on him, recovering two of them. Mariota has shown signs of improvement this year, and could be primed to light up this weaker defense. His ability to run will be a problem for a young Browns D, and if the Titans can get the run game going to open up the passing game it could be a long day for Cleveland.
Brian Orakpo, OLB: Cleveland's offensive line has struggled to protect their quarterback all year long resulting in four injured signal callers. Now they get Cam Erving back at center, but they are also down Joel Bitonio who was placed on IR with a foot injury. This is a game where edge rushers like Orakpo can run wild, especially if he's not on Joe Thomas. Expect a big day from Orakpo, especially if he lines up across from Austin Pasztor.
Force Turnovers: The Browns defense has been better than expected this year, and they've had some unlikely heroes step up and create turnovers. If they can recreate last year's assault on Mariota then they can force him into some turnovers and get the job done.
Run The Ball: The Browns need to be able to run the ball against a weaker Titans defense in order to get their offense working. They need Isaiah Crowell and Duke Johnson Jr. to step up Sunday to establish the play action pass and get the defense to respect the pass.
Protect Cody Kessler: Cody Kessler's playing with a rib injury this week, and he needs to be well protected if they want to keep this one close. If Kessler gets hurt, then Kevin Hogan, who was on the practice squad, or Terrelle Pryor will take the snaps. That's a loss the Browns can not afford.
Stop Crowell: The Browns offense was very ineffective last week after they had to abandon the run. They need to be in a position where they can run the ball to even come close, and if the Titans defense can step up and stop the run then they'll be able to force Cleveland into some uncomfortable spots.
Gash the defense: Demarco Murray and Derrick Henry will have a day where they can both feast on a weaker defense. Cleveland has the 22nd ranked run defense in the NFL, and the Titans have the second ranked rushing offense. That's a mismatch they can expose all day long if they choose to.
Force 3rd and Longs: Cody Kessler's arm strength isn't top-notch, and the Browns receivers aren't either. If the Titans can force 3rd and longs then they can force them into throws they don't want to make. It also gives the Titans a chance to hit Kessler and rattle him more, especially with a shorthanded offensive line.
The Browns are a dumpster fire right now, but a dumpster fire with some promise. The Titans have one of the most prolific rushing offenses in the league with a very favorable matchup, and they will undoubtedly exploit it.
The Titans have the advantage in nearly every way, despite the Browns' recent success against them, expect their two game win streak vs. Tennessee to snap it. The Browns have a very legitimate chance to go 0-16, and this game won't help their case.
Expect them to keep it close, but they will not be able to pull the trigger late. An injured offensive line, and a thin skill position group will hinder their offense late. The Titans will pound it out to a close victory at home against the Browns, and they'll move to .500.
FINAL: Titans 27 Browns 23 
This article originally appeared on