NFL ends tax-exempt status and here's what that means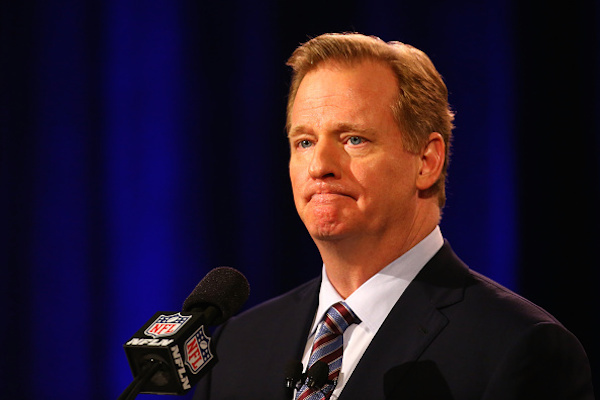 The official salary of NFL commissioner Roger Goodell will no longer become public knowledge with the league planning to change how it pays government taxes.
Goodell told team owners in a memo Tuesday that the league will no longer file for tax-exempt status with the Internal Revenue Service. This also means Goodell's annual earnings –€" which reached a whopping $44 million in the league's 2013 filing — can be kept private.
All 32 franchises already pay taxes individually on annual income in a league that generated more than $10 billion in overall revenue for 2014. However, the NFL was receiving a break for its operating expenses (in the range of $9 million annually) as well as hundreds of millions of dollars in "membership dues and assessments" paid to the league office by its clubs.
The NFL's decision won't create a monster windfall for the U.S. government. Ex-Oklahoma senator Tom Coburn has estimated that eliminating the NFL's exempt status would generate an additional $10 million a year in tax revenue. Coburn and Maine senator Angus King were pushing a bill last year called the PRO Sports Act that would eliminate tax-exempt status for any pro sports organizations with annual revenues of $10 million or more.
"The NFL's decision to end its tax-exempt status is a touchdown for the American people," King said in a statement. "It's common-sense that the league office of a successful multi-billion dollar sports organization should not enjoy the benefit of tax incentives — which come from the pockets of every day Americans — to boost their bottom lines.
"This is the right decision. It falls in line with several other professional sports organizations and I'm pleased the NFL did it."
The NFL has enjoyed its standing as a tax-exempt trade association since 1942 and kept that position as a 501(c)6 not-for-profit entity when merging with the AFL in 1966. Retaining this tax-exempt status was one focus of the expansive lobbying presence the NFL has established in Washington D.C.
Among the four major U.S.-based sports leagues, only the National Hockey League still has tax-exempt status. Major League Baseball dropped such standing in 2007; the National Basketball Association never had it.
In a league-released statement, Houston Texans owner and NFL finance committee chairman Bob McNair said the change was being made to "eliminate the distraction associated with misunderstanding of the league office's (tax) status."
Robert Raiola, who specializes in sports accounting, told FOX Sports that the NFL's move was likely done to curtail the negative public perception that the nation's most profitable sports league was receiving an unneeded government break. Goodell was receiving the most heat since his annual salary was far greater than what most heads of "non-profit" organizations are paid.
"This is really not that big a deal," said Raiola, the New York City-based Sports and Entertainment Group Manager for O'Connor Davies, LLP. "The bulk of the revenues are already being taxed. This just takes some of the pressure off the NFL and the scrutiny Goodell was getting."