NFL Draft: Scouts warming up to UNC QB Mitch Trubisky?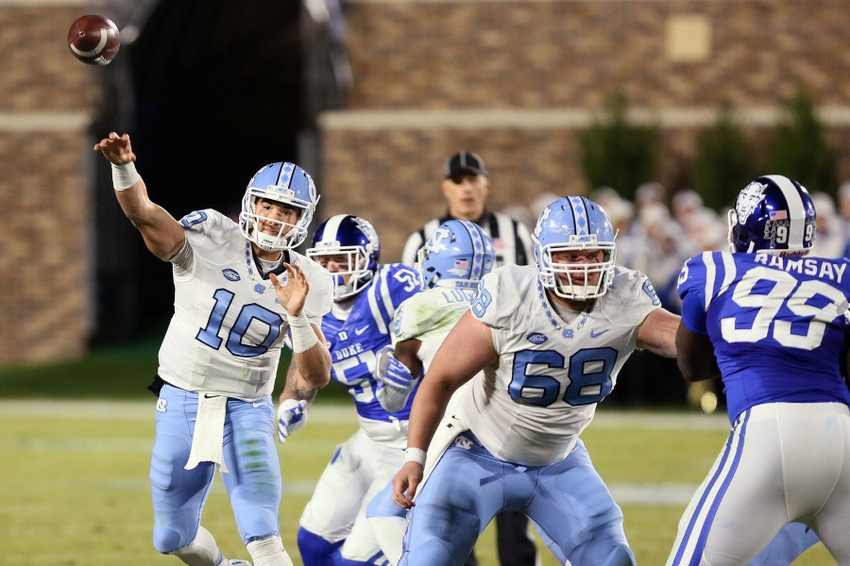 What are NFL Draft people saying about North Carolina Tar Heels junior quarterback Mitch Trubisky? Does he have a legitimate shot at the first round?
Prior to this season, North Carolina Tar Heels quarterback Mitch Trubisky had merely been a successful backup quarterback. In 2016, he's seen a fantastic rise in his stock with NFL scouts, many considering him to be a potential first round pick with the way he's played this season.
Trubisky had a shaky finish to the team's recent loss to the Duke Blue Devils, but an excellent first half won't go overlooked in which he threw three touchdown passes and showed off great touch on his passes.
Players emerge every season, so this is nothing overly new for the NFL Draft community, but the emergence and rise of Trubisky has really been something else.
So far this season, he's completed 70.6 percent of his passes for 3,004 yards and 22 touchdowns to just four interceptions. He's also run for another five touchdowns.
Rob Rang of CBS Sports recently released a new Big Board, and had Trubisky at the no. 20 spot on his list. Here's his evaluation of the talented junior QB thus far:
"Trubisky's production — as well as his NFL-caliber combination of size, arm strength and athleticism — is certainly intriguing. But the Tar Heels QB is largely a projection at this point. Though he played in 19 games the past two seasons as an often-used backup, the only 10 starts of his college career have come this season and he is supported by legitimate NFL talent at running back and wide receiver."
Bucky Brooks of NFL.com also talked about Trubisky in his Week 11 grades, and had this to say:
"Scouts have fallen in love with his sneaky combination of athleticism, arm talent and playmaking ability. The 6-foot-3, 220-pound junior once again teased evaluators with his talents in a spotty performance against Duke in an ACC rivalry game…Trubisky started the game like a house on fire on the way to throwing three first-half touchdowns. In doing so, he showed scouts that he possesses every tool in the tool box, exhibiting outstanding ball placement and touch on short, intermediate and deep passes."
Now obviously, not everything is perfect with Trubisky, but like Brooks said, he has all the tools in the box. If we see a couple more convincing performances, we could be looking at the first or second QB off the board come time for the 2017 NFL Draft.
This article originally appeared on