NFL Draft Rumors: Texas' D'Onta Foreman to enter the 2017 draft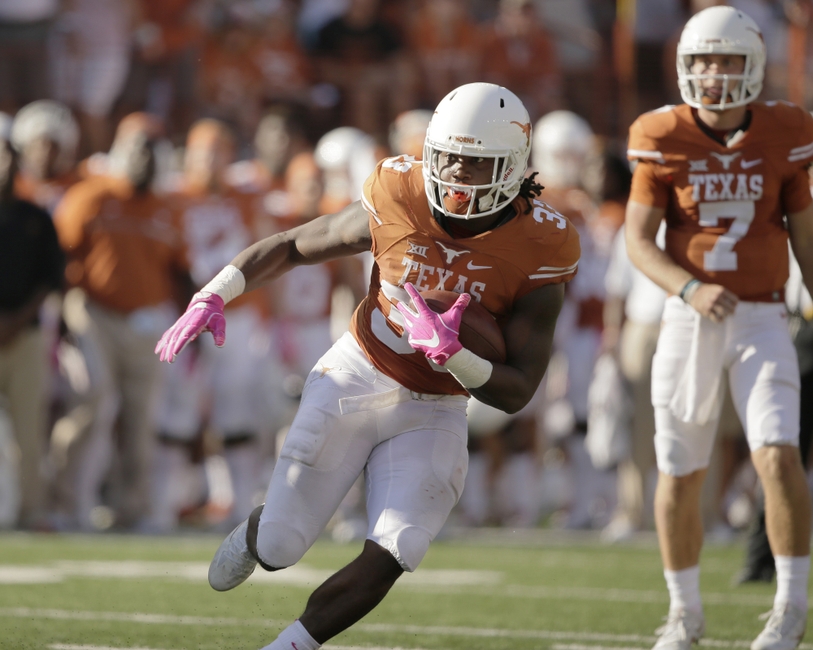 Texas running back D'Onta Foreman may be making his way to the NFL next spring.
Running back D'Onta Foreman became one of the lone bright spots for Texas throughout the 2016 season. He rushed for 2,028 yards and 15 touchdowns in what turned out to be a down season for the Longhorns. Most recently, Foreman had 250 yards at Kansas and 165 against TCU, both of which resulted in losses.
Well, it seems the junior is going to take his talents to the NFL soon. According to Pete Thamel of Sports Illustrated, Foreman has signed with an agent with the intent of entering the 2017 NFL Draft.
This potential news doesn't come as a huge surprise. He may be looking to get out of Texas with Charlie Strong's firing and Tom Herman's hiring. It represents the beginning of plenty of changes for the Longhorn program, something Foreman may not want to be around for in his senior season.
On the other hand, the production from the Texas City native may be plenty to warrant him a high draft spot. He could be a mid-round selection, maybe even in the second round given the recent trend of running back selections. Ezekiel Elliott going No. 4 to the Dallas Cowboys may be an anomaly.
Now, Foreman has about 4-5 months to prep his case for being selected in the 2017 NFL Draft. He shouldn't have an issue being picked by someone, but he'll need a strong combine to separate from the pack. It could be a strong one too with the potential for Christian McCaffrey, Dalvin Cook, and Leonard Fournette headlining the running backs. Nick Chubb, Royce Freeman, and Samaje Perine could all be in there too, if they declare.
Foreman did plenty in his three years in Texas. With all the changes going on in the coaching staff and potentially the roster, it's seemingly time for him to move on and get a paycheck.
This article originally appeared on