NFL Draft: Round 3 Has Been Disastrous for 49ers GM Trent Baalke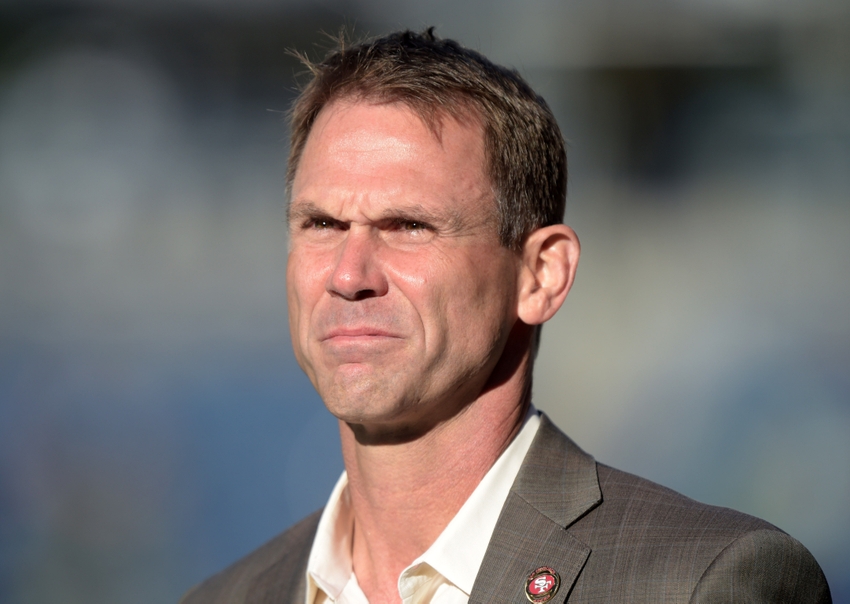 San Francisco 49ers general manager Trent Baalke is largely responsible for the state of the Niners' lowly roster. But Round 3 of his NFL Draft classes has been the most troubling of all.
San Francisco 49ers general manager Trent Baalke must fear his team's name called in any given Round 3 of the NFL Draft.
NFL Week 10: Survivor Pool Stone Cold Locks
Currently, the 1-7 Niners boast one of the worst rosters in the NFL. And Baalke has to bear a large chunk of the blame for allowing this to happen. Aside from 2011, his first year as GM, the majority of Baalke's draft classes have either failed to deliver or have yielded talent nowhere close to what was needed.
While first- and second-round picks often generate the most buzz and attention, the third round can be equally as important.
Just think, perennial All-Pro linebacker NaVorro Bowman was a Round 3 pick. It's not hard to name a few other standouts around the league either.
Much of this focus should come in the wake of news following this year's third-round 49ers pick, cornerback Will Redmond, not making it to the 53-man roster and staying on injured reserve the rest of the year.
Let's look a little deeper and see just how problematic Round 3 has been for the Niners GM.
2011 — CB Chris Culliver
The 2011 selection of cornerback Chris Culliver might be one of the better third-round picks Trent Baalke made. Culliver's development was hindered by inconsistency and injury. But his 2014 was awfully strong, which made him one of the more attractive free agents on the market the following year.
Still, the Niners got just one year of above-average contributions from him.
2012 — No Picks
The 49ers didn't have a third-round pick in 2012, but we can almost drop running back LaMichael James (No. 61 overall) into the Round 3 bucket.
And that selection wasn't good.
2013 — LB Corey Lemonier
Yep, a wasted pick. Linebacker Corey Lemonier was supposed to be the next piece in a strong pass rush the 49ers had entering 2013 — a complement to then-49ers linebacker Aldon Smith.
And to think, Trent Baalke traded up to get Lemonier at No. 88 overall.
Lemonier struggled to get on the field and lost playing time into 2015. He never replicated the pass-rushing prowess he had at Auburn. San Francisco let go of him prior to this season.
The Niners could have grabbed a player like edge rusher Alex Okafor or tackle David Bakhtiari, who were both available.
2014 — C Marcus Martin, LB Chris Borland, G Brandon Thomas
Round 3 in 2014 wasn't good for Trent Baalke. At all.
San Francisco kicked off this round with former USC guard/center Marcus Martin, who was ranked as one of the worst interior offensive linemen in the league, by Pro Football Focus, last year. He's now solely in a backup role with the Niners.
Linebacker Chris Borland probably would have been a great pickup. But he retired after his rookie season.
And guard Brandon Thomas? Well, he was another one of Baalke's famous "All-ACL" picks. He never saw the field and was traded to the Detroit Lions before the 2016 started. Detroit released him shortly thereafter.
Just think, Pro Bowlers like guard Trai Turner and running back Devonta Freeman were still on the board.
2015 — LB Eli Harold
So the book may still be out on second-year pro Eli Harold. But the early results have been less than desirable.
Harold has just 21 tackles and zero sacks over his pro career thus far — nowhere close to the numbers ideal for an edge rusher.
And if we look at his current efforts — a 49.4 grade, according to Pro Football Focus — it's hard to suggest he'll get notably better anytime soon.
Harold can't set the edge, and the Niners' current run defense is hurting because of it. He also offers nothing in the pass rush.
Quickly, this third-round selection is looking more as a repeat of what happened with former 49ers linebacker Corey Lemonier in 2013. Instead, Trent Baalke should have taken defensive end Danielle Hunter, who registered six sacks his rookie year with the Minnesota Vikings.
Or, wait for it, Baalke could have had his hands on running back David Johnson. Ouch.
2016 — CB Will Redmond
Yes, Trent Baalke gets another strike with rookie cornerback Will Redmond (knee) staying on injured reserve for the rest of 2016.
And to think the 49ers general manager thought Redmond would be ready for training camp.
#49ers Trent Baalke after using No. 68 pick on Will Redmond: "He will be healthy. He will be ready to go." Redmond won't play snap in 2016.

— Eric Branch (@Eric_Branch) November 8, 2016
That didn't work.
Redmond could still wind up being a notable contributor for San Francisco. The problem is he's just the latest in a failed string of "All-ACL" picks Baalke has made.
Rookie edge rusher Yannick, Ngakoue, who has four sacks already, went right after Redmond to the Jacksonville Jaguars. Or the 49ers could have landed their next project quarterback in Jacoby Brissett, who went No. 91 overall.
We'll never know.
Needless to say, Round 3 hasn't gone well for Baalke over the course of his 49ers tenure. And who knows if this will be part of the reason behind a possible dismissal from the organization in the upcoming year.
This article originally appeared on