NFL Draft: Positional Priority List for the 49ers in 2016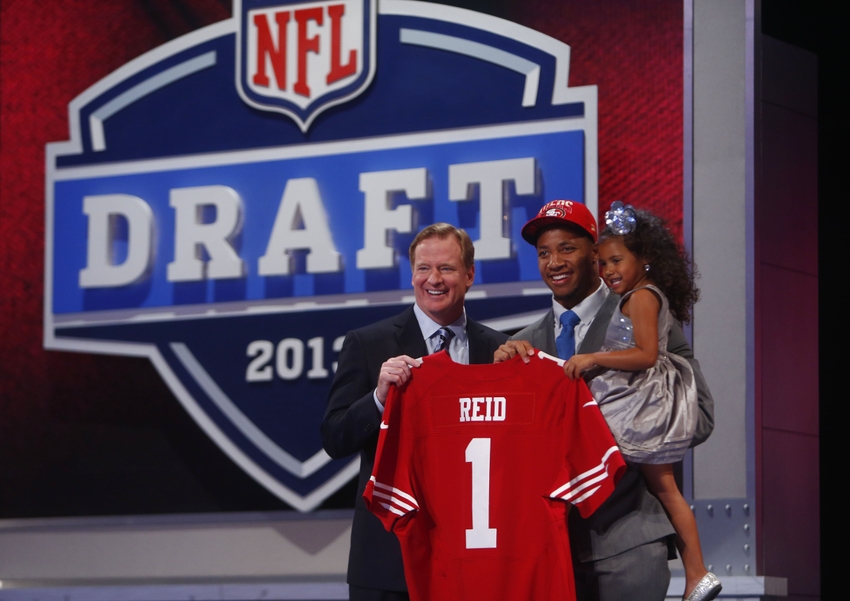 The San Francisco 49ers have more than just a few needs in the 2017 NFL Draft. Niner Noise takes an in-depth look at San Francisco's priority list for this offseason by position.
The San Francisco 49ers will be in a unique position for the upcoming 2017 NFL Draft.
With more than just a handful of needs on a talent-strapped roster, the Niners can almost sit back and let the draft come to them by taking the best player available at each pick.
Still, the team isn't without priorities. So Niner Noise breaks down what each one of those positional priorities might be in the upcoming draft.
We'll do this in reverse order, ending with the top need overall.
Additionally, we'll break down which collegiate players San Francisco may want to consider scouting and targeting leading up to the draft itself.
So strap yourself in and get ready for what promises to be an intriguing NFL Draft for the 49ers.
Defensive Backs
Cornerbacks
The 49ers have a strong young group of cornerbacks and safeties.
In the 2016 NFL Draft the team invested three picks on corners: Will Redmond (Round 3), Rashard Robinson (Round 4) and Prince Charles Iworah (Round 7).
Robinson has seen the most playing time in his rookie season and has been extremely productive. According to Pro Football Focus, out of all of the cornerbacks in the NFL, no one has given up fewer yards per coverage snap than Robinson (0.33).
In 94 snaps, he's been targeted nine times and allowed a grand total of 31 yards on four receptions heading into Week 6. It seems the Niners have finally found a shutdown corner to rely on. Jimmie Ward and Tremaine Brock have been successful this year as well and have only scratched the surface of their potential.
Safety
At safety the team has stout veteran strong safety Antoine Bethea and free safety Eric Reid, both of which should stick around for at least another two years. Given the status of this group it's more likely the team spends a late round pick only for depth purposes or special teams.
Players to Scout
CB Sojourn Shelton, Wisconsin (5-foot-9, 178 lbs.) – Projected Rd. 7 – FA
CB Duke Dawson, Florida ( 5-foot-10, 200 lbs) – Projected Rd. 6 – FA
Linebacker
In the not so distant past, the 49ers had the most feared linebacker tandem in the league with Patrick Willis and NaVarro Bowman standing side by side crushing opponents.
The once-hailed group has quickly turned into a glaring weakness after Willis abruptly retired and Bowman has been dealing with health the past two seasons.
San Francisco's current starters are veterans Gerald Hodges and Nick Bellore, who have been pegged with the tough task of replacing Bowman. The primary backup is Michael Wilhoite who was made the starter at the beginning of the year but his weakness in coverage lost him his job to Hodges.
Hodges has played good football since being tabbed the starter. In the three games since taking over the linebacker has amassed 25 tackles, two picks and a sack, via cbssports.com. This is promising for Hodges as teams covet a linebacker that can do well in both areas. Run defense has been a major issue this year, and the 49ers should look in the early to middle rounds for a middle linebacker that is stout against the run.
Edge rushers are a premium in the NFL, and the top prospect in the draft is out of Texas A&M, Myles Garrett. If he falls to the 49ers, it would be surprising if they passed him up. Ahmad Brooks and Aaron Lynch have done an OK job setting the edge, but Lynch has dealt with ankle problems and was disciplined for PED use for the first four games this year.
Brooks is aging and the team should look for his replacement sooner than later.
Players to Scout
Reuben Foster, Alabama (6-foot-0, 240 lb.) – Projected Rd. 1-2
Kendell Beckwith, LSU (6-foot-2, 252 lbs) – Projected Rd. 2-3
Offensive Line
Exterior Linemen
Other than iron man Joe Staley, the 49ers offensive line has been depleted with the loss of guard Mike Iupati via free agency and tackle Anthony Davis.
The Davis saga was well documented as he retired last year, came back, and retired again. Staley, 32 years old, is the 49ers highest regarded player, having been selected to five consecutive Pro Bowls.
As the trade deadline approached this year there was rumors around the league that he was on the block, but no moves were made.
The other tackles opposite of him is massive tackle Trent Brown (6-foot-8, 355 pounds), who is in his second season out of Florida and drafted in the seventh round of the 2015 NFL Draft.
"There's not many people that are that big, that size, that athletic that can do what Trent can do," said head coach Chip Kelly, via ESPN.
There were two tackles taken in the fifth round of the 2016 NFL Draft, John Theus and Fahn Cooper. But neither one has seen any playing time. With Staley getting up there in age, the team could look at getting another tackle to shadow him until he retires.
Interior Linemen
At the guard position, the 49ers moved up in the draft last year to nab Stanford's Joshua Garnett at 28th overall. He has recently been getting more playing time as a starter. And according to PFF,  Garnett also leads the 49ers offensive line with an 81.3 run-blocking grade. With Garnett solidifying this spot on the line, the Niners can feel more comfortable with this group moving forward.
Center Daniel Kilgore has already established himself as a solid starter for years to come, and he is fairly young with only six years under his belt. If general manager Trent Baalke is to draft any offensive lineman, it will be for the distant future not to start right away.
Players to Scout
OG Nico Siragusa (6-foot-5, 335 lbs) – Projected Rd. 4-6
OT Zach Banner (6-foot-9, 360 lbs) – Projected Rd. 4-6
Pass Catchers
Wide Receiver
The 49ers haven't had a true No. 1 wide receiver since the infamous Terrell Owens.
Sure, Anquan Boldin and Michael Crabtree had there glory moments but never quite lived up to the level of Owens when he was at his prime.
San Francisco's pass catchers on the roster now are a mix of unproven young talents who have yet to be a reliable target for head coach ChipKelly's offense. Veteran Torrey Smith is more of a deep threat and lacks route-running ability to be a true No. 1 target. Quinton Patton and Bruce Ellington are both undersized slot receivers and haven't shown much promise.
The wild card of this bunch is newcomer Jeremy Kerley, who came over from Detroit in the offseason. Kerley leads the team in Receptions (40) and Yards (424) via ESPN.com. It would be wise for general manager Trent Baalke to scour the upper flight of receivers in the upcoming draft for a player who can take the offense to the next level.
Tight End
As for the tight end group, starter Vance McDonald is having a solid season posting three touchdowns and 18.4 yards per catch. He is on a contract year, so expect the 49ers to resign him in the offseason. Garrett Celek and Blake Bell are quality backups but have limited upside. It would be a surprise if the team selected a TE in the draft, but may sign an undrafted free agent for the practice squad.
Players to Scout
WR Mike Williams, Clemson (6-foot-3, 205 lbs) – Projected Rd. 1-2
WR JuJu Smith-Schuster, USC (6-foot-2, 215 lbs) – Projected Rd. 1-3
Defensive Line
The 49ers rank dead last in the NFL in run defense in nearly every statistical category. This is alarming for the front office, and the 49ers need to address this issue immediately in the NFL Draft.
Although some of the problems on the D-line have been caused by injuries and youth, it's mandatory to have a solid base three in a 3-4 defense scheme. The Niners have drafted a defensive player in the first round four consecutive years, and that trend could continue again this year.
Due to a nagging shoulder injury, defensive end Arik Armstead has foregone the rest of this year to undergo surgery. He should be ready to go by preseason next year, but the team still needs help on the line for depth.
The 49ers selected DeForest Buckner with its top pick last draft, and he has been starting for most of this season. If general manager Trent Baalke opts to draft another defensive end, it will be in the middle-to-late rounds because he has these players to build around.
Nose tackle is lead by veteran Glenn Dorsey and third-year player Mike Purcell. Dorsey, a former first-round pick by Kansas City in 2008, has been somewhat of a bust, only recording three sacks in three years with the Niners.
Purcell has seen his playing time increase this year after former 49ers nose tackle Ian Williams was sidelined due to injury. This year, Purcell has amassed 18 tackles and six assists, which is decent production for the first half of the year.
In terms of stopping the run, having a cog in the middle of the 3-4 front is essential to success. I believe the team should look for a nose tackle in the early rounds.
Players to Scout
NT Lowell Lotulelei, Utah ( 6-foot-2, 310 lbs) – Projected Rd. 2-3
NT Jarron Jones, Notre Dame (6-foot-5, 315 lbs) – Projected Rd. 3-4
Quarterback
The hottest topic of discussion surrounding the 49ers message boards is who will be the signal-caller in 2017?
It could be polarizing quarterback Colin Kaepernick, who has been on fire as of late throwing for 608 yards the last two games and four total touchdowns, including one on the ground.
There is no denying his talents when he has time in the pocket. He can zip the ball anywhere on the field and when he's out scrambling and running past defenders.
This season could serve as his last for the Niners, since he restructured his contract and now has the option to become a free agent after this season.
Blaine Gabbert was the starter at the beginning of the year but didn't have any success. Christian Ponder looked great in preseason, but it was against third- and fourth-string players, which is hard to gauge.
The 49ers must look for their quarterback of the future in this upcoming NFL Draft.
While there is no surefire top quarterback, there is a decent crop of signal-callers that have the potential to be All-Pro. If Kap stays, the Niners could opt to draft one in the late rounds and groom him. But if he leaves, they need to either sign a top free agent or draft one in the first round.
Players to Scout
Deshone Kizer, Notre Dame (6-foot-4, 230 lbs) – Projected Rd. 1
Chad Kelly, Ole Miss (6-foot-2, 215 lbs) – Projected Rd. 4-6
Note: I omitted the running back positional group because I don't think it should be addressed via the draft.
All measurements and draft projections of college players are via Walterfootball.com.
This article originally appeared on