NFL Draft 2017: 5 Best Prospects Playing in Michigan vs Ohio State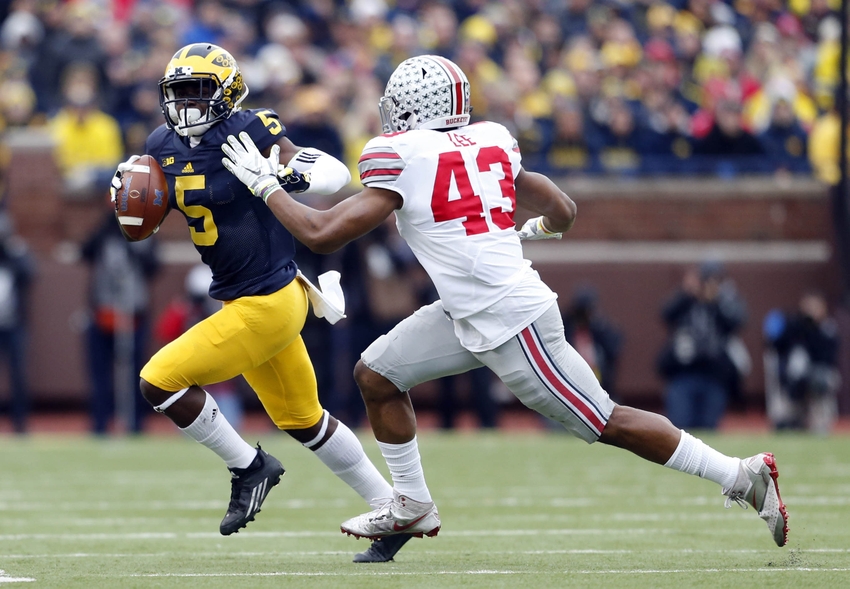 Looking at the five best prospects for the 2017 NFL Draft that will be playing on Saturday in the rivalry matchup between Ohio State and Michigan.
Though the NFL and college football have a vast array of differences, there's no one who can deny their undeniable link. The latter feeds the best the sport has to offer into the former through the NFL Draft. Subsequently, eyes of NFL scouts are always on the important college football games. And you could argue that Saturday's matchup between the Ohio State Buckeyes and Michigan Wolverines is the most important college football game of the year.
Obviously the first reason for that would be the age-old rivalry between the two. There is real, palpable disdain between these two fan-bases and it's glorious to watch every year. However, the 2016 meeting from Ohio Stadium has a bit more at stake.
As the Buckeyes enter as the No. 2 ranked team in the College Football Playoff and the Wolverines at No. 3, this game is ostensibly for a spot in the playoff. So now you have a rivalry matchup with tremendous stakes as a shot at the National Championship is on the line. That's big-time and you know that the players feel that pressure. Subsequently, it's a great time for NFL Draft scouts to put their eyes on the game and see who comes through.
There will certainly be eyes on all 22 players on the field at all times on Saturday for Michigan vs Ohio State, or "The Game." However, these two teams also boast some of the top prospects that NFL teams will be looking at come April.
Just of note, this game is loaded with high-quality prospects. For Michigan, cornerback Jourdan Lewis, receiver Amara Darboh, and defensive tackle Chris Wormley will all hear their names called in the first two days. The same can be said for Ohio State receiver Curtis Samuel and cornerback Gareon Conley. These players are just shy of making the list.
Let's take a look at the five best 2017 NFL Draft prospects playing in The Game on Saturday.
5. Raekwon McMillan, ILB – Ohio State
For the Ohio State Buckeyes, they lost a couple of incredibly talented college defenders to last year's draft with Joey Bosa and Darron Lee (among others) turning pro and going in the first round. However, the thing about a school like Ohio State with Urban Meyer recruiting is that they simply retool. And stepping up in the linebacker corps this year has been inside linebacker Raekwon McMillan.
McMillan has been a monster against the run all season for the Buckeyes, something that will certainly come to light against Michigan. He has tremendous closing speed on gaps in addition to a great ability to read plays to get to his spot. Moreover, he's an explosive and talented tackler when he gets to the ball and can make plays in that regard. That said, McMillan isn't a perfect prospect. There are plenty of scouts who are dubious of his abilities in pass coverage when he drops back. His footwork is sometimes sloppy and he needs to improve his lateral quickness in coverage a bit. With tight end Jake Butt being such a big weapon for Michigan, that too could come to light in The Game.
Frankly, there isn't really a consensus on McMillan and where he'll go in the 2017 NFL Draft. Sometimes you'll see him in the first round, some places think he may stay another year, and others think he falls to Day 2 of the draft. Either way, he has the athleticism and potential to be a quality cog in the middle of a defense, especially if he can progress in terms of his pass defense.
4. Taco Charlton, DE – Michigan
In a draft class that's absolutely loaded with edge-rushing talent, one of the more interesting prospects has to be Taco Charlton as a defensive end out of Michigan. Currently projected by most to be a second-round pick, the defensive end is quite unique in the combination of skill-set and size that he brings to the table on the edge for the Wolverines each week.
At 6-5, 272 pounds, it's not hard to be impressed just by looking at what Charlton brings to the table with his size. What's impressive with how he uses it in his rush is how he's found ways to use his length to be successful. While he's not weak by any means, he's best when he's able to maintain separation with explosion off the edge with his long arms. That then gives him room to either duck around or simply get around the tackles and generate pressure.
That said, Charlton does need to work a bit in regards to his power moves and agility as he goes to the next level as a player. There are times when he can disappear and that happens when he's unable to use his length to control his man. What will be interesting in the rivalry game on Saturday is to see how Charlton fares at containing the explosive Ohio State quarterback JT Barrett. You have to keep Barrett contained to avoid him using his mobility to burn you. A lot of that will fall on Charlton and he could impress by being able to help do so.
3. Jake Butt, TE – Michigan
We've already briefly mentioned Jake Butt in regards to watching McMillan in pass coverage, but he's back again because he's that imposing of a draft prospect. While there is a lot of fanfare about Alabama tight end O.J. Howard as a prospect, my favorite tight end in this class is the Michigan big man. And no, it's not just because his last name is Butt—which he and his family have a great sense of humor about.
There are many different dynamics to the Michigan offense under Jim Harbaugh. However, the most consistent aspect is finding Butt in the passing game. At 6-5, 250 pounds, Butt is arguably the best pass-catching tight end in this draft. While he may not be as explosive as Howard, he has the physical ability to break open big plays. Moreover, he also has incredibly sure hands and hauls almost anything within his catch radius in with ease.
What's more, Butt has improved as a run-blocker this season. While there is still room for growth in terms of his consistency in this area, that he's taken steps forward has helped his draft stock even further. Make no mistake, though, any team that drafts Butt will salivating over what he could mean to their passing attack. He can reliably catch balls and convert first downs over the middle of the field, but can also beat coverage deep if you send him. Butt's going to be a problem for opposing defenses in the NFL, just as he may be on Saturday for OSU.
2. Malik Hooker, FS – Ohio State
Malik Hooker is graded by most as the best free safety in the 2017 NFL Draft class and it's not hard to see why. Throughout the 2016 season and, really, his entire time at Ohio State, he's been nothing but a playmaker for this Buckeyes team. There are so many things that he does well and you could see him cause the deep passing attack of Michigan (one of many aspects of their offense) struggle simply because of Hooker's presence.
The biggest thing that stands out about Hooker is his coverage skills on the back end. Whenever he drops back to essentially play rover and make reads on the play. That's where his strength lies. Hooker possesses an innate ability to either read the play, routes, and the eyes of the quarterback to jump routes and make plays on the ball. It's truly special to see him in that role and watch him make plays of the football for his team.
With some of the big-bodied playmakers that the Wolverines have, what Hooker can really show on Saturday to help boost his stock will be the ability to tackle these bigger players in the open field. He has struggled in that regard at times and Michigan has the players that could cause those problems to resurface. Of course, if they never get the ball because of Hooker, tackling really isn't all that necessary.
1. Jabrill Peppers, OLB/S – Michigan
Talk all you want about him not having an interception at Michigan, but there's no question that Jabrill Peppers is the best NFL Draft prospect playing at Ohio Stadium on Saturday. The versatility, skill, and physical abilities of Peppers are truly unreal. And on this big stage with so much on the line, you better believe that Harbaugh is going to get his best player involved in as many ways as possible.
When looking at his pro outlook, there are many people that look at Peppers as the next player in a sort of Deone Bucannon type role. He has the coverage ability, speed, IQ, and essentially every physical and mental tool to perform in that hybrid linebacker type of role. Peppers can drop back and cover just about anyone, can get up and stop the run, and can bring pressure with his immense speed in the pass rush. That simply highlights his versatility, as does the fact that he could also play safety exclusively if that's what whichever team drafts him desires.
Without question, fans and scouts are going to see Peppers often. Not only will he be on the defense coming up to try and contain Barrett and make plays, but he'll be seen in the return game on special teams as an explosive threat and will also surely see some snaps on offense. He's inescapable whenever you watch this Michigan team and that will be the case on Saturday. And chances are, that label will follow him into the NFL next year after he's a likely top-five selection.
This article originally appeared on