NFL 2016: Top 5 running backs at midseason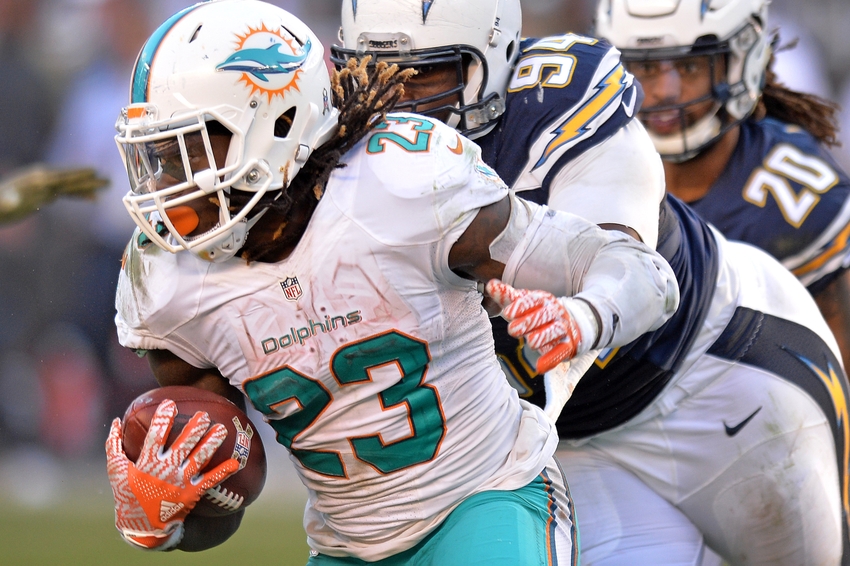 Running backs throughout the NFL have seen an uptick in production through the season's first 10 weeks compared to recent campaigns.
NFL running backs have come alive through the season's first 10 weeks. Currently, the league is on pace to have 14 1,000-yard rushers–that's twice as many as last season's seven. It also means the league could have it's most 1,000-yard rushers since 2012, when coordinators saw a surge in run yardage thanks to the introduction of read-option and pistol offensive schemes.
Of course, you wouldn't know this given all the attention quarterbacks are receiving. Rookie sensation Dak Prescott has guided football's biggest brand to an 8-1 record. Meanwhile household names like Drew Brees, Ben Roethlisberger and Aaron Rodgers are backsliding into obscurity with each loss. The state of quarterback play in the league has overshadowed the increased effectiveness of running backs and how they're shaping game outcomes.
So now, let's take a few moments to review the NFL's best running backs through 10 weeks. It's only fair to the proverbial workhorses of the league.
5. Jay Ajayi
A demoralizing Week 5 loss to the Tennessee Titans had many people (including myself) decreeing the Miami Dolphins as dead in the water. However, the Fins have mounted possibly the quietest four-game winning streak in recent history and, in large part, that's due to impact Ajayi's had on the field.
Ajayi's coming out party was against the then-4-2 Pittsburgh Steelers when he accrued 204 yards on 25 carries to go along with two touchdowns. He followed that up with a 214 yards and another touchdown against division rival and stout defense in the Buffalo Bills. Even though relatively pedestrian performances of 111 and 74 yards have brought Ajayi back down to Earth the past two weeks, there's no doubting he's helped open up the offense for head coach Adam Gase and a struggling Ryan Tannehill.
But yardage totals don't tell the whole story. Ajayi's leads the league in yards per attempt, third in the league in yards per game and is also tied with Ezekiel Elliot for most 20+ yards runs with eight so far. Those indicate Ajayi's got a nice mix of not only explosiveness, but consistency: two things that will help keep the Dolphins very real Wild Card playoff hopes alive throughout the remainder of the season.
It's a nice change of pace for Dolphins fans. They've seen backfield success before with the likes of Ronnie Hillman and most recently Lamar Miller. Yet they've never seen a running back spearhead the revamping of an entire offense while also making it count in the most important stat line: wins. Fins fans should be looking up from here on out.
4. David Johnson
Coming into the season media pundits confidently forecasted that Carson Palmer's horrid outing in the NFC Championship would translate to a less-than-stellar 2016 season. As those predictions are looking more and more realistic with each passing week, it's fortunate that the Arizona Cardinals have a bell cow like David Johnson to fall back on to carry the load.
Johnson ranks in the top five among running backs in many important categories: yards per attempt, yards per game and fewest fumbles allowed. The kicker is he has a whopping nine touchdowns on the ground this year, which is tied for second-highest in the league with Melvin Gordon and Elliott (the leader being goal-line specialist LeGarrette Blount with 12). That's good news for Arizona's sputtering pass offense where Palmer has only thrown 11 touchdowns and eight interceptions through nine games.
However, with all the added attention given to Johnson expect that dynamic to start slowly shifting in the coming weeks. San Francisco's defense had allowed seven-straight 100-yard rushers and were adamant about preventing Johnson from feasting on the maligned front. In response, Arizona aired it out.
It wasn't a seamless transition as Palmer threw more touchdowns than interceptions at home against an already shaky 49ers defense. But with head coach Bruce Arians at the helm, expect him to pick his punches with which style of offense will dominate on any given Sunday. Johnson's just the kind of crafty back to suit the ebbs and flows of Arizona offense, especially since he leads all running backs in receiving yards. Expect No. 31's legs and hands to decide more than a few games in the coming weeks as the Cardinals continue their steady ascent into the playoff picture.
3. Melvin Gordon
Melvin Gordon's rise into the starting role was seen as improbable to say the least in training camp. Returning running back and Philip Rivers favorite target Danny Woodhead was slated as the starter until a torn ACL in Week 2 left the team no choice but to turn to Gordon. Now ten games into the season San Diego may never need to look back.
Gordon has taken the torch and run with it (literally) on his way to a league-leading number of attempts to go along with the second-most first downs. With the second-most rushing touchdowns and catching two through the air, Flash Gordon is living up the billing as being as a good as promised when originally coming out of the University of Wisconsin. As critical bye week gives Gordon & Co time to rest up, it'll be important to watch how this young stud can help keep San Diego's minuscule playoff hopes alive during the team's final six games.
Though don't expect him to make a world of difference. San Diego has shown it still marches to the beat of Rivers' drum. After a four interception performance against a middling Dolphins defense yesterday, it's hard to imagine Gordon's legs will be the make-or-break factor for the Chargers' season. Especially when the ball will be in Philip's hands with the game on the line; not Melvin's.
That doesn't mean Gordon can't leave his mark in every game left on the schedule. He's a pivotal red zone weapon that can tough out short yards when the blocks aren't there and also is a proven mismatch against linebackers in pass coverage. Gordon has the stuff to be a solid running back for years to come, and through 10 games he's made his case to earn tenure in San Diego's backfield.
2. DeMarco Murray
A year ago DeMarco Murray was at a crossroads. He quickly lost his footing in Chip Kelly's high-speed offense and was buried behind the likes of an injury-prone Ryan Mathews and a speedy Darren Sproles on the depth chart. A change in scenery to the hapless Tennessee Titans seemed like a money grab and a desperate attempt to feel important on a roster all in one move.
Surprisingly, Murray has appeared anything but desperate in the Titans' first 10 games. Eight touchdowns on the ground to go with two receiving touchdowns and even a passing touchdown in yesterday's win over the Green Bay Packers has Murray on pace for a career year in terms of finding the end zone. Add in that Murray's producing almost five yards per carry (4.9) and he's on the fast track for the best single-season rusher the Titans have seen since Chris Johnson's 2009 lightning-in-the-bottle season.
What's more is the effect Murray has had on the passing attack. By being able to depend on DeMarco for chunks of yards anytime he gets the ball, it's taken the pressure off of second-year quarterback Marcus Mariota. That does wonders for a young gunslinger who's trying to find some ground to stand on in the league. Clearly, the results have been positive as a Mariota has a legendary red zone stat line to start his career: 25 touchdowns and NO interceptions.
Some of those touchdowns came in Mariota's Murray-less rookie season, but that only means he'll continue to trend upward. DeMarco has shown he can operate when the front five can get a hold on their guys. Tennessee's strong line coupled with Murray's hard-running and now coinciding with Mariota's growth under center are assembling a perfect storm for the typically lowly Titans. Teams are on notice: the Tennessee is legit, and it's Murray infusion into the roster that's helped them bridge the gap from contender to pretender.
1. Ezekiel Elliott
Was there ever any doubt who would top this list? After yesterday's showing against the Steelers that included a walk-off touchdown scamper with under a minute remaining, the Dallas Cowboys are 8-1 thanks in large part to rookie running back Ezekiel Elliott.
Elliott's running away with the MVP trophy just after the midseason point by gaining 1,005 yards and ten total touchdowns (nine rushing, one receiving). He's been the thunder to fellow rookie Prescott's lightning, and the two now have the entire league on alert after eight-straight wins. Is this the beginning of a return to Dallas' glory years of the early 1990s where they won three Super Bowls on the backs of then-young sensations Troy Aikman and Emmitt Smith?
That remains to be determined, but on thing's for sure is Elliott's short time in the league has always been shrouded by question marks. Was it wise to draft him with the fourth-overall pick in this year's draft? Is the eight-game win streak more a product of Elliott's legs or Prescott's arm? And the often forgotten point, is Elliott really deserving of MVP when the Cowboys offensive line has the allowed some of the fewest sacks in the league to go with the most rushing yards?
Zeke has only been able to answer that he was deserving of the fourth-overall pick; the other questions remain up for debate. One thing is for certain that Elliott is making it count whenever the ball is in his hands. He's leading the league in yards per game by nearly 20 yards with 111.7 and has an astounding 58 first downs converted.
Elliott is a strong case for the reappraisal of running backs as the league moves forward. An MVP-caliber season that's compiled of more meaningful plays than I can count on both hands, running backs are definitely back in style. More importantly, just like the rest of these backs he's showing how important balance (and an effective one at that) can be in elevating the record of their team altogether.
This article originally appeared on