NFL 2016: Regular season grades for every team
The 2016 NFL regular season is in the books. Here are the grades for all 32 NFL franchises. How did your favorite team do this year?
The 2016 NFL regular season is no more. It's time for 12 NFL teams to get ready for the AFC/NFC playoffs with the hopes of making it to Super Bowl 51 in Houston. For the 20 organizations, all attention is on the 2017 NFL Draft with the hopes of getting better come next autumn.
Every team entered 2016 with a certain level of expectations. Some lived up to the hype, others exceeded it, and others spun out of control in catastrophic fashion. Today, we're going to hand out regular season grades for all 32 franchises. The plus/minus system will be in effect.
The Arizona Cardinals were one of those teams that absolutely did not live up to the hype placed on them in 2016. Arizona only a year ago played in the 2015 NFC Championship Game against the Carolina Panthers. Quarterback Carson Palmer was an MVP candidate. Head coach Bruce Arians was without question a top-five head coach in the NFL.
As we look back on the Cardinals' 2016 NFL campaign, disappointment is the word that best encapsulates this year's team. The passing offense never really got going. Much of that had to do with injuries on the offensive line. That threw off Palmer's timing enough bring into question if he was rapidly decaying as a passer or if Arizona even has good wideouts.
The defense wasn't as stout as it had been in 2015. Arizona really struggled to find the cornerback to play opposite of Patrick Peterson in the Cardinals secondary. Even kicker Chandler Catanzaro had his issues kicking the football. Arians definitely let him know about it.
It wasn't a fun year for Arians and company in the Valley of the Sun. Missing the NFC playoffs was not acceptable, but is now reality. The one saving grace is that David Johnson emerged as an absolute beast at running back. Unfortunately, he suffered knee injury in Week 17 that might derail his promising NFL career. Other than Johnson through Week 16, this was an awful year for Cardinals football.
Grade: D
Few outside of the Peach State thought much of anything of the 2016 Atlanta Falcons. After beginning the 2015 season at 5-0, Atlanta sank to 8-8 last year, finishing on a terrible 3-8 skid. Quarterback Matt Ryan started to lose supporters, head coach Dan Quinn was on the hot seat, and both general manager Thomas Dimitroff and offensive coordinator Kyle Shanahan were about to be run out of town.
Atlanta had a brutal 2016 schedule in drawing both the AFC West and NFC West this year. The Falcons got off to a 4-2 start with big wins in Oakland, New Orleans, and Denver. Eventually, the Atlanta offense became one of the greatest in NFL history, scoring over 500 points in its first 15 games.
Ryan became an MVP candidate and Shanahan emerged as a likely candidate for a head coaching gig. Dimitroff and Quinn seem to be on the same page in terms of building this team. Even the defense improved with solid play from youngsters like pass rusher Vic Beasley, linebacker Deion Jones, and strong safety Keanu Neal.
Atlanta won the NFC South for the first time in four seasons and the Falcons are one of eight teams that can legitimately win Super Bowl 51. The Falcons had a massively successful season, but still need a playoff win to subdue their harsh critics. It's all about matchups at this point for the 2016 playoff-bound Falcons.
Grade: A
The Baltimore Ravens had an okay year in 2016. They didn't make the AFC playoffs, but Baltimore definitely had its moments where it looked like a top-10 team in the NFL. Losing on the final possession to arch rival Pittsburgh in Week 16 to be eliminated from playoff contention is the definitive moment from this year's Ravens team.
Baltimore won its first three games against bad teams, then proceeded to lose a bunch in a row to look like a fraud in the AFC North. Pittsburgh had its issues mid-season and Baltimore took advantage of the Steelers having to find themselves and down years from Cincinnati and Cleveland to take control of the division for most of the fall.
The Ravens' strengths in 2016 included their stout run defense, kicker Justin Tucker, and the ageless Steve Smith Sr. at wide receiver. What ultimately did the Ravens in late in the season was an inability to find continuity on offense. Firing former offensive coordinator Marc Trestman in favor of promoting quarterbacks coach Marty Morhinweg didn't give the Ravens running game the legs it need to push for a deep playoff run.
Overall, Baltimore had talent issues on both sides of the ball. The Ravens overcame a lot of them, but ultimately were a limited team to begin with. This is a team that can contend in 2017, but were really a year away all along. A lot of optimism with this team exists, but head coach John Harbaugh has to do a better job of assembling an offensive staff. One more lousy offensive staff and he might be out of a job.
Grade: B
The 2016 Buffalo Bills were considered to be the base line for mediocrity in the NFL. Some weeks the Bills looked good and other weeks they were outclassed either in execution or from their former head coach Rex Ryan.
Buffalo hung around playoff contention in the AFC until losing at home in overtime to the arch rival Miami Dolphins in Week 16. After missing out on the AFC playoffs for the 17th straight season, Ryan was fired by the Pegula Family after a near-two-year experiment gone awry.
Overall, Buffalo had the talent to make the postseason, but Ryan became a running joke on the Bills sidelines. He and his brother defensive coordinator Rob Ryan held this team back from being a serious 10-6 playoff team in 2016. It wasn't all bad for the Bills, if you really think about it.
The running game was solid with LeSean McCoy and Tyrod Taylor. Players all over this roster flourished at times this season. The biggest winner in Buffalo this year was former running backs coach Anthony Lynn. He was promoted Week 3 to offensive coordinator and Week 17 to interim head coach. Lynn's rise up the coaching ranks might make him a serious candidate to replace Ryan in the long-term. This was the best Bills teams in a decade and the Ryan Brothers ruined it. Buffalo is very close, but no cigar.
Grade: C+
Whatever went right for the Carolina Panthers last year went horribly wrong in 2016. Carolina went from 15-1 and NFC Champions to a sub-.500 team almost immediately out of the gate. Who's to blame? A little bit of everyone.
Carolina got atrocious play from its front-seven in the early part of their schedule. That unit is usually the Panthers' bread and butter. Combine that with a non-existent running game and the Panthers found themselves in a hole they could never dig themselves out of.
Quarterback Cam Newton's footwork was abysmal, as was his completion percentage. The 2015 NFL MVP regressed significantly in his sixth year in the league. Linebacker Luke Kuechly spent half the season in concussion protocol. One has to wonder if his brilliant NFL career will be only a brief one?
There were some player that had good years like tight end Greg Olsen, wide receiver Kelvin Benjamin, and rookie cornerback James Bradberry. In short, Carolina revealed its true colors in 2016: a team full of front-runners that benefited from a Charmin soft 2015 schedule en route to Super Bowl 51.
We expected regression to maybe 11-5, but not to anything sub-.500. Carolina looked decent in about half of its games, but that was nowhere near good enough to win the NFC South for the fourth year in a row. This team has serious work to do in the offseason, with an attitude check being priority No. 1.
Grade: D+
There were only two teams in the NFC that everybody knew were going to be horrible and were horrible. The least egregious of the two were the toothless Chicago Bears. They were a simple, albeit complex problem of a football organization in 2016, entertaining at times, but mostly just bad.
One could blame health at the quarterback position for the Bears' terrible campaign. Jay Cutler was hurt for most of the season, but the Windy City faithful knew that 2016 was Cutler's Last Stand. Brian Hoyer was a decent backup, but broke his wrist mid-season versus the Packers.
Matt Barkley actually played well filling in for both Bears signal callers. That was until he threw fives picks in Week 16 against the Washington Redskins at home. Jordan Howard and Leonard Floyd had their moments as rookies, but this team had been poorly constructed for years, culminating in another top-10 pick.
John Fox had been on and off the hot seat all season in Chicago. Ownership is not doing a good job of making this once-proud NFC franchise a good landing spot for prospective coaching candidates. Overall, the Bears were more entertaining and competitive than the 2015 squad, but remain one of the worst teams in the NFC by a wide margin. Until further notice, this is easily the worst team in the NFC North without question.
Grade: C-
The Cincinnati Bengals were bound to have a bad season. It all came crashing down in 2016 on this hapless Bengals team. Whatever Jedi mind trick that Pittsburgh Steelers linebackers coach Joey Porter put on the Bengals in the 2015 AFC Wild Card game, it absolutely worked and ruined the Bengals' next season.
Cincinnati had a multitude of injuries that affected the Bengals' 2016 season. Tight end Tyler Eifert suffered an injury in the 2015 Pro Bowl. First-round pick cornerback William Jackson III had his rookie season cut short in training camp by injury. Star wide receiver A.J. Green suffered a hamstring injury mid-season to cut short his campaign.
All this did was compound into Cincinnati's first sub-.500 season of the Dalton/Green era. These injuries were too much for starting quarterback Andy Dalton to overcome. He was exposed as being a highly inefficient passer in the red zone. Add in a few former coordinators getting head coaching gigs (Jay Gruden, Mike Zimmer, Hue Jackson) and it comes as no surprise that Cincinnati was this bad.
Were the Bengals expected to be worse? To some degree, yes. However, one really wanted to believe that head coach Marvin Lewis would find a way to keep Cincinnati relevant in a competitive AFC North. Cincinnati could turn it around with improving health in 2017, but attrition to the coaching staff doesn't give the Bengals a bright future. Hate to say it, but they missed their window to win a Super Bowl. It'll be a while before they win an AFC playoff game.
Grade: D
Were the 2016 Cleveland Browns horrible? Big time. However, they weren't exactly a terrible watch nor were they a team we all rooted against. The bulk of Hue Jackson's roster was composed of under 25 year olds that didn't know what it takes to win at the professional level.
Nevertheless, the 2016 Browns played hard for Jackson despite looking like a bare bones Moneyball team assembled by Sashi Brown and Paul DePodesta. Cleveland finally got it first win of the season on Christmas Eve in Week 16 against a completed defeated San Diego Chargers team. The post-game locker room speech with Jackson and his team showed the world how much this bunch is in this together.
It was cool to see veterans like cornerback Joe Haden, wide receiver Andrew Hawkins, tight end Gary Barnidge, and offensive tackle Joe Thomas be all-in with this team, despite knowing wins were few and far between.
Third-round pick Cody Kessler showed promise as a passer. First-round pick Corey Coleman could be a good NFL wide receiver one day. What really sank the Browns was getting pretty much nothing out of No. 1 and No. 2 quarterbacks Robert Griffin III and Josh McCown. If their quarterbacks stayed healthy, maybe this was a four-win team? Cleveland sure played hard and this was a tremendously positive season for the Browns. Don't mistake that.
Grade: C+
To say the 2016 Dallas Cowboys had a remarkable regular season would be a gross understatement. After going a miserable 4-12 in 2015 during season in which franchise quarterback Tony Romo broke his clavicle twice, Dallas responded in 2016 by getting the No. 1 seed in the 2016 NFC playoffs.
Oh yeah, let's not forget that Romo got hurt again. This time he broke a bone in his back in the Cowboys' third preseason game against the Seattle Seahawks. Enter rookie quarterback Dak Prescott out of Mississippi, combined with a generational offensive line, and the best running back prospect since Adrian Peterson in Ezekiel Elliott and it's no surprise that the Cowboys are likely to get to their first Super Bowl in 20 years.
In Week 2, Dallas seized momentum with Prescott and Elliott behind this offensive line and never looked back. Momentum is a real thing. Dallas has it like nobody else in football. The Cowboys' chemistry is off the charts and they have the players to win Super Bowl 51.
Time will tell how dominant this Cowboys team was. Is this a potential Super Bowl champion or just a really strong regular season team like the 1998 Minnesota Vikings, the 2007 New England Patriots, or the 2013 Denver Broncos. Regardless, Dallas' 2016 regular season was almost perfect.
Grade: A+
After winning Super Bowl 50 over the Carolina Panthers in Santa Clara, the Denver Broncos became the most recent team to miss the NFL playoffs the year immediately after winning it all. Outside of Denver, the Broncos' 2016 regression didn't come as much of a surprise.
In short, Denver won all the close games it was in last season. This season saw them drop a few of those either-or games. After starting the year out 4-0, the Broncos played sub-.500 ball the rest of the way. What was the reason for this?
Well, Trevor Siemian and Paxton Lynch at quarterback didn't help. The running game evaporated once running back C.J. Anderson got hurt, not to mention the atrocious offensive line play with the exception of center Matt Paradis. He was great.
Once Denver started to play worthy adversaries like Atlanta, Kansas City, New England, and Oakland, the Broncos revealed their true identity as a middle of the pack team in the AFC that was never really playoff caliber. Denver has another year or two to rebuild after winning Super Bowl 50. With John Elway in the front office, Denver should be in good shape to land a strong replacement for Gary Kubiak at head coach, who is stepping down for medical reasons.
Grade: C
For the second time in three seasons, the Detroit Lions made the NFC Playoffs as a wild card team. Detroit only went 9-7 and blew its best opportunity to win its division since the 1993 campaign by falling at home to the rival Green Bay Packers on Sunday Night Football in Week 17.
Getting the No. 6 seed is an impressive accomplishment for the 2016 Lions. However, Detroit is not likely to win its NFC Wild Card game against the No. 3 Seattle Seahawks at CenturyLink Field on Saturday night.
The best parts of the 2016 NFL regular season for the Lions were the team's uncanny ability to win close games late. Eight of the Lions' nine wins were come-from-behind victories in the fourth quarter. Quarterback Matthew Stafford had his best season as a professional, playing an unencumbered brand of football until hurting his finger on his throwing hand late in the year.
Head coach Jim Caldwell has two great coordinators on his staff in offensive coordinator Jim Bob Cooter and defensive coordinator Teryl Austin. Together, they give the Lions stability on the coaching staff to be successful for years to come. Overall, this team overachieved by making the NFC playoffs, but disappointed down the stretch in a division that should have been the Lions' for the taking.
Grade: B
The culture is strong with the Green Bay Packers. Green Bay at one point this season was left for dead at 4-6. Star quarterback Aaron Rodgers challenged his team to run the table. Green Bay ended up going on a 6-0 run to end the season to win the NFC North and get the No. 4 seed in the NFC Playoffs.
Rodgers ended up putting together an MVP caliber season by leading the NFL in touchdown passes. He and teammates like running back Ty Montgomery and wide receiver surged down the stretch to make Green Bay a team that nobody wants to play in the playoffs.
Midway through the season , it was looking like a disaster in Green Bay. Rodgers received great ridicule from the media for his perceived aloofness. General manager Ted Thompson, defensive coordinator Dom Capers, and even head coach Mike McCarthy were thrust onto the hot seat midseason.
It was looking to be the worst season of Rodgers' career since his first year as a starter in 2008. He continues to be the best pure offensive talent in football. Rodgers carried this team on his back and the Packers later responded to help him with the division. This was not a pleasant season for the Packers through and through, but the ending was great.
Grade: B+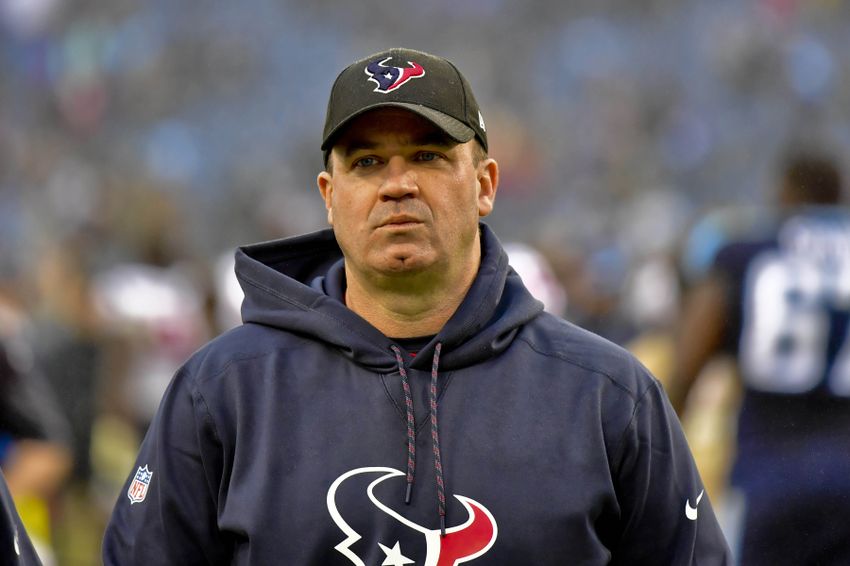 While people always seem to rip the AFC South for how incompetent it is as a division, let's take the time to seriously appreciate how the Houston Texans became back-to-back division champions. It's almost case study worthy.
Houston won the division despite losing its best player for the season in defensive end J.J. Watt, who needed back surgery in September. The Texans spent $72 million to sign free agent quarterback Brock Osweiler. He was statistically the worst starting quarterback of 2016 and was benched in favor of unproved Tom Savage early in Week 15 versus the Jacksonville Jaguars.
Houston leaned on Romeo Crennel's outstanding defense and head coach Bill O'Brien's ability to get his team ready to play in and win tight ball games. The Texans were elite defensively, dominant at home, and the class of the AFC South in divisional play.
When some teams say they are a quarterback away from contending for a Super Bowl, they're usually delusional. That being said, Houston is really only a strong signal caller away from being an awesome team in the AFC. They may not win a playoff game, but the Texans have earned their right to be there. This team's journey to back-to-back divisions crowns is borderline unbelievable given how important the quarterback position is in the modern era of the NFL.
Grade: B+
When dysfunction is allowed to perpetually manifest over time, it becomes supreme decadence. No NFL organization embodies high-end dysfuncational behavior quite like the Indianapolis Colts. In this millennium, the 2016 Colts best epitomized why a star quarterback isn't everything.
Andrew Luck signed a deal to be the highest paid player in NFL history, mostly on his upside and what he did to get Indianapolis to the 2014 AFC Championship Game. Too bad general manager Ryan Grigson is trying to rebuild this offensive line for the fifth time in five seasons. Luck is running for his life in the Indianapolis backfield. He puts up crazy numbers, but get the dude some help.
Head coach Chuck Pagano can't seem to get his side of the ball (defense) right or hire strong offensive coaches to elevate his team's overall level of play. No wonder that the Colts have been .500 the last two seasons.
To have a talent as obvious as Luck at quarterback and not win the worst division in football annually is utterly embarrassing. Houston can win the division with D level quarterback play. Even Tennessee is getting it right. Get it together, Indianapolis. Without Luck, is this even a three-win team?
Grade: D-
Nice guys finish last and you're running out of Gus. Former Jacksonville Jaguars head coach Gus Bradley was a swell guy, but 14 wins over nearly a four-year period was all she wrote for the toothless Jaguars.
This was supposed to be the year that Jacksonville was going to pop as a contender in the AFC. Jacksonville went 5-11 in 2015, but had so much upside on the offensive side of the ball. Quarterback Blake Bortles looked like the next great franchise quarterback and wide receiver Allen Robinson looked like a perennial Pro Bowler on the outside. Instead, they had horrendous years and Jacksonville was one of the four worst teams in football.
Owner Shahid Khan and general manager David Caldwell have laid the foundation for what could be a decent football team one day. Khan has patience as an owner despite being an eccentric billionaire from the automotive industry. Caldwell comes from the New England school of team building. Coaching and in-game execution is what failed this team.
Jacksonville had been one of the worst teams in football for the last decade, yet somehow still found a way to leave us all completely disappointed. The truth is that this team is not that far from getting it right in 2017. Add the right coach and get Bortles' mechanics back on track and this team could go worst to first in the AFC South. Bradley was so bad, but Jacksonville is in position to land a really great head coach for next season.
Grade: F
Once again, the Kansas City Chiefs had themselves a solid regular season under head coach Andy Reid. The Chiefs are one of 12 teams to qualify for the playoffs. Kansas City is in prime position to orchestrate a deep playoff run in the postseason. Could this be Kansas City's year?
Kansas City isn't a sexy football team, but the Chiefs play in a controlled, systematic manner that makes them incredibly difficult to beat. Because they rarely turn the football over, the Chiefs can get to and win Super Bowl 51 over the NFC champion.
That being said, the regular season wasn't all perfect for the Chiefs. Injuries to players like running back Jamaal Charles, inside linebacker Derrick Johnson, wide receiver Jeremy Maclin, and pass rusher Justin Houston has prevented us from ever seeing this team at full strength. Quarterback Alex Smith has been good, bad, and ugly at several different points this season.
However, the emergence of offensive weapons like wide receiver Tyreek HIll and tight end Travis Kelce have made Reid's offense finally explosive. Improved play from left tackle Eric Fisher and the additions of right tackle Mitchell Schwartz gives this offensive line bite. Kansas City can win the Super Bowl, but this isn't the best version of this Chiefs team. Solid, but limited by injuries.
Grade: A-
The Los Angeles Rams' first season back in the City of Angels was an absolute grease fire. Appearing on HBO's Hard Knocks was a terrible idea for a team that hadn't made the NFC playoffs since 2004 and was relocating to the West Coast.
Former head coach Jeff Fisher was pushing for his team to not be another sorry 7-9 Rams team. What he and Los Angeles got was far worse. The Rams became arguably the worst team in the NFC. Someone can honestly say this because the Rams were swept by the equally pitiful San Francisco 49ers.
The offense was hopelessly archaic. Offensive coordinator Rob Boras and quarterbacks coach Chris Weinke were over their skis this season. Running back Todd Gurley was marginalized. Wide receiver Tavon Austin got paid to catch bubble screens for minimal gains. Case Keenum was bad at quarterback and rookie No. 1 overall pick Jared Goff was worse.
Not only were the Rams terrible, but they were largely uninteresting in Los Angeles. That was a terrible combination and ownership has to make a high-profile coaching hire to make this doormat NFC team better or at the very least interesting. Year one in Los Angeles was a complete failure for the Rams.
Grade: F
For an organization that has been dysfunctional for so long, the Miami Dolphins got it right by hiring former Denver Broncos and Chicago Bears offensive coordinator Adam Gase as their head coach. Gase has brought the offensive mind and disciplinary culture to thrive in Miami.
The Dolphins have qualified for the playoffs for the first time since the 2008 season. Balance is what makes this team more than a flash in the pan when compared to the 2008 club. MIami can run the football with authority, can make plays in the passing game, reliable on special teams, and devastating in the pass rush.
After a 1-4 start, Game laid down the hammer and cut two offensive linemen after a poor performance against the Tennessee Titans. Miami put it all together to embarrass the Pittsburgh Steelers at home and never looked back. Expect the Dolphins to be a playoff caliber team in the AFC to close out the decade.
The only negative marks on the Dolphins this year were the injury to starting quarterback Ryan Tannehill and the belief that Miami benefited from a soft schedule. Miami won the games it should have plus a few more. Tannehill's backup Matt Moore is solid, but don't expect the Dolphins to do more than win one playoff game this season. It's been a great year for the Dolphins nevertheless.
Grade: A
The Minnesota Vikings didn't have a good season at all. Starting quarterback Teddy Bridgewater suffered a ghastly knee injury eight days before the season opener in Nashville on a non-contact play. Minnesota quickly traded its 2017 first-round pick to the Philadelphia Eagles for starting quarterback Sam Bradford.
Bradford actually had a strong season. For a while, so did the Vikings and its once stellar defense. Interestingly, the Vikings were the last undefeated team in football at 5-0 heading into their Week 6 bye. Then the wheels feel off the wagon.
The Vikings offense became non-existent outside of a death by a thousand paper cuts via the Bradford passing game. Former offensive coordinator Norv Turner bailed on the team mid-season. Head coach Mike Zimmer had eye surgery and had to wear an eye patch, looking like a pirate for this Motley Crue. Let's not forget that both starting offensive tackles and future Hall of Fame running back Adrian Peterson missed most of the season due to injury.
The most snakebitten NFC franchise in the Super Bowl era had the most snakebitten season. We can think about all the things that the Vikings could have been, but weren't. At the end of the day, this wasn't a playoff team as soon as Blair Walsh's kick sailed wide left in the 2015 NFC Wild Card round.
Grade: F
Like clockwork, the New England Patriots won its eighth straight AFC East division title and has earned a first-round bye in the playoffs. Anything less than a sixth straight AFC Championship Game appearance would be a massive disappointment for this juggernaut football game.
The results were the same as they have ever been, but how did the Patriots get here? New England had an outstanding campaign for several reasons. First, the Patriots went 3-1 in the first four games of the DeflateGate Suspension that kept NFL MVP candidate Tom Brady sidelined in September. New England know that Jimmy Garoppolo is a future franchise quarterback in the NFL and that third-stringer Jacoby Brissett is at least serviceable as an NFL backup.
The Patriots offensive line was drastically improved over how bad it was a year ago. New England's defense had its issues, but found itself to some degree in the second half. LeGarrette Blount was a bruiser in the backfield and tight end Martellus Bennett transitioned seamlessly into the New England offense.
Overall, this is not the best Bill Belichick team the Patriots have ever had. Not having tight end Rob Gronkowski available or having the utmost confidence in kicker Stephen Gostkowski doesn't help come playoff time. However, New England had a great 2016 regular season and is the AFC's best chance at hoisting the Lombardi Trophy this February in Houston.
Grade: A+
This was a so-so season for the New Orleans Saints. They hovered around .500 for most of the season. The defense looked better under first-year defensive coordinator Dennis Allen. Quarterback Drew Brees found a few more stars on the offensive side of the ball that might set up an outside chance at a second Lombardi Trophy before New Orleans' superstar signal caller hangs up the spikes for good.
There were three big problems with the Saints in 2016. 1.) Sean Payton may be on the way out as head coach. He really hasn't been the same since his Bountygate year-long suspension. 2.) The Saints could never put together a lengthy winning streak to get above .500. 3.) New Orleans missed the NFC playoffs for the third straight year.
The Saints are at a crossroad as an organization. Do they keep the band together for another year or two or do they embark on what should be a massive rebuilding project? Currently constructed, the Saints have the least likeliest chance of winning the NFC South in the coming years. It might be time for the Saints to honestly assess their situation.
This was the type of year that we kind of expected to see the Saints have. A better start to the season might have helped their playoff chances, but this looked like a team that was only middle of the pack in the NFC at the very best this season. Despite having an explosive offense, this Saints season was largely bland.
Grade: C
Regardless of how they fare in the playoffs, the New York Giants had a fantastic regular season. New York has clinched its first playoff berth since the 2011 season and are one of a handful of teams that can win Super Bowl 51 in Houston.
General manager Jerry Reese took a play out of John Elway's book of rebuilding a defense via NFL free agency. It worked wonderfully, as defensive coordinator Steve Spagnuolo's unit carried this NFC East team. Head coach Ben McAdoo guided an offense with no running game, a decaying Eli Manning at quarterback, and only Odell Beckham Jr. as a reliable playmaker to a playoff berth.
New York will be the No. 5 seed in the playoffs. Should the Giants get out of the Wild Card round, they'll be a difficult matchup for the NFC East rival Dallas Cowboys in the Divisional round. The only team that Dallas has lost to this season has been the Giants, falling to New York twice.
The Giants have the secret sauce to thwart Dallas a third time this year. Because of that, New York can honestly win the Super Bowl. They do also have a track record of beating the perceived AFC favorite in the New England Patriots. This isn't the best Giants team of the Manning era, but this team is championship caliber. They are playing with house money at this point.
Grade: A
The New York Jets had the worst season of any team in the AFC, comparative to expectations. It was embarrassing. After going 10-6 in 2015, the Jets did nothing but self-sabotage their entire 2016 campaign. The Ryan Fitzpatrick holdout pretty much foreshadowed the entire season: aggravating, caustic, and utterly disappointing.
New York had four quarterbacks and none of them were good. Fitzpatrick cratered, Geno Smith and Bryce Petty got hurt, and Christian Hackenberg needed a redshirt season in the NFL. The passing game evaporated once Eric Decker got hurt for the season. Brandon Marshall couldn't do it all by himself.
Not only could the Jets do close to nothing on offense, their defense was largely subpar. Leonard Williams was fine up front, but Muhammad Wilkerson and Sheldon Richardson regressed in the front seven. Let's not forget how catastrophically cornerback Darrelle Revis fell off a cliff. Everybody now has a condo on Revis Island.
What really stings about the season for the Jets is that it was more of the same dysfunctional behavior we've come to know all too well with the AFC East franchise. This campaign was as chaotic in New York as it had ever been in the Rex Ryan era. While head coach Todd Bowles seems to be safe entering next season, he is at the very least on the hot seat. Nobody got it more wrong in the AFC than the Jets.
Grade: F
The Oakland Raiders qualified for the playoffs for the first time since 2002 when Oakland made it all the way to the Super Bowl. This year's team would have been a team that late Raiders owner Al Davis would have loved to watch.
Oakland played with a level of swagger we haven't seen out of this AFC West franchise in well over a decade. Going for two to beat the New Orleans Saints in the Mercedes-Benz Superdome set the tone for how head coach Jack Del Rio's team was going to play this year.
This season saw the Raiders thrive with great play from its star young players like quarterback Derek Carr and outside linebacker Khalil Mack. Oakland was the media darling for most of the season with their best season in well over a decade. Heading into the final week of the regular season, the Raiders had their shot to get home-field advantage in the playoffs.
Then everything fell apart for the Raiders in the final two games of the season. Carr broke his fibula in Week 16's win versus the Indianapolis Colts. Backup Matt McGloin would get hurt in Week 17's loss to the Denver Broncos and give way to third-stringer rookie Connor Cook. Oakland went from a serious Super Bowl 51 contender to a likely first-round playoff exit. It didn't end the way we all wanted, but what a ride for the Raiders.
Grade: A-
For a brief period at the start of the season, the Philadelphia Eagles made fools out of all of us in trying to pretend they were good. The Eagles began the year to a surprising 3-0 start, then fell off a cliff after their Week 4 bye.
Both head coach Doug Pederson and quarterback Carson Wentz hit that metaphorical rookie wall. Wentz struggled mightily in the Eagles passing game in the second half. Pederson revealed that he needs a major crash course in play calling. Darren Sproles continues to be ageless in the Philadelphia backfield, but the Eagles offense was largely mediocre.
That being said, Jim Schwartz did an outstanding job in his first year as defensive coordinator. The Eagles were dominant in the front-seven and the secondary improved as the season went along. They have a solid defensive foundation to build on next year while the Philadelphia brass looks to improve its meager offensive personnel.
Overall, this was a so-so season for a sub-par Eagles team. This team never gave up, despite being deficient in talent. The hot start and seeing all of its division rivals push for the playoffs only hurts the perception of the Eagles' 2016 NFL season.
Grade: C
Did the Pittsburgh Steelers have a great regular season? Maybe not a great one, but the Steelers were the best team in the AFC North and that's good enough. Pittsburgh had its moments of pure dominance, but also laid a few eggs this season.
The Steelers would be the stereotypical Mike Tomlin team: gets up for big games/divisional rivalry games, but would occasionally overlook a lesser opponent and get outplayed. Pittsburgh destroyed the Kansas City Chiefs on Sunday Night Football, but were humiliated on the road against the Miami Dolphins in a game the Steelers didn't get up for.
This team has enough talent to win Super Bowl 51 and the playoffs is really when the Steelers' season begins. This could be an outstanding year for the Steelers if they win the Super Bowl, or even get to the AFC Championship Game.
There were moments of pure chaos with the Steelers, so that knocks them down a peg from a higher grade. Winning the AFC North is a down year for the division is still pretty impressive. Pittsburgh gets a solid grade, but there were organizations the definitely had better regular seasons than the Steelers.
Grade: B
The San Diego Chargers had an interesting, but terrible season that swung from low to high to low. San Diego blew a few games early in the season where the Chargers had a 99.9 percent chance of winning late in the fourth quarter. Needing a win on Thursday Night Football against the Denver Broncos to keep his job, Mike McCoy and the Chargers came through to actually look decent mid-season.
For a brief three-week period, the Chargers looked like a potential playoff sleeper in the deep AFC West. San Diego then fell off a mountain and cratered horribly in the second half. The amount of injuries this team had to deal with was just insane. Losing six key starters for the year would wreck even the best-run teams' seasons.
Attrition became too big of a burden for starting quarterback Philip Rivers to handle and the team began to collapse around him. If there is anything the Chargers can hang their hat on from this bad season, it is that some of the young players on this roster showed signs of promise. Joey Bosa and Melvin Ingram definitely had their moments.
Overall, San Diego gave up in November and it showed. Did they quit on McCoy or did the notion of being relocated to Los Angeles crush the Chargers' collective spirit. If the Chargers do go to Los Angeles, expect a rebrand, as the Chargers will be no more. It was a sad season to a sad story of the NFL in San Diego. RIP Chargers.
Grade: C-
The San Francisco were better off Rip Van Winkle-ing this season than actually seeing it unfold. Hiring head coach Chip Kelly was a mistake and so was giving general manager Trent Baalke another season on the job. Owner Jed York doesn't know what he's doing and everybody knows it.
San Francisco had the worst quarterback controversy of all-time between Colin Kaepernick and Blaine Gabbert. The best candidate to start for the 49ers was actually Thad Lewis, but he got hurt in the preseason. San Francisco's offense was lifeless because Kelly wasn't willing to adapt his scheme. The defense wasn't much better, frankly lacking the necessary personnel to be competitive.
The only wins that San Francisco mustered this season were against the equally incompetent Los Angeles Rams. Kelly won on Monday Night Football in Week 1 and then proceeded to go on a 13-game losing streak. Without question, the 49ers were the worst team in the NFC this season.
In all honesty, the only team in the NFL that feels as hopeless as the 49ers are the New York Jets in the AFC. New York actually beat San Francisco in overtime in Santa Clara in November. For the sake of irony and humor, let's give the 49ers a 49 for their regular season grade. What a dumpster fire.
Grade: 49, F
The Seattle Seahawks won the NFC West, but might be seeing the Super Bowl Championship window closing. Seattle will be the No. 3 seed in the playoffs, but the Seahawks' inability to get it done against the division rival Arizona Cardinals ended up costing them an important first-round bye.
They needed multiple home playoff games to be able to get to Super Bowl 51. The Seattle offense has disappeared for large stretches of 2016. Offensive coordinator Darrell Bevell's offensive line has to be one of the worst in football. It mitigated success of the Seattle ground game and jeopardized quarterback Russell Wilson's health earlier in the year.
The Seattle defense continues to be solid, despite losing free safety Earl Thomas late in the season. This is the side of the ball that will carry Seattle as far as the Seahawks want to go in the NFC Playoffs.
10-5-1 was not a bad year for the Seahawks by any means, but the NFC West was the worst division in football and Seattle didn't get a first-round bye. Seattle can still win the Super Bowl, but it will be anything but easy. This was a good, but not great regular season for Seattle standards.
Grade: B-
On the whole, the Tampa Bay Buccaneers had the best season of any NFL team that didn't qualify for the playoffs. The Buccaneers finished 9-7 and look to be a potential playoff team next season with Dirk Koetter at head coach and Jameis Winston at quarterback.
Tampa Bay got hot in the middle of the season thanks to great schematic design from defensive coordinator Mike Smith. His scheme is highly nuanced, but he got the most out of his personnel his first year back in football. Smith is likely going to be an NFL head coach again in 2017.
Tampa Bay has talent all over its football team, but frankly choosing to lean on a rookie kicker in Roberto Aguayo might have cost them a shot at the playoffs. Aguayo might have been the best kicking prospect to come out of college since Sebastian Janikowski, but his inconsistency best surmised why the Buccaneers missed the NFC Playoffs for the ninth straight season.
This team is so close and should break through in 2017. The Buccaneers were a fun team to watch grow. While we all probably knew that this team was a year away from breaking through, it still kind of stings to not see what this on-the-rise NFC team could do in the playoffs. A great season nevertheless.
Grade: B+
The other team in the NFL that made huge strides but failed to reach the NFL Playoffs were the AFC South's Tennessee Titans. The Titans were on the cusp of winning the division, but a brutal loss to the rival Jacksonville Jaguars on Christmas Eve did this team in.
Franchise quarterback Marcus Mariota shined for most of his second NFL season. He looks to be a future superstar at the position. Unfortunately, Mariota broke his leg during Week 16's road loss to Jacksonville and the Titans were eliminated from playoff contention in the AFC.
While people hated the hirings, the Titans have a strong coaching staff in place with Mike Mularkey as head coach, Terry Robiskie as offensive coordinator, and the ageless Dick LeBeau as defensive coordinator. Together they have laid the foundation for a bright football future in Nashville. Expect the Titans to push for playoff contention in 2017.
Going from the worst team in football a year ago to being above .500 is a huge step in the right direction for this AFC South franchise. Tennessee needs to address its perimeter weapons in the draft and play exponentially better in the division. Those two areas unraveled this promising team more than anything.
Grade: B
Overall, the 2016 Washington Redskins had a moderately disappointing season, but one in a very different vein from previous Redskins seasons. The Redskins needed to beat the NFC East rival at home to get into the NFC playoffs for the second straight season. Washington laid an egg to miss out on the No. 6 seed that ultimately went to the 9-7 Detroit Lions.
Washington has a big decision to make with starting quarterback Kirk Cousins. Do the Redskins let him go, franchise tag him again, or do they give him a long-term deal? Cousins cost himself money with a bad Week 17 loss to the Giants. He will likely garner Andy Dalton money on the open market.
Despite missing out on the playoffs, this was a year that the Redskins can definitely build on heading into 2017. They'll have to make other tough decisions in the receiving department with so many key weapons hitting free agency. Realistically, if Washington is able to keep offensive coordinator Sean McVay the Redskins will still be in good shape offensively.
Washington was a decent team that happened to play in a very tough NFC East this year. The NFC East had not been this competitive in a long time. Washington came up short, but could very well be back in the posteason. Continuity will serve this franchise so much. Don't rock the boat, Dan Snyder.
Grade: B-
This article originally appeared on