NFL 2016: Midseason Award Winners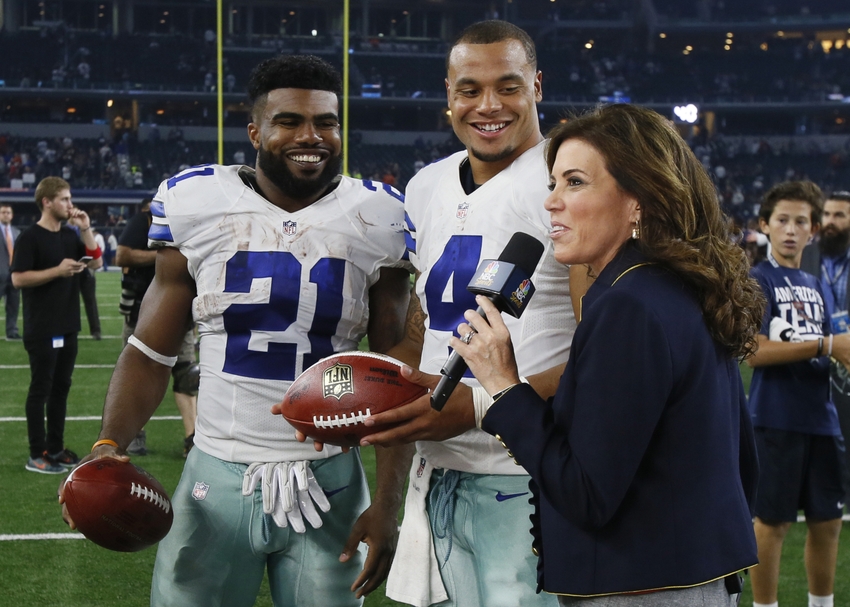 With half of the season in the books the 2016 NFL Midseason Award Winners are decided, ranging from Coach of the Year to MVP
Eight weeks in and the NFL season is not what most were expecting. Hardly anyone had the Dallas Cowboys at 6-1 with a fourth-round rookie under center.
Nor did they think that the Minnesota Vikings would be in first place in the NFC North after losing quarterback Teddy Bridgewater for the season and running back Adrian Peterson for the majority of it.
The real story of the NFL so far has been the rookies, though. Dak Prescott is leading the aforementioned Cowboys back to prominence, but he isn't the only rookie on that team doing great things. Fourth-overall selection Ezekiel Elliott is leading the league in rushing, just ahead of the guy the Cowboys let walk in free agency a couple of seasons ago, DeMarco Murray (now with the Tennessee Titans).
Other great storylines include the rise of the Atlanta Falcons and Oakland Raiders. Falcons quarterback Matt Ryan has been electrifying this season and is leading the league in passing yards. His 503-yard performance on Oct. 2 did wonders to boost those stats. Derek Carr also topped the half-century mark as he threw for 513 this past weekend as Oakland won their fifth road game of the season to get to 5-0 on the season.
So with all this excitement going on through eight weeks, who is it that all the big awards go to? Let's jump right into it.
Coach of the Year: Bill Belichick, New England Patriots
Far too often, coaches like Bill Belichick are taken for granted. He's arguably the best NFL coach of all-time, yet has just three Coach of the Year honors to his credit. That's just what happens when you own a streak of 13-straight seasons with double-digit wins. Now, he's more than half way to No. 14 already, but was able to remind us all how good he is in the process.
After the insanity of Deflateate subsided, Belichick had the unenviable task of replacing quarterback Tom Brady for four games to start the season. To make matter worse, Brady's backup, Jimmy Garoppolo, missed time due to a shoulder injury. The Pats didn't falter and still won a game with a rookie third-round pick, Jacoby Brissett underneath center.
A 3-1 start without Brady was a thing of beauty and a great coaching job, worthy of being rewarded. Since getting Brady back though he has reminded everyone how it was that he once coached a team to a 16-0 record. New England is now sitting at 7-1 and they look completely untouchable at the moment.
Honorable mentions: Jason Garrett, Dallas Cowboys; Mike Zimmer, Minnesota Vikings; Jack Del Rio, Oakland Raiders
Offensive Player of the Year: A.J. Green, WR — Cincinnati Bengals
Although his team isn't having the year they hoped for, Cincinnati Bengals wide receiver A.J. Green has been lighting up the stat sheets. In eight games so far the sixth-year receiver has 59 receptions for 896 yards and three touchdowns.
While his touchdown total isn't as high as some of the other players on this list, Green has been the biggest weapon for his team as they transition through the loss of receivers Marvin Jones and Mohamed Sanu who left for the Detroit Lions and Atlanta Falcons respectively.
Green is on pace for 118 receptions, 1,792 yards and six touchdowns. It would be his first season over 100 receptions as well as his most yards receiving should he be able to maintain this pace through the second half of the season.
His pace may not be sustained because the team finally has some production coming from a second wide out in Brandon LaFell. They also just got tight end Tyler Eifert back to 100 percent. What Green did through the first eight games, though, was spectacular given the lack of players around him to take defensive attention away.
Honorable mentions: Julio Jones, WR — Atlanta Falcons; David Johnson, RB — Arizona Cardinals; Matt Ryan, QB — Atlanta Falcons; Ezekiel Elliott, RB — Dallas Cowboys; DeMarco Murray, RB — Tennessee Titans; LeSean McCoy, RB — Buffalo Bills
Defensive Player of the Year: Marcus Peters, CB — Kansas City Chiefs
Cornerback Marcus Peters had eight interceptions, 26 pass deflections and two defensive touchdowns as a rookie in 2015. In case anyone thought that was a fluke, he came out and through the first eight weeks of 2016 showed that he is in fact a dominant game-changer at his position.
Kansas City is playing in arguably the toughest division in the NFL and their 5-2 record currently has them in third place thanks to the Raiders and Denver Broncos owning records of 6-2.
The Chiefs are still right there, though. And even if they don't win their division, they should be one of the two Wild Card teams barring a serious implosion. What makes that seem unlikely is their ability to take games over thanks to their defense and Peters is one of the key peices that makes that unit tick.
His ability to cover any receiver in the NFL at such a young age is remarkable. Even more amazing is that teams keep testing the young man who has 21 tackles, five interceptions and 11 pass deflections. Peters has yet to record a defensive touchdown this season, but it just feels like that's a matter of time with how often he is around the ball.
Honorable mentions: Von Miller, LB — Denver Broncos; Lorenzo Alexander, LB — Buffalo Bills; Brian Orakpo, LB — Tennessee Titans; Marcus Cooper, CB — Arizona Cardinals
Offensive Rookie of the Year: Dak Prescott, QB — Dallas Cowboys
This one was a complete toss up. The award could have gone to either Dak Prescott, the fourth-round pick out of Mississippi State or Ezekiel Elliott, the fourth-overall selection out of Ohio State. Either way, it would make Dallas Cowboys fans happy since they both play for America's Team. They also have been the biggest reason that the Boys are sitting pretty at 6-1 after eight weeks.
The nod does go to Prescott though, simply because the quarterback affects so much more of the game. Last season, they had a great running game with Darren McFadden going for over 1,000 yards in just 10 starts. But they simply couldn't get any wins.
In 2016, they're on fire and riding a six-game winning streak. The biggest reason for that is the composure and leadership abilities of Prescott. He set an NFL record for most pass attempts to start a career without an interception, showing the poise of a 10-year vet despite being just 23 years old. After seven games, he has completed 65.2 percent of his passes for 1,773 yards with nine touchdowns to just two interceptions.
Dak isn't just a threat to throw however as the rookie also has rushed for 105 yards and four touchdowns on the season. His latest performance included shaking off a horrid start to the game to lead a remarkable comeback which included a game-winning touchdown in overtime against the Philadelphia Eagles.
Honorable mentions: Ezekiel Elliott, RB — Dallas Cowboys; Sterling Shepard, WR — New York Giants; Will Fuller, WR — Houston Texans; Carson Wentz, QB — Philadelphia Eagles; Jack Conklin, OT — Tennessee Titans
Defensive Rookie of the Year: Deion Jones, LB — Atlanta Falcons
The Atlanta Falcons have been off to a great start and the majority of that credit goes to their offense. That's understandable because they feature an outstanding offense with high-powered players like quarterback Matt Ryan, receiver Julio Jones and running backs Tevin Coleman and Devonta Freeman.
Last season that unit led them out to a 6-2 start before they fell apart went 2-6 from that point on. An 8-8 finish stung and reminded the team that they simply can't do it on offense alone.
With that in mind they used their first couple of draft choices on the defensive side of the ball with safety Keanu Neal out of Florida in Round 1 and linebacker Deion Jones from LSU in Round 2. So far Jones has been the guy helping to get that defense right.
They won't be mistaken for a defensive powerhouse, but the Falcons have finally been able to get some stops in key situations en route to a 5-3 start to 2016. Jones has been a great addition with 47 tackles, two interceptions and a defensive touchdown.
With other guys selected ahead of him taking time to adjust to the speed of the pro game, Jones came in ready to make an impact.
Honorable mentions: Leonard Floyd, LB — Chicago Bears; Anthony Brown, CB — Dallas Cowboys; Darron Lee, LB —  New York Jets; Joey Bosa, DE — San Diego Chargers
Comeback Player of the Year: Jordy Nelson, WR — Green Bay Packers
The Green Bay Packers were a good team in 2015, reeling off 10 wins to just six losses. They even defeated the Washington Redskins on the road in the first week of the playoffs before losing in overtime to the Arizona Cardinals. All-in-all it was a really good year that just didn't end in a Super Bowl. It wasn't perfect though, because something just felt off all season.
Quarterback Aaron Rodgers struggled more than ever to get the ball downfiled and receiver Randall Cobb wasn't finding the holes in the defense he was accustomed to. The reason for those issues could be traced back to Week 2 of the 2015 preseason. Wide receiver Jordy Nelson went down on a play with no contact and was lost for the season. A torn ACL was the culprit and his absence proved just how much he meant to the flow of the Packers offense.
His return was greatly welcomed by players, coaches and fans alike. Through eight weeks, he has been solid. While his normal burst hasn't been there, he is starting to show signs of returning to full speed. This was evidenced by his 58-yard reception in Week 8 against the Atlanta Falcons. On the season, Nelson has brought in 31 receptions for 415 yards and six touchdowns. If his last game is any indication, those numbers will only increase the better he feels after his return.
Honorable mentions: Kelvin Benjamin, WR — Carolina Panthers
MVP: Derek Carr, QB — Oakland Raiders
Derek Carr has been simply sensational on the season. Most people will look to his most recent outing, which was a 513-yard passing performance that included four touchdowns. What they won't realize though is that as awesome as that game was, it shouldn't be a surprise.
Carr has been willing the Raiders to wins this season, including a 5-0 record on the road. So far on the season Carr has thrown for 2,321 yards with 17 touchdowns and just three interceptions.
His quarterback rating at the midway point is 100.9. He was drafted behind Blake Bortles, Johnny Manziel and Teddy Bridgewater, but has far exceeded them all. Most importantly, he is leading a revival as Raider Nation is strong once again. After not having a winning season since 2002, Carr has lead Oakland to a tie for first place in the AFC West at 6-2.
His brother was the first overall pick the same year that Oakland last had a winning record and the younger Carr says he learned a lot from watching the struggles his brother went through. It doesn't look like he will ever have to worry about those same type of struggles. In fact, he's on track to be the antithesis of struggling, earning himself MVP honors for the 2016 season.
Honorable mentions: Dak Prescott, QB — Dallas Cowboys; Ezekiel Elliott, RB — Dallas Cowboys; DeMarco Murray, RB — Tennessee Titans; Matt Ryan, QB — Atlanta Falcons; Tom Brady, QB — New England Patriots
This article originally appeared on