NFL 2016: 5 hottest defenses going into December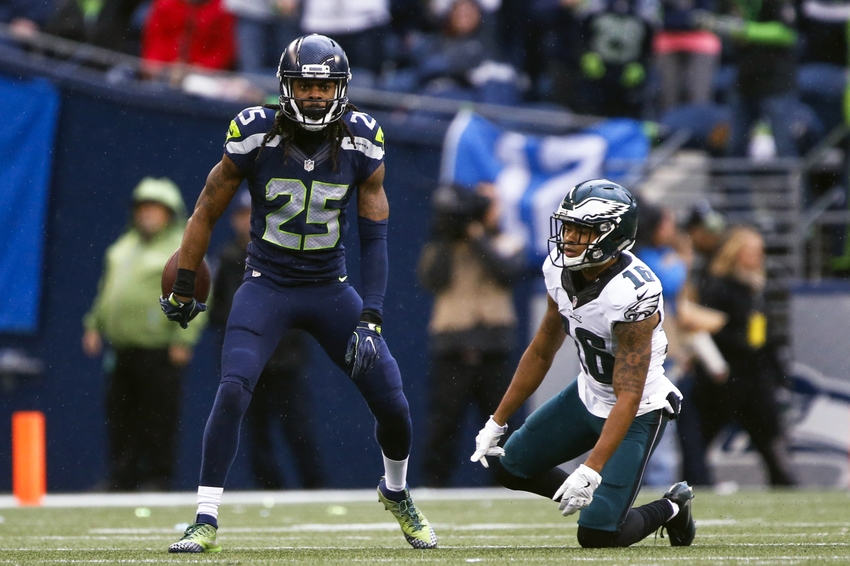 A year ago, the Denver Broncos took a potent defense into the playoffs and came away with a Super Bowl win. Which NFL "Ds" are getting "As" these days?
It's amazing what you can do with a quality defensive unit in today's NFL.
Just ask the Denver Broncos. A year ago, they played three postseason games against the Pittsburgh Steelers, New England Broncos and Carolina Panthers. The team's offensive unit scored a grand total of four touchdowns and Gary Kubiak's club walked away with a Lombardi Trophy.
Enclosed for your consideration may or may not be the five best defensive units in the NFL as we enter the month of December. However, each of these groups are playing like that these days.
5. Tampa Bay Buccaneers
The Tampa Bay Buccaneers have won five of their last seven games following an 0-3 start. In a span of eight days, they beat the Kansas City Chiefs at Arrowhead Stadium and stifled the Seattle Seahawks in Tampa. In each of those victories, they held their opponents to 17 points or less.
During their current three-game winning streak, Dirk Koetter's club has allowed a combined 32 points. That's quite a turnaround from that Thursday night home debacle against the Atlanta Falcons, in which the Bucs were overwhelmed by a 43-28 count.
In the recent wins over the Chicago Bears, Chiefs and Seahawks, defensive coordinator Mike Smith has seen his unit surrender only three offensive touchdowns in as many games. There have been a combined 10 sacks and nine takeaways. Chicago and Seattle were limited to fewer than 300 yards of total offense.
Why don't we have the Bucs' defense a little higher on this list? The recent three-game run is impressive but we still need to see a little more in order to elevate them. However, that will be the case if this unit continues its strong play as of late.
4. Baltimore Ravens
Steady and unspectacular. That's the best way to describe the Baltimore Ravens' defensive unit this season. Only the Arizona Cardinals are allowing fewer total yards per game in the NFL these days. No team has been tougher against the run. Meanwhile, John Harbaugh's squad is sixth in the league against the pass.
In Sunday's 19-14 win over the Cincinnati Bengals, the Baltimore front-seven did their best Hakeem Olajuwon imitation at the expense of quarterback Andy Dalton. When they weren't putting him on the ground, they were busy batting away his passes. All told, the sixth-year signal-caller was sacked three times and lost two of his four fumbles.
Those takeaways have been a big key to the team's defensive success this season. A club that forced only 14 turnovers in 16 games in 2015 have 11 interceptions and eight fumble recoveries in 11 outings this season. A year ago, the Ravens picked off an NFL-low six passes. More importantly as of late, the Ravens are 3-1 in their last four games – all victories over divisional foes. They've held all three of their victims to 14 points or less. Baltimore has given up a total of seven offensive touchdowns over that span and three came in a 27-17 road loss to the Cowboys.
Outside linebacker Terrell Suggs leads the team with eight sacks and Elvis Dumervil is healthy again. Inside linebacker C.J. Mosley leads the team with three interceptions and safety Eric Weddle has been an excellent addition as well.
Given the erratic nature of Joe Flacco and the Ravens offense, Harbaugh needs all the help he can get from this unit.
3. New York Giants
We have spent roughly nine months hearing about all the greenbacks that Big Blue spent this offseason in bolstering the NFL's 32nd-ranked defense of 2015. This was a 6-10 team one year ago, and to be blunt, the New York Giants were simply a disaster on this side of the football.
So have general manager Jerry Reese, head coach Ben McAdoo and much-maligned defensive coordinator Steve Spagnuolo gotten their money's worth?
It looks like the pieces are starting to come together. Last season, the team that allowed the most total yards is ranked 16th in total defense. A unit that was 24th against the run now sees only four teams in the NFL giving up fewer rushing yards per game. Meanwhile, a pass rush that was credited with only 23 sacks a year ago has already gotten to opposing quarterbacks 25 times in 11 contests.
However, it's what we have seen from McAdoo's team during its current six-game winning streak which warrants their mention here. The Giants have allowed fewer than 100 yards rushing in each outing. All told, 21 of those aforementioned 25 sacks have come over this stretch, and a total of 11 of the team's 14 takeaways this season have come in their last five games.
Hence, it's safe to say that the free-agent trio of defensive end Olivier Vernon, cornerback Janoris Jenkins and nose tackle Damon Harrison has done its share. Meanwhile, it's second-year strong safety Landon Collins that has been the star of this defensive show. But will it continue to play to rave reviews?
2. Kansas City Chiefs
Yes, you may have a hard time believing this ranking after watching Denver Broncos quarterback Trevor Siemian riddle this team for 368 yards on Sunday night. However, this defense has been flying around the field all season, most notably during the club's 6-1 stretch.
Now Andy Reid and company have their most accomplished pass rusher back in the fold. Lost in the fact that the Kansas City Chiefs allowed 464 total yards in the 30-27 victory over the defending Super Bowl champions was the fact that outside linebacker Justin Houston spent plenty of time in the Broncos' backfield. He finished the evening with 10 tackles and three sacks in the team's thrilling overtime win.
No team has more takeaways than the Chiefs. Two years ago, Reid's club had more luck in a bakery when it came to the turnover department. In 2014, they came up with only 14 opponent's miscues. However, that figure more than doubled last season (29). Now they lead the league with two dozen takeaways in 11 contests, and that number is almost equally divided between interceptions (13) and fumble recoveries (11).
Second-year cornerback Marcus Peters has exactly one-third of those takeaways. He's tied for second in the NFL with five interceptions and has three fumble recoveries to boot. Meanwhile, led by outside linebacker Dee Ford, the Chiefs have a respectable 24 sacks. However, it's also worth noting that two-thirds of those quarterback traps have come in the last five games (16).
Since being thrashed by the Steelers on a Sunday night and giving up 43 points in the process, Reid's club has held five of its last seven foes to under 20 points, hence, that's the kind of performance that can mean big things in the NFL postseason.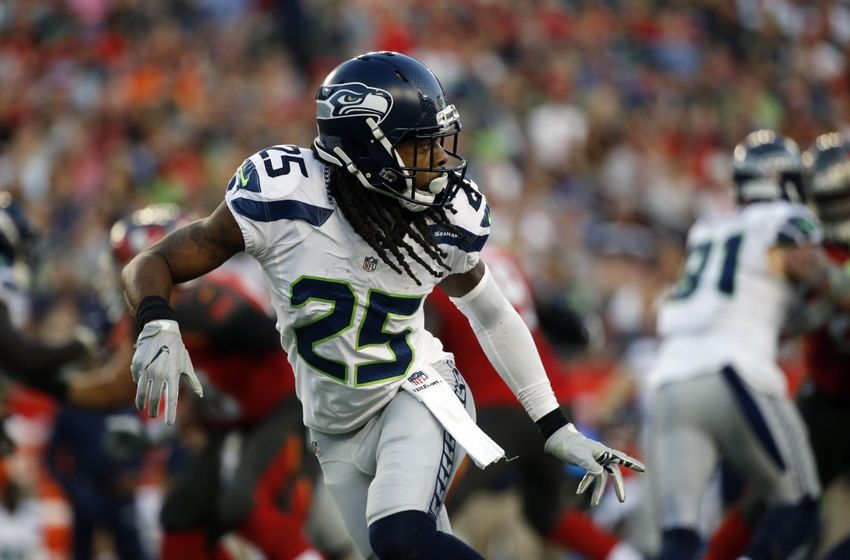 Nov 27, 2016; Tampa, FL, USA; Seattle Seahawks cornerback Richard Sherman (25) defends against the Tampa Bay Buccaneers during the first half at Raymond James Stadium. Mandatory Credit: Kim Klement-USA TODAY Sports
1. Seattle Seahawks
When you look at the performance on a consistent basis, they are still the one. The Seahawks remain the league's most feared defensive unit and have been pretty hot throughout the year.
On Sunday afternoon at Tampa, Buccaneers wide receiver Mike Evans spelled doom for the Seattle secondary in his team's 14-5 win. By game's end, he hauled in eight passes for 104 yards in the surprise victory, both scores coming in the first quarter.
Yes, the Seahawks dropped to 7-3-1 but the fact remains that this is the steadiest ship in the port when it comes to stopping the opposition. While quarterback Russell Wilson and the offense did little-to-nothing against the fired-up Buccaneers, Seattle pitched a shutout in the final three quarters.
No team in the league is giving up fewer points per game than Pete Carroll's club. Then again, that's hardly news. The Seahawks have allowed the fewest points in the NFL in each of the last four seasons. Amazingly, the last time we saw such play was when the 1953-57 Cleveland Browns managed the feat in five consecutive seasons.
Consider that in the team's three losses and a tie, this club has allowed a combined 54 points, 25 of those coming in a five-point setback to the New Orleans Saints at the Superdome.
If the Saints don't somehow do well in the playoffs and/or reach the Super Bowl, it won't be due to the play of cornerback Richard Sherman, safeties Kam Chancellor and Earl Thomas, defensive end Cliff Avril and Frank Clark and linebackers Bobby Wagner and K.J. Wright. You get the picture. This unit is experienced and postseason tested.
Yes, the numbers aren't as awe-inspiring as in year's past in terms of this team giving up yardage. However, when push comes to shove, it's Sherman and the Seattle defense that usually does the shoving.
This article originally appeared on