NFC West Update: Top 3 teams in division all win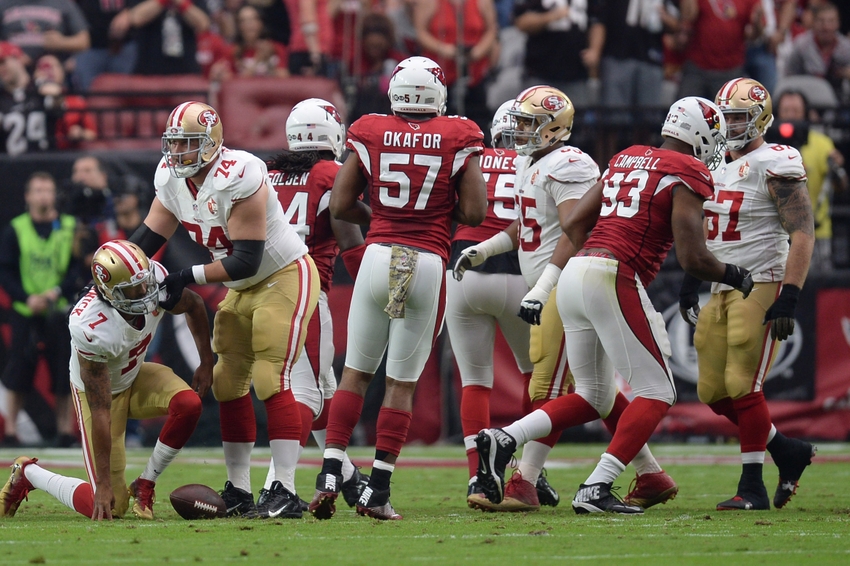 NFC West update for Week 11. The Seattle Seahawks are still two games clear of the rest of the division as the 3 top teams all won this week.
Seattle's unexpected win over the New England Patriots didn't extend their lead in the NFC West. Instead, it just meant that they didn't lose part of their lead after both Arizona and St. Louis also won this week.
Division Standings
| | | | | | | | |
| --- | --- | --- | --- | --- | --- | --- | --- |
| NFC West Team | W | L | T | Pct | PF | PA | Net Pts |
| Seattle Seahawks | 6 | 2 | 1 | .722 | 193 | 158 | 35 |
| Arizona Cardinals | 4 | 4 | 1 | .500 | 202 | 160 | 42 |
| Los Angeles Rams | 4 | 5 | 0 | .444 | 139 | 173 | -34 |
| San Francisco 49ers | 1 | 8 | 0 | .111 | 187 | 283 | -96 |
Arizona Update
The Arizona Cardinals got up to .500 for the first time all season with a win over San Francisco. It wasn't easy, and the barely escaped with a 23-20 win.
Arizona jumped out to an early 14-0 lead, but they couldn't get the running game going to try and shorten the game. David Johnson finished with just 55 yards rushing. That meant that the offense was forced to lean on Carson Palmer, and he responded by throwing 2 interceptions.
Defensively, Arizona struggled to shut down the 49er's talent-light offense. Colin Kaepernick had a big day, which is never a good sign for an opposing defense.
Los Angeles Update
The LA Rams are a statistical oddity. They're now 2-1 in games when they don't score a touchdown, and 2-4 in games in which they do.
This week was one of those no-touchdown wins. The somehow managed to win 9-6 this week. Of course, playing a team as bad as the Jets had a lot to do with that.
LA's offense continues to be genuinely terrible. Case Keenum threw for only 161 yards, and Todd Gurley was held to only 61 yards on the ground.
Defensively they got the job done, but it it is unclear if that unit can be counted on from here on out. Their all-pro DE Robert Quinn checked into the hospital this morning after reportedly suffering a seizure.
#Rams Robert Quinn has some serious health issues- a tumour at the base of his brain that he's been living with since high school.

— Liz Habib (@LizHabib) November 14, 2016
Quinn's health concerns are much bigger than football. Hopefully he will quickly make a full recovery.
San Francisco Update
After blowing out the Rams in Week 1, San Francisco has lost eight straight games. It wasn't all-bad this week though. San Francisco is finally starting to show improvement.
Colin Kaepernick is starting to look a bit like the 2013 version of himself. He threw for 215 yards and a TD while running for 55 more and another TD. If he had gotten any help from his running backs, the 49ers likely would have beaten Arizona.
The 49ers defense also looked better. The picked off Carson Palmer twice and held David Johnson to only 55 yards rushing. San Francisco held Arizona to just 3 points in the second-half, which gave them a chance to almost pull off the shocking upset.
At 1-8, San Francisco is firmly looking ahead to next season. They're getting all their youngsters playing time, and it is starting to pay off.
More from 12th Man Rising
This article originally appeared on