NFC North Playoff Race: Minnesota Vikings fall behind the Lions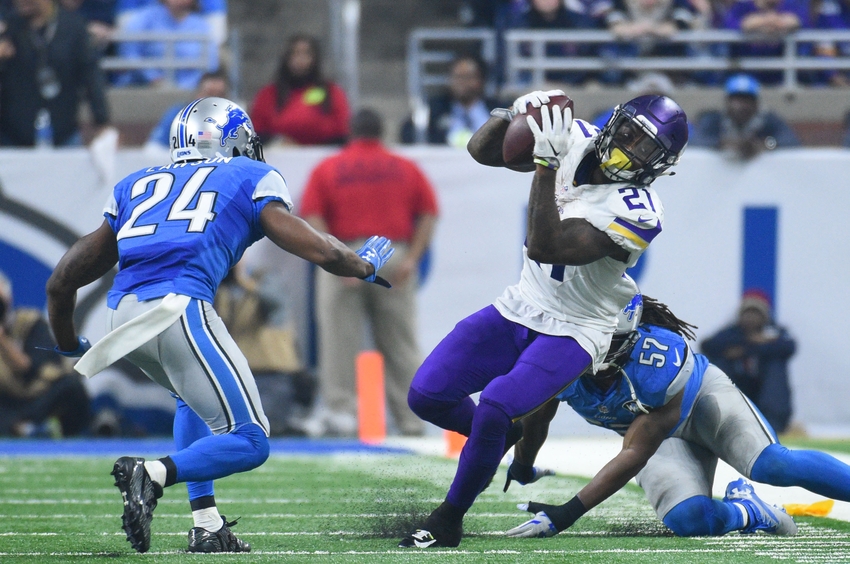 With only 5 weeks remaining in the 2016 NFL Season, the NFC North race will be a tight one with the Minnesota Vikings chasing the Lions for the top spot.
The Detroit Lions hold a slim lead over the Minnesota Vikings for the top spot in the NFC North currently, but that could change at any moment. With the Packers looming in the background, both seems better keep winning.
At this point, it's hard to tell who will win the division with 5-6 games remaining for each team. We do have quite the clear picture though, as the Thanksgiving Day game cleared a few things up for us.
Let's take a close look at the NFC North standings, remaining schedules and predictions for the last stretch in the 2016 NFL Season.
The NFC North standings are currently as follows:
Detroit Lions: 7-4 (2-2)
Minnesota Vikings: 6-5 (1-3)
Green Bay Packers: 4-6 (2-1)
Chicago Bears: 2-8 (2-1)
Obviously, the Detroit Lions are sitting pretty right now with a one game lead in the NFC North and a season sweep over the 2nd place Minnesota Vikings. But with 5-6 games remaining for each team, much can happen to effect these standings.
With that being said, let's go ahead with the remaining schedules for each of these four teams.
Detroit Lions
12/4 – @ New Orleans Saints
12/11 – vs Chicago Bears
12/18 – @ New York Giants
12/26 – @ Dallas Cowboys
1/1 – vs Green Bay Packers
Minnesota Vikings
12/1 – vs Dallas Cowboys
12/11 – @ Jacksonville Jaguars
12/18 – vs Indianapolis Colts
12/24 – @ Green Bay Packers
1/1 – vs Chicago Bears
Green Bay Packers
11/28 – @ Philadelphia Eagles
12/4 – vs Houston Texans
12/11 – vs Seattle Seahawks
12/18 – @ Chicago Bears
12/24 – vs Minnesota Vikings
1/1 – @ Detroit Lions
Chicago Bears
11/27 – vs Tennessee Titans
12/4 – vs San Francisco 49ers
12/11 – @ Detroit Lions
12/18 – vs Green Bay Packers
12/24 – vs Washington Redskins
1/1 – @ Minnesota Vikings
Starting with the Chicago Bears, their remaining schedule is very tough. Though they only have two road games, they must also play the Redskins and Packers to finish their schedule. Their playoff chances are very slim, though, so they would need to win out to even have a chance.
The Green Bay Packers also have a tough schedule ahead. Being in Philadelphia this week, at home against Houston and then Seattle means for a tough road ahead for the Cheese-heads. Already sitting 2.5 games behind the division-leading Lions, things don't look great for the struggling Pack.
The Minnesota Vikings have struggled as of late, but they have the easiest remaining schedule in the NFC North. Despite the game against Dallas, the Vikings will probably be favored in each of their remaining games, meaning if they play how their supposed to, a 10-6 season isn't too far of a stretch.
The Detroit Lions may lead the division, but they also may have the toughest remaining schedule in the division. Three road games remaining – @ New Orleans, @ NY Giants and @ Dallas – means for a very tough finish for the NFC North leader. The Lions may have to pull a few upsets to keep a winning record into January.
Predictions for the NFC North final standings
If we have learned anything this year, it's that anything can happen in the NFL. The Vikings started the season off 5-0 and now they sit at 6-5. The Lions have been losing in the 4th quarter of every one of their games, yet they're 7-4. The Packers have seemingly fallen apart and the Bears seem to have issues even Ditka couldn't fix.
So as wrong as these may be, here are my predictions for the NFC North final standings:
Minnesota Vikings (10-6)
Detroit Lions (9-7)
Green Bay Packers (6-10)
Chicago Bears (3-13)
Due to the strength of schedule going forward, I believe the Vikings can win their final 4 games of the season to finish 10-6 and have momentum heading into the playoffs. The Lions have looked great, but have a very tough schedule ahead. Vikings' fans, we still have hope! Let's get this division.
#SKOL
This article originally appeared on