NFC North Breakdown Week 10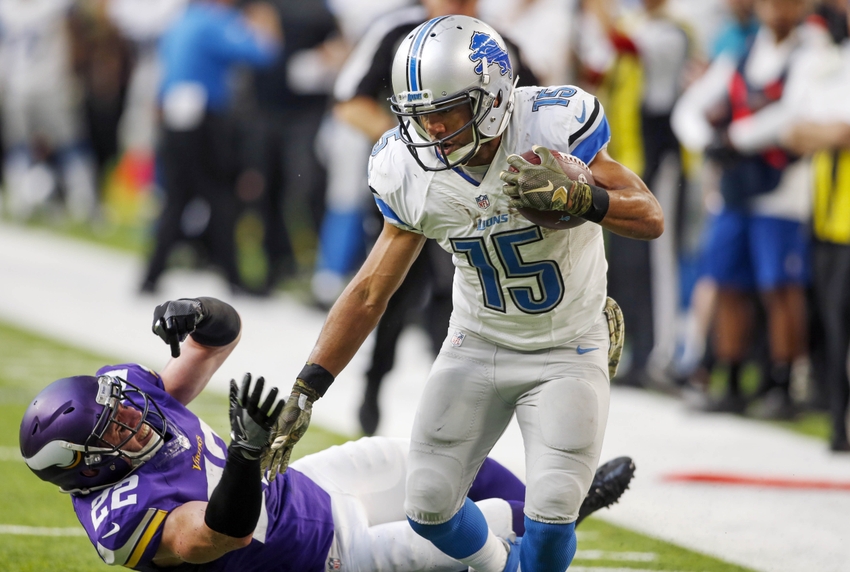 The NFC North had quite the shakeup last weekend.
The division-leading Vikings lost at home to the Lions in week 9, while the Packers fell to 4-4 after a loss to Andrew Luck and the Colts at Lambeau Field. With the Lions on their Bye week, holding onto the 2nd place spot in the NFC North, let's examine each team in the division after ten weeks.
Minnesota Vikings (5-3)
1st in NFC North
Week 10: @Washington Redskins (4-3-1)
Lions fans witnessed a remarkable comeback win over the Vikings last weekend. Golden Tate burned star Vikings safety Harrison Smith in overtime for wild finish to a huge divisional matchup.  After a 5-0 start, the Vikings have lost three straight games. Head Coach Mike Zimmer will do his best damage control to try and get the Vikings back on track. For a team that was built on running the ball and playing great defense, they've really hit a wall on offense without Adrian Peterson. Sam Bradford, while he's not playing terribly, isn't capable of carrying a team on his own. As a result, the Vikings' offense has sputtered and their defense has been getting worn down. The Redskins will be a tough challenge on both sides of the ball. Kirk Cousins and company need this win badly to stay alive in an even tougher division than the NFC North.
Detroit Lions (5-4)
2nd in NFC North
Week 10: BYE
The Lions are the talk of the NFL after their fifth comeback win of the season last week. Things looked bleak after a 1-3 start to the season. Since then, they've reeled off 4 wins in 5 games. The division looks to be in play with struggling Minnesota and Green Bay. Detroit will control their own destiny with home games left against all three divisional opponents over the final seven weeks. DeAndre Levy still hasn't returned but there's some hope he could come back. Darius Slay, Ziggy Ansah and Riley Reiff are dinged up but will benefit from this well-timed Bye week. Detroit will have to gear up for a similar second-half surge to last season's 6-2 finish. The Lions will have to get things going on defense so they don't have to rely on Matthew Stafford's late-game heroics.
Green Bay Packers (4-4)
3rd in NFC North
Week 10:  @Tennessee Titans (4-5)
The Packers have been an average team at best. While they still have Aaron Rodgers, something is missing this season. An early loss to the Vikings did more to boost the perception that Minnesota was a legit team than make people wonder what was wrong in Green Bay. The Packers' defense started strong – particularly against the run – but was exposed by Luck's Colts to put the Packers in an early hole that they couldn't come all the way back from. Marcus Mariota isn't a sure bet to play in this game, but as the Lions learned in week two, the Titans can beat you if you take them lightly. A loss would put Green Bay in real trouble of missing the Playoffs for the first time since 2008.
Chicago Bears (2-6)
4th in NFC North
Week 10: @Tampa Bay Buccaneers (3-5)
The Bears are coming off of a Bye week and before that, knocked off the Vikings. After a slow start, they've played much tougher in their wins over the Lions and Vikings. It would take Chicago running the table to even have a shot at the Playoffs, which is extremely unlikely, but they'll no doubt play hard. John Fox hasn't had much to work with, but they have Jay Cutler back (which I THINK is a positive) and a defense that is playing much tougher as the season goes on. This week against the Bucs, they should be rested and ready to play a struggling Tampa team. The Bears season is mostly over, but they'll serve as a potential spoiler to their many aspiring Playoff opponents over the final 8 weeks.
Follow SLR on Twitter @SideLionReport & Editor Matt Urben @MattUrben88
More from SideLion Report
This article originally appeared on