NFC East Roundup Week 9: Cowboys Have Stranglehold On Division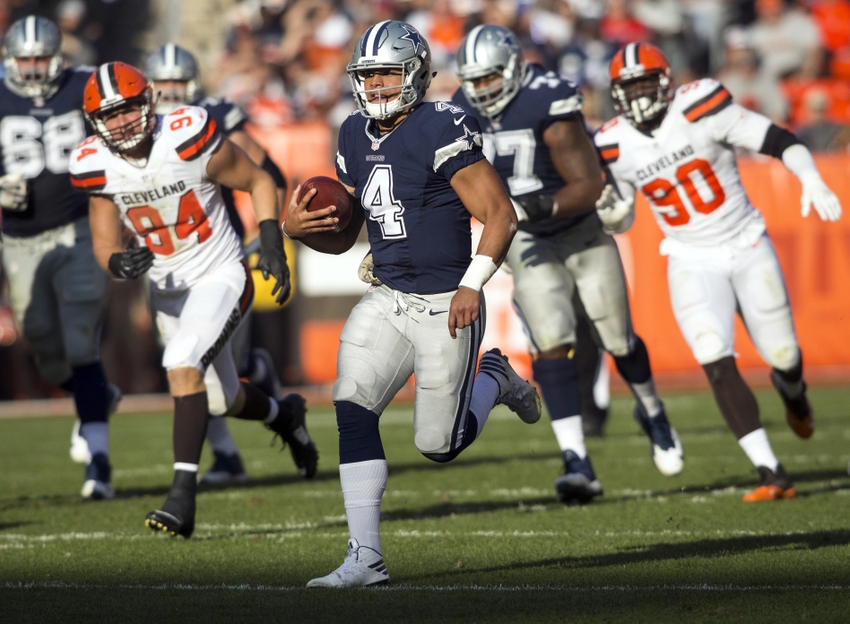 The NFC East is no longer looking as competitive as it once was. The Dallas Cowboys now have control of the division.
The NFC East is getting clearer and clearer each week, and after Week 9, the Dallas Cowboys have established themselves as the top team. The team is 7-1 on the season, and they easily could have been undefeated had in not been for a late loss in Week 1 to the New York Giants. In Week 9, the Cowboys pummeled the Cleveland Browns, winning 35-10. Dak Prescott was once again superb, while the defense held their own.
Moving forward, the Cowboys are definitely the NFC East favorites. They have the young talent needed to stay competitive, while the rest of the NFC appears to be pretty equal. The team is becoming a legitimate Super Bowl contender, and that is great news for them. The Prescott era could be kind to the fans of America's team.
The NFC East now has a new second place team as well. The Giants defeated the Philadelphia Eagles this week to move their record to 5-3. Eli Manning and Odell Beckham Jr. put together a strong offensive game, while their defense was able to hold up. The Giants are probably not a 5-3 team, but they are still sitting at the No. 5 seed for the playoffs if the season were to end today.
The Eagles, meanwhile, have fallen into last place. After an undefeated start to the season, the team has fallen off. Carson Wentz is enduring some rookie struggles and Doug Pederson's offense has not been great in recent weeks. The team lacks a strong running back and has some weaknesses at corner on the defensive side. They probably will finish the season with a .500 record at best unless Wentz can shake off his accuracy issues.
Finally, the Washington Redskins had a good week. Despite being on bye, the team actually moved up to third in the division. Their 4-3-1 record also puts them at the No. 6 seed in the postseason race. If the season were to end today, they would likely play the Minnesota Vikings in the opening round of the playoffs. Granted, they have to deal with the loss of Trent Williams, but they still have a chance to make a push late in the season.
Overall, this division belongs to the Cowboys. The other teams in the league are going to have trouble catching the Cowboys but anything is impossible. The second half of the season will be fun to watch for the NFC East.
This article originally appeared on