NFC Championship 2017: Falcons Keys to Victory vs Packers
Tom Pollin/FanSided via NFL Spin Zone

Fansided
The Atlanta Falcons head into the 2017 NFC Championship Game needing to top the Green Bay Packers to make the Super Bowl. Here's how they can do it.
If the rematch between these two teams is anything like their Week 8 thrill ride football fans may be exhausted before the AFC Championship Game kicks off Sunday evening.
In a game with seven lead changes, Matt Ryan connected with Mohamed Sanu for an 11 yard touchdown pass with 31 seconds left to squeeze the Falcons past the Green Bay Packers 33-32.
That loss launched the Packers on a four game losing streak that nearly derailed their season. With Green Bay's record at 4-6, Aaron Rodgers stepped out and boasted that his team was ready to "run the table". Six regular season and two playoff wins later the Packers now return to Atlanta with franchise trip number six to the Super Bowl in their sight.
Both teams are led by NFL Most Valuable Player candidates. Each offense finished the 2016 season in the NFL's top four for points scored. Each team's defense surrenders points nearly as fast as they can score them.
Ho do the Falcons emerge from this game with their second victory over Green Bay this season? Let us count the ways (hint: there are five).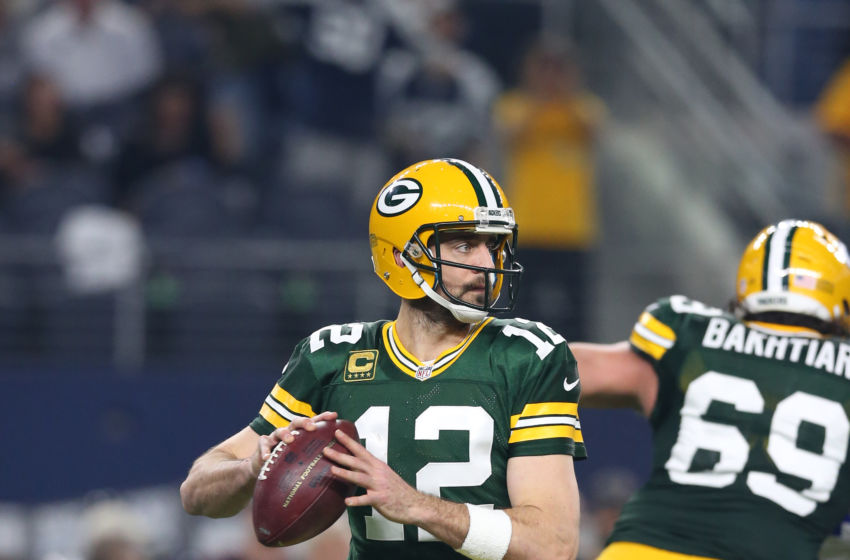 5. Rodgers plus Red Zone Equals Points
Green Bay's offense ran plays four times inside the red zone in their game against the New York Giants. They cashed in for three touchdowns and one field goal. Last Sunday at Dallas, the Packers dented the goal line all three times in their three red zone attempts. Out of the 72 points that Green Bay has scored this postseason, 45 were collected after Rodgers drove his offense within the shadow of his opponent's goal posts.
Rodgers can strike from anywhere on the field, but so far in this postseason he's been deadly once he crosses the 20. Part of this comes from the fact that he's so good when the play-call breaks down and he's allowed to freelance. That's a big part of his genius from anywhere on the field, but it makes him particularly dangerous when down in close.
However, another factor in that has been the emergence of Ty Montgomery. Since moving to running back, the converted receiver has been able to punch it in when Green Bay gets inside the 20-yard line. This showed as he scored twice on short carries in the win over the Cowboys. Subsequently, every phase of the Falcons defense has to be on their toes and ready to play at a higher level once the Packers get into the red zone.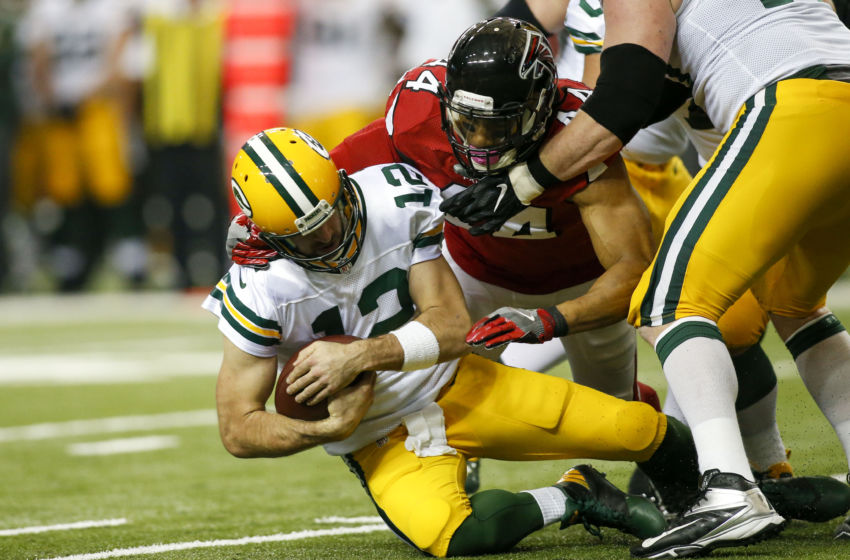 4. Vic Beasley Needs to Be a Headliner
In Week 8, Vic Beasley sacked Aaron Rodgers once and was credited with three tackles. He finished the season by earning first-team All-Pro with a NFL-leading 15.5 sacks to go along with 39 tackles. Despite the reputation of Atlanta's defense of being lackluster, Beasley provided the Falcons with a consistent pass rush throughout the year, at the least. That's the player Atlanta will need to show up on defense this Sunday.
The Falcons need Beasley's pass rush ability to keep the Packers within striking distance of their offense. They also need his turnover generating talents. Beasley has been credited with six forced fumbles this season. In a game that everyone expects to light up the scoreboard, one turnover would give Atlanta a big edge.
What's more, having Beasley and the Falcons get rush on Rodgers is huge in limiting the red-hot quarterback. There's no sure-fire way to stop the Packers' MVP-candidate. However, the best way to limit what he's capable of is to force him to make quicker throws and not allow him to freelance. A big showing from Beasley in the NFC Championship would allow the Falcons to force Green Bay's offense into that situation.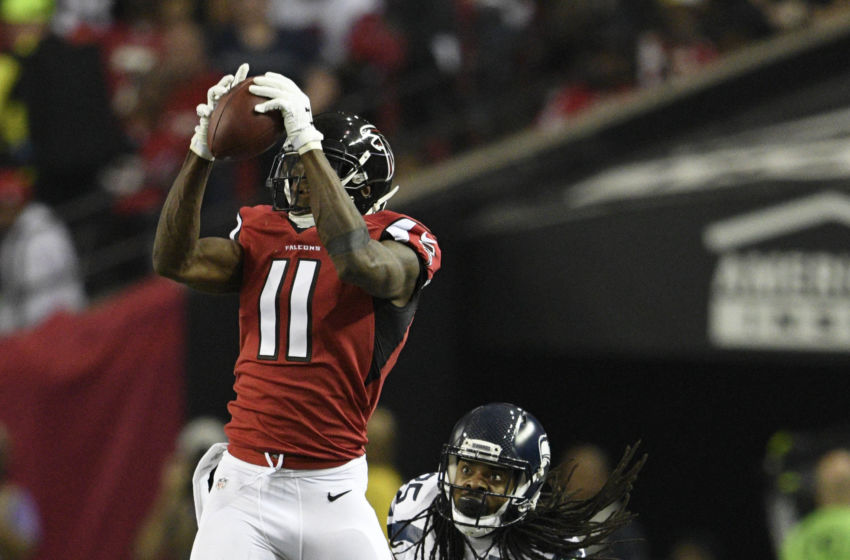 3. Ryan and Julio Jones are the Winning Formula
Atlanta's formula for victory in 2016 has been a simple one. Kyle Shanahan has used it to become the San Francisco 49ers' top candidate for their open head coach position. He calls plays for a quarterback who can make any throw from anywhere on the field and fields a wide receiver who thrives on filling burn wards with defensive backs.
Matt Ryan's 38 touchdown passes were second only to Aaron Rodgers' 40, but he topped all NFL quarterbacks with an 8.25 net yards per attempt average and 117.1 passer rating. Meanwhile, Julio Jones only finished No. 19 among NFL receivers in targets and receptions, but was the only player in the league to average over 100 receiving yards per game (100.6 to be exact).
With both safety Morgan Burnett and cornerback Quinten Rollins questionable for Sunday the Falcons' All-Pro duo should be primed for big numbers. Though Jones might be injured and though Taylor Gabriel and Mohamed Sanu can be factors in helping open up the field for Ryan and for the offense, the impact of the Falcons' No. 1 receiver could be the deciding factor in who puts more points on the board.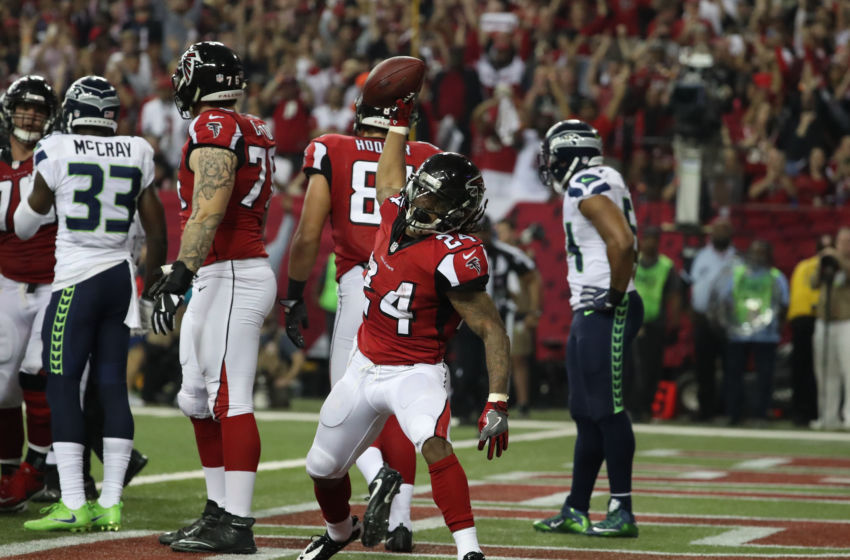 2. Keep Freeman and Coleman Busy
Last Sunday, Cowboys rookie running back Ezekiel Elliott averaged six yards per carry through three quarters on only 15 rushing attempts. On Dallas' final drive, at the Packers' 33-yard line, one carry by Elliott would have allowed the clock to burn down to three seconds. At that point they could have called their final time out, kicked their game-tying field goal and had the chance to oust Green Bay in overtime.
They elected not to give the ball to Elliott.
Atlanta can't make the same mistake, and won't. Devonta Freeman and Tevin Coleman combined to rush 345 times for 1,599 yards in 2016. They were also the top two on the team in touchdowns, Freeman with 13 and Coleman with 11. They have both proven the ability to sustain drives and deliver the coup de grace when it comes to running out the clock.
Both have been the hidden key to the Falcons offense this season. Opponents can't commit to stopping Jones and Sanu with Freeman and Coleman available to carry the load on the ground, while also eating valuable time off the clock. Even in high-pressure situations that may arise late in the game, the Falcons have to maintain their commitment to getting Freeman and Coleman the ball.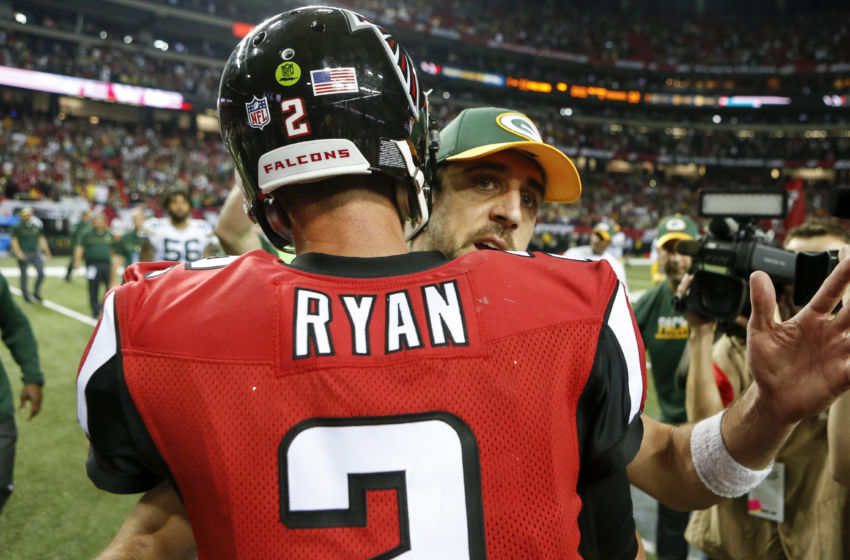 1. Ryan and Rodgers Live for Comebacks
Dallas scored to give the ball back to the Packers for the final time with 35 seconds on the clock in the Divisional Round with Green Bay having two time outs in hand and the game tied at 31. Five plays later, Mason Crosby buzzed a 51-yard field field goal just inside the left upright and the No. 1 seed Cowboys were finished for the season. Just before that, though Rodgers threw a bomb down the left sideline to a perfect spot where Jared Cook managed to stay inbounds.
Ryan isn't nicknamed "Matty Ice" because he enjoys vacationing in Antarctica. He's tied for 12th on the career list with 33 game-winning drives and 14th on the fourth quarter comebacks list with 25. To keep a short slide from going long we'll omit the names of all the Hall of Fame quarterbacks who occupy both lists behind Ryan.
As both quarterbacks have proved, either can take 45 seconds and a couple of time outs and be relaxing in the locker room with a cold beer before their opponents realize they lost. In this NFC Championship Game, Atlanta needs to make sure that quarterback is Ryan. They can't afford to leave Rodgers any time and, more importantly, need to do what they can to make sure that Ryan is the quarterback that has the ball last.
This article originally appeared on