New York Jets: Will Ryan Fitzpatrick Bounce Back?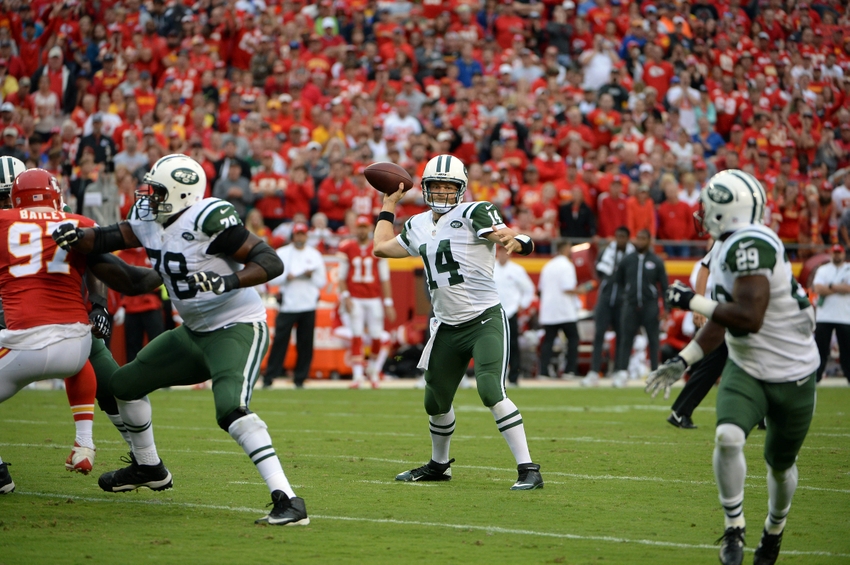 Week 3 against the Kansas City Chiefs was a day to forget for New York Jets quarterback Ryan Fitzpatrick. Can he bounce back in Week 4?
The New York Jets will be trying to bounce back from an awful loss to the Kansas City Chiefs in Week 3. The eight-turnover performance was one of the worst games in the history of the franchise, and the six interceptions thrown by Ryan Fitzpatrick cost the Jets.
"It's flushed," he said to Darryl Slater of NJ.com. "It was pretty easy to try to forget about that one. It was so bad, and there were so many poor things on my part that happened in that game, that you want to put it behind you as fast as you can."
Due to the dreadful performance, coming into the locker room was not an easy thing for Fitzpatrick to do. The six interceptions that he threw clearly cost the team, as his decision making was awful.
"It's a hard day for me to come in [Monday] after we lost that game because of my performance," Fitzpatrick said to Slater. "We don't really need to try to put it on anything else. I think that was pretty evident. To walk in [Monday] and have to face the guys, it's not an easy thing to do."
The timing of the poor game for Fitzpatrick came at a strange time. After the win against the Buffalo Bills, Fitzpatrick was named the AFC Offensive Player of the Week.
"This isn't all doom and gloom," Fitzpatrick said to Slater. "Last week, everybody was talking about how we're the greatest show on turf basically after one game. We're only as good as our next game."
Furthermore, it was clear to see that Fitzpatrick was trying to make something out of nothing. Due to him veteran quarterback, Fitzpatrick has to value the football and not make rookie mistakes like he did.
"The forced balls in the red area are just things that can't happen," Fitzpatrick said to Slater. "Part of that is we've been down there a lot this year and maybe haven't been as productive as we were last year.
"It's still a matter of taking what the defense gives you, and if it's not there, throw it away. You can't take points off the board. Those were a couple things that'll kill you, and I can't do that going forward."
Furthermore, Week 4 will not be an easy game for Fitzpatrick either. The Seattle Seahawks' defense has looked very impressive this season, and could create another long day for Fitzpatrick. Finally, it will be interesting to see how Fitzpatrick responds after the worst game of his career.
More from Empire Writes Back
This article originally appeared on