New York Jets: Watching the Decline of Legend Darrelle Revis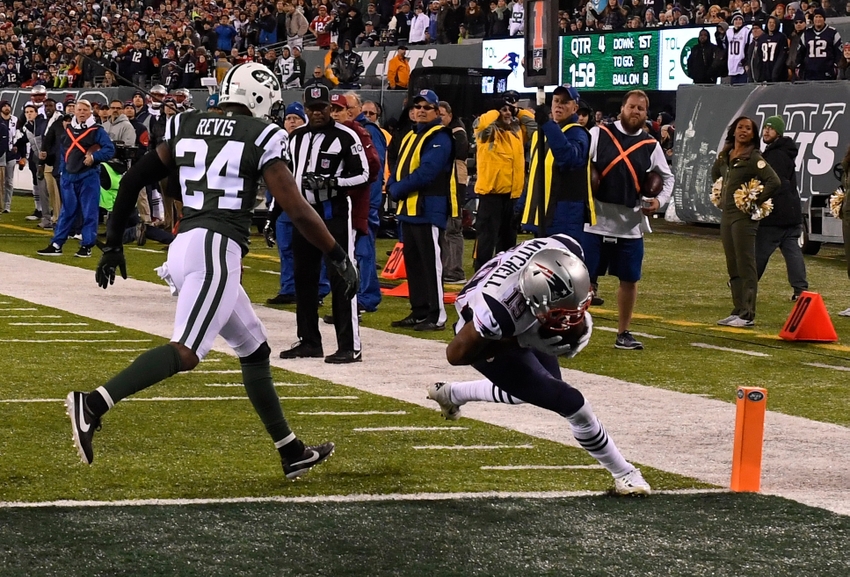 It is not easy for New York Jets fans to watch the decline of Darrelle Revis, as it has happened fast.
Over the years, New York Jets fans have been thrilled and wowed by the play of cornerback Darrelle Revis. After being selected in the first round of the 2007 NFL Draft, Revis became so good that he went one season without an interception because he was targeted so infrequently. Players don't often have an island named after them, and "Revis Island" became a place where top receivers went to play badly.
Nobody wanted to start a wide receiver in their fantasy leagues that was going against Revis.
However, those days are gone. It started last year, when players like DeAndre Hopkins and Sammy Watkins made him look bad. During the offseason, I wrote about the idea of Revis moving to safety. That seemed to be foreshadowing, as his play has declined rapidly in 2016, with even lower quality receivers like Terrelle Pryor beating Revis badly.
It started early with players like A.J. Green, but when newly converted wide receivers can take the legend to school, it becomes difficult to watch. By now, we have all seen the clips where he isn't giving his all to make tackles anymore, which would make him not even a good candidate to play safety.
Nobody thought it would get to this point so quickly. Rich Cimini of ESPN has speculated that Revis will receive his release at the end of the season. It's a serious possibility.
His decline culminated last week when rookie Malcolm Mitchell scored on Revis twice, including the game-winner. We are going to take a look at both of those plays here.
All screen shots courtesy of NFL Game Pass (subscription required).
Touchdown No. 1
Above is the formation for the first touchdown, which came from the second quarter of the contest. Mitchell is lined up wide to the left in the red circle with Revis lined up opposite him in the green circle.
You see how far off of the line Revis is? In his prime, he was adept at press coverage, but now, he plays far off the line. From this distance, as Mitchell makes his move to the inside, Revis has no opportunity to alter the route.
We can already see the "24" on Revis' back. That's telling us that he is chasing Mitchell. He allowed him inside position and has to run after him to have any chance.
As you can see from the end zone camera, the chase isn't working out well for the former island. As Tom Brady is getting ready to let the ball go, Mitchell has opened up a fair amount of space. As long as Brady makes a good throw it's going to be a touchdown.
This, like most, is an easy one.
Mitchell makes the catch and all Revis can do is watch. Imagine what this might have looked like in the year 2009. He would have been all over this guy. Not today.
Now let's look at the game winner.
Touchdown No. 2
Now we arrive at the game-winner. This time, Mitchell is lined up in the slot to the left, while Revis is lined up wide to the right against Julian Edelman. Edelman will motion to the right, and Revis will move with him.
The other highlighted Jet is Marcus Gilchrist (arrow). On the motion by Edelman, Gilchrist will cheat up to the line, showing blitz.
Gilchrist is up on the line, and the Jets are showing a seven-man rush. David Harris ends up backing out into coverage leaving a six-man rush, but Revis ends up all alone against Mitchell on the outside.
Look again at where Revis is positioned. How is he supposed to make a play if Mitchell, or anyone else, goes to the outside? I understand that the motion has set the left side to a stacked formation, so Edelman will get a free release. But standing five yards off of the line of scrimmage leaves him no chance to the outside.
Was there ever any doubt that Brady would recognize this? Of course not. Brady takes a three-step drop, leaving the pass rush no chance. Mitchell runs a simple out route and Revis has no chance.
Once again, it's a touchdown for the Patriots, and all Revis can do is watch.
It's difficult to watch, but at this point it is hard to even justify Revis being out there. He hasn't just lost a step, the heart doesn't seem to be in it anymore.
Jets fans, keep those memories.
More from NFL Spin Zone
This article originally appeared on