New York Jets Unwisely Name Ryan Fitzpatrick Starting Quarterback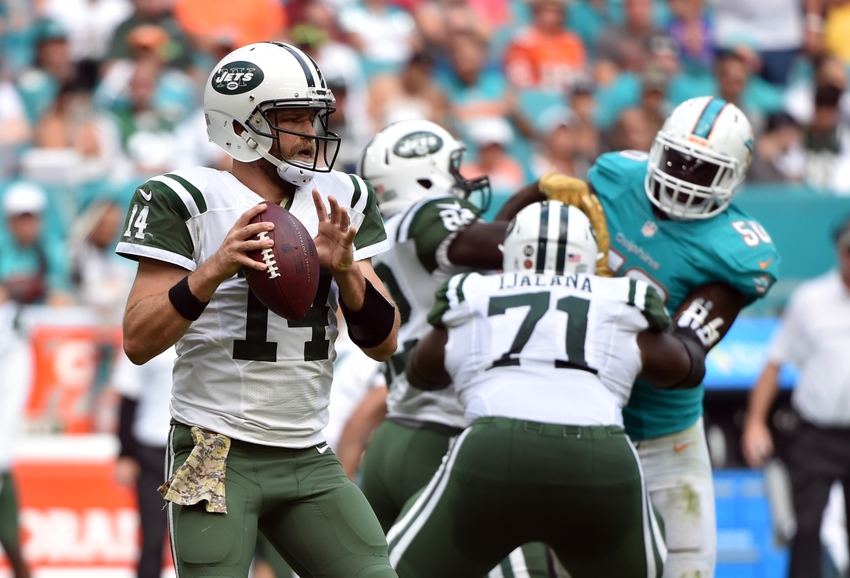 The New York Jets have announced that Ryan Fitzpatrick will be the starting quarterback against the New England Patriots in Week 12. Is this the right move?
It has been a poor season for the New York Jets in 2016. After being 10-6 in 2015, the Jets were never able to get going this season. A tough beginning to their schedule resulted in a 1-5 record in the first six games, and things haven't got much better since.
One of the many reasons for the Jets struggling this season has been the play of quarterback Ryan Fitzpatrick. Despite struggling, Fitzpatrick has been able to hold onto the starting job for the most part.
In the most recent game against the Los Angeles Rams, Bryce Petty got the start for the Jets due to an injured knee for Fitzpatrick. Petty didn't light the world on fire for the Jets against the Rams, but he also didn't play awful.
Even though the season is basically over, head coach Todd Bowles will be going back to Fitzpatrick as his starter in Week 12 against the Patriots. This is certainly a questionable move by Bowles. He doesn't seem ready to give up on the season despite the 3-7 record for the Jets and believes Fitzpatrick gives the Jets the best chance to win.
Jets are going back to QB Ryan Fitzpatrick as their starter.

— Adam Schefter (@AdamSchefter) November 21, 2016
While Fitzpatrick likely does give the Jets a better chance to win, they won't be beating the Patriots this season anyways. The Jets should be using the remaining games to see how Petty can play as a starter in the NFL to properly evaluate him. Instead, the Jets will continue to start a quarterback that has been awful this season.
Considering the record the Jets have, it seems silly not to try and help Petty develop for the rest of the season to help the offseason plan at quarterback. Now, Jets will be wasting valuable games for the development on Petty for a quarterback that won't be on the team next season.
More from Empire Writes Back
This article originally appeared on