New York Jets: Todd Bowles, Mike Maccagnan Should Not Be Fired…Yet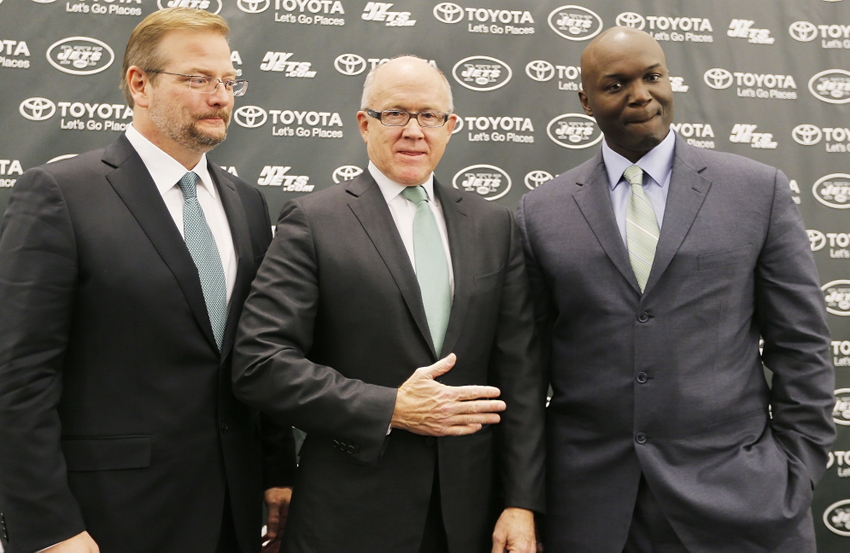 Despite the rough season, the New York Jets should not fire Todd Bowles and Mike Maccagnan—or at least not just yet.
When the New York Jets hired Todd Bowles and Mike Maccagnan, they were looking to change the direction of the franchise. They had spent the last six years with Rex Ryan leading the charge, and the team had lost focus under his leadership. The players were allowed to do what they want and they needed a firmer hand.
The last two of those years were spent with John Idzik as the general manager. Jets fans have to only hear that name before they cringe. He did help the team get out of salary cap woes, but didn't have an eye for talent. Fans were clamoring for a general manager that had an eye for talent.
In came Bowles and Maccagnan. The team was blessed with salary cap room and Maccagnan took advantage of it. The biggest splash was Darrelle Revis, but he made changes on both sides of the football which turned into a bonanza for coach Bowles. Add to it the fact that Ryan Fitzpatrick played far above his career numbers and you have a 10-6 season. The Jets missed the playoffs, but the positive vibes were there.
Fans were saying, "In Macc we trust." Jets Nation was buzzing heading into 2016. Buzzing, but worried, as the schedule was tough.
2016 has been rough. New York had salary cap problems, which sent key players away. Damon Harrison was one of the biggest ones to go. The Maccagnan/Bowles duo has pieced together a roster that just hasn't found the same magic as last year, and here they sit at 3-7.
Where do they go from here? Many have begun to talk about, including Richard Rodgers of the Jet Press, that the Jets should consider getting rid of Bowles at the end of the year. Others have speculated that the regime should be gone, including the general manager. I respectfully disagree and say that two years is not long enough. Keep the faith in Todd and Mike.
Let's talk about Maccagnan first. It's been a rough second year. All of the moves have not worked out the same way, but some have. I was not in favor of Matt Forte, but he is the third leading rusher in the AFC. It's time to step back and say it was a good move. Steve McClendon is no "Snacks," but he has played well. Robby Anderson is clearly a player with potential as well.
The biggest flags are Ryan Clady and Christian Hackenberg. One had been injured and is now injured again, while the other was drafted too early. General managers take risks, they don't always pan out. We don't know about Hackenberg yet, he still might not be a mistake. Jets fans are concerned as he was a second-rounder, but don't write the move off quite yet.
By the way—and this leads me into Bowles—Maccagnan was right about slow-playing the Fitzpatrick contract. He was great in 2015 and I was imploring the team to bring him back for months. But the fact of the matter is, players regress to the mean of their career numbers and that is what Fitzpatrick is doing.
He's a career mid-level quarterback and that is how he is playing. Fitz is back because the team didn't have anything better and they knew it. It was the same with Vinny Testaverde. He wasn't the quarterback that he was in 1998 and he never was that again. Maccagnan evaluated Fitzpatrick correctly.
Bowles was given a team that had solid frontline talent, but had some questionable depth. The eggs were all in the Fitz-basket with nothing to back him up. He faltered, Geno Smith got hurt, and he is left with quarterbacks that are not ready for the starring role. Moreover, you can't discount the injuries to the offensive line as well. Bowles has done what he can with the roster that he has.
He's made curious coaching decisions during the game. But which coach doesn't? It's still only his second year as a head coach and seasoned veteran coaches make mistakes. This is not something that should be cause for dismissal after just one bad year.
Even the issue with Muhammad Wilkerson and Sheldon Richardson shouldn't cause him to be fired. He did probably wait too long to discipline these players, but he is still learning. It is likely the first time he has dealt with this type of situation with the players. We have to give him a chance to improve at his job.
Changing the regime after two years does not provide consistency, which is what the Jets desperately need. Let's see how they handle the quarterback situation. Money will be coming off of the books. How does Maccagnan use it?
Let's not rush to judgement. They over achieved in 2015 and have fallen back to the pack. Give them one more year, and then we will talk about a change—if necessary.
This article originally appeared on