New York Jets: Todd Bowles Explains Benching Ryan Fitzpatrick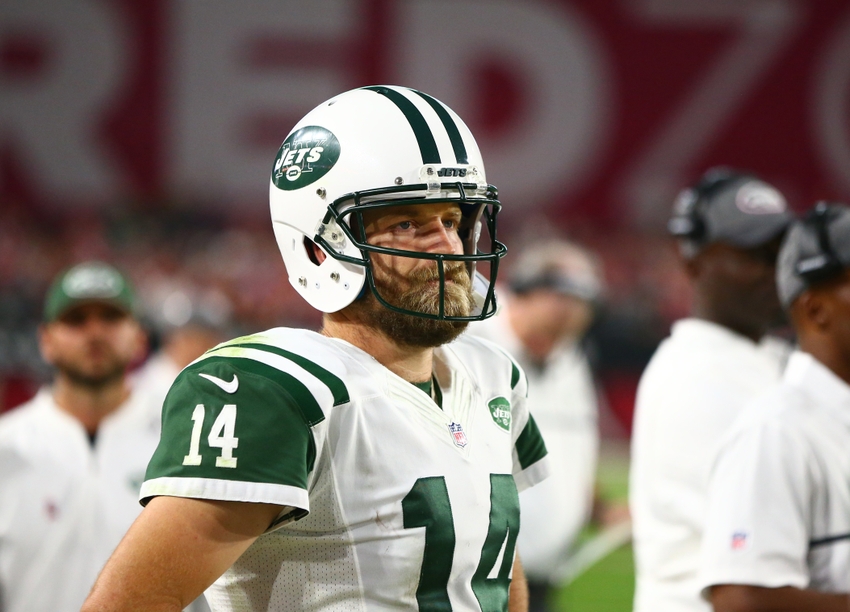 The New York Jets made a big decision to bench Ryan Fitzpatrick in favor of Geno Smith. Why did head coach Todd Bowles make this decision?
After losing their fifth game on Monday Night Football to the Arizona Cardinals, the New York Jets had a big decision on their hands. In the loss to the Cardinals, the Jets benched Ryan Fitzpatrick during the game for Geno Smith.
There has been many that have wanted Fitzpatrick benched since his dreadful performance against the Kansas City Chiefs. Things haven't improved for the Jets or Fitzpatrick since then, and a change has come.
"I felt it was time for a change," Bowles said Wednesday to Connor Hughes of NJ.com. "We had six games where we didn't play very well in five of them. The quarterback is ultimately responsible, but I'm responsible, the rest of the team is responsible. I felt like it would be a good time to make a change and see what [Smith] can do.
One of the puzzling things for Bowles this season has been the significant regression of Fitzpatrick. Just last season, Fitzpatrick set the single-season record for passing touchdowns in a season. This season, he looks like he doesn't belong under center.
"It's a good question," Bowles said to Hughes. "It's a little bit of everything. It's a little bit on the offensive line. It's on the coaches. It's on the receivers. It's on the running backs and it's on Fitz. We didn't gel and come together like we did last year. We haven't been producing."
While Fitzpatrick hasn't played well for the Jets this season, it isn't all his fault. In addition to his struggles, the offensive line hasn't performed all that well in either pass or run blocking. On the defensive side of the ball, the passing defense has struggled in nearly every game this season.
"It's still not Fitz's fault," Bowles said to Hughes. "Fitz is not falling on the sword for anything. I take responsibility. The coaches take responsibility. The offensive line and the receivers take responsibility. "But I felt it was time for a change. We got up there in the turnover category. We hadn't put any points up and we're trying to get a spark somewhere so I made the change."
With Fitzpatrick now on the bench, it will be Smith's job to lose. After losing his starting spot because of being punched in the face by a teammate, Smith has a lot to prove. Whether it is with the Jets or elsewhere, Smith must show what he is capable of.
More from Empire Writes Back
This article originally appeared on