New York Jets: Time for Bilal Powell to Get More Touches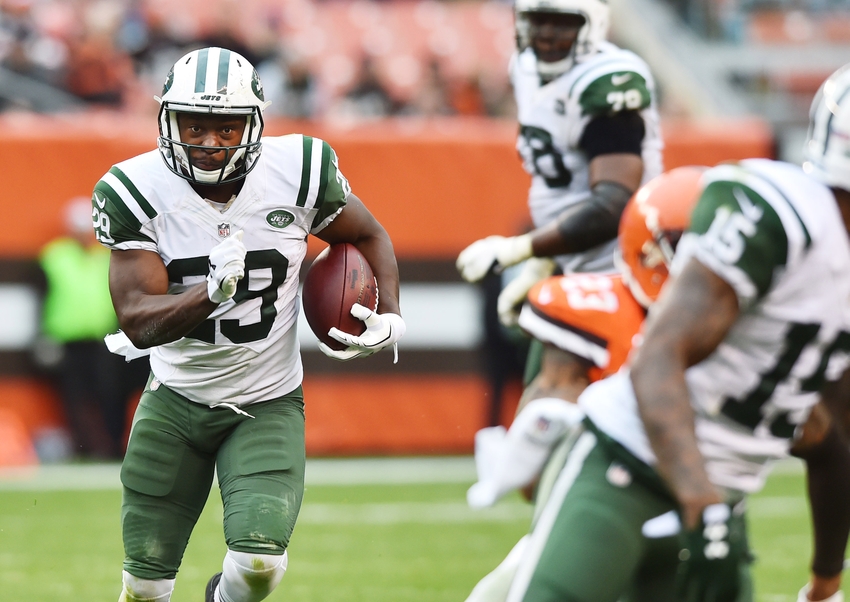 The New York Jets have more than just Matt Forte in the running attack. Bilal Powell is running well, why doesn't he get the ball more often?
The New York Jets have to run the football in order to be successful. Yes, Ryan Fitzpatrick had a great year last year, but he has fallen back into his journeyman career so far. They have weapons on the outside, but Eric Decker was a huge loss. The defense hasn't been anywhere near what it was expected to be.
This Jets team must establish a ground attack to win. Look at the season of Matt Forte. In two of New York's three wins, Forte rushed for 100 yards. In the third win, he rushed for 82 yards. With the running game comes success and that has played out in the numbers.
But, the Jets don't only sport the old veteran Matt Forte. No, they have a young 28-year-old that is having the season of his life so far. When he's come into the game he has looked faster than at any point in his entire career. He creates quite the 1-2 punch with Forte, but he isn't used nearly enough.
Fans know him well. His name: Bilal Powell.
Powell has never been known as a superstar, but he does everything well. He can catch the ball, run it, and block. Here's what he's done on the year so far: 30 carries, 213 yards, 7.1 yards per carry, one touchdown.
7.1 yards per carry, but only 30 carries. Does that make sense to anyone else? It sure doesn't to me. Last week against the Browns, Powell ran the ball six times for 76 yards and a touchdown. That's an average of over 12 yards per carry. Six carries, though? Forte carried it 25 times. Imagine if Forte, who is over 30 years old mind you, dropped a few of those and gave Powell 10-15 per game. They might both push 100 yards with more energy.
It's not as if Forte wouldn't benefit from the rest. Let's compare his splits to Powell's. Specifically, we are looking at their yards per carry by quarter. First let's look at Forte:
First Quarter: 2.7 
Second Quarter: 4.5 
Third Quarter: 3.9 
Fourth Quarter: 3.0 
So he starts out slow, peaks in the second quarter and then falls off steadily for the rest of the game. It's understandable, folks. Forte is over 30 years old and joined the Jets with over 2,000 carries under his belt. That's a great deal of wear and tear on the tires. He is going to tire throughout the game and needs a back that can give him a break. If only there were a player who could fill that role.
Now let's look at Powell's average by quarter:
First Quarter: 3.8 
Second Quarter: 8.6
Third Quarter: 5.4 
Fourth Quarter: 8.6
In the second half, his average per carry has been 7.3 yards. Powell has been fast and been quite the change of pace from Forte, yet he has gotten the ball 30 times all season. Forte has carried the ball 157 times; Powell 30 times. Clearly Powell has been the more effective back late in games. The fact that they haven't used Powell more makes no sense. They have to use him more. Has Chan Gailey not learned his lesson?
Remember Chris Ivory? He was dominating for the Jets over the first four games of 2015, averaging well over 100 yards per carry. But, he was carrying the ball nearly 21 times per game and he ultimately broke down. After two 100-yard performances and one 91-yard performance, Ivory only eclipsed 100 yards once more.
2016 is starting out in a remarkably similar fashion. Over the first four games, Forte averaged 20.25 carries per game, slightly below Ivory at 20.75. His average so far after eight games is 19.6 carries per game, higher than it was in his final year with Chicago (17.0).
Chris Ivory is under 30 years old and he broke down under the heavy workload. Forte is over 30 and has shown signs of breaking down over his last couple of years in Chicago. Bilal Powell is performing at a high level. They must use him more often to not only keep Forte healthy, but to keep the running game effective.
This article originally appeared on