New York Jets: Three-Round 2017 NFL Mock Draft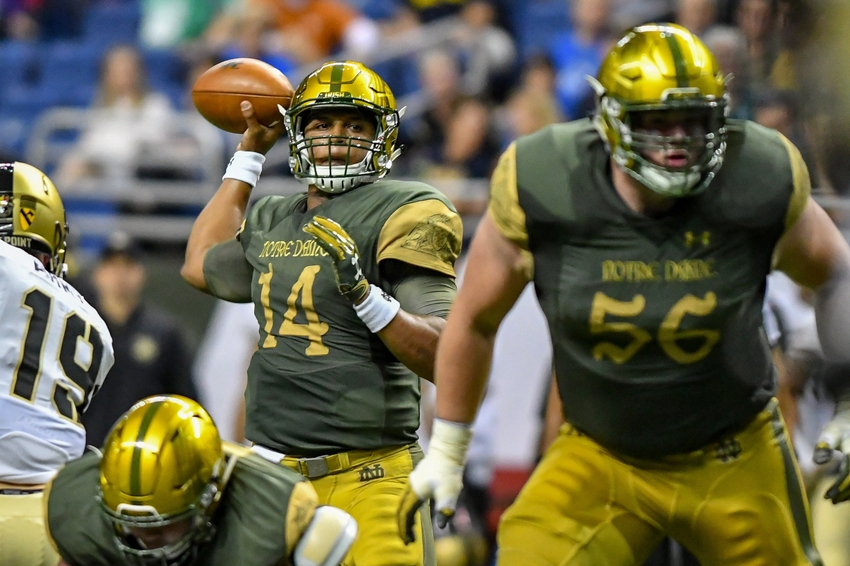 The New York Jets know that the rest of the season it's going to be win or go home. They cannot afford another loss if they hope to make the playoffs.
Otherwise they might be staring down the barrel at another high draft pick. In which case there is a strong likelihood they could be thinking about a serious roster turnover given the slew of older bodies they're leaning on. This latest 2017 NFL mock draft will focus on the early rounds and how things might play out depending on the current situation.
1
DeShone Kizer
QB,

Notre Dame
The major question that the New York Jets will have to answer is whether or not they're truly committed to Christian Hackenberg. They spent a 2nd round pick on him this year. That's a heavy investment, which means they believe he can be their eventual starter. The physical talent is certainly there but scouts had severe reservations about his fragile psyche after enduring a tough final three years at Penn State. Nobody is sure if he'll ever get his confidence back.
Odds are that won't happen, so the team is obligated to get their guy while the opportunity is there. DeShone Kizer is still a talent worthy of a top 10 pick but because Notre Dame continues to fail in their responsibilities to help him, odds are he won't be the first pick. That could be great news for New York. Kizer is a physical specimen with a strong arm and mobility. He's very smart, humble and should only get better with proper coaching and weapons.
2
Cameron Sutton
CB,

Tennessee
It's not hard to see where things went south for the New York Jets defense. The decline of All-Pro cornerback Darrelle Revis was the main culprit. Injuries and conditioning issues reared their heads at the worst possible time. Now the Jets have the 22nd ranked pass defense in the NFL and it's a primary reason why they look nothing like the team that almost made the playoffs in 2015. They have to fortify the back end if they want to regain that standing.
If not for an untimely injury that sidelined him much of the season, Cameron Sutton would be in the conversation for 1st round cornerbacks. He's a tough, physical player with the speed and athleticism to handle himself in press coverage. He loves to go one-on-one with receivers and isn't afraid to get after it. Teams tend to avoid him because he's good at playing the football and attacking his direction too often has led to big turnovers.
3
Dorian Johnson
OG,

Pitt
With a new quarterback coming in, the Jets know they have to take every avenue possible to ensuring he has success. Nothing is more important to that endeavor than good protection up front. New York is beginning to get older and a little light at the guard positions. Tackle is important too but the keys to a good pocket and teaching Kizer how to stand in it comes from the interior. So improving the talent and depth there is paramount.
Pitt just engineered one of the biggest upsets of the 2016 season over Clemson, and it was their offense that led the way. Adam Bisnowaty may be the big name that occupies that underrated offensive line of theirs, but Dorian Johnson is gaining some buzz of his own. Though not a premier athlete, he's a scrappy player who exerts his physical will on defenders, especially in the ground game. Sounds like exactly the type of guy Jets fans would love.
This article originally appeared on