New York Jets: The Life and Career of Joe McKnight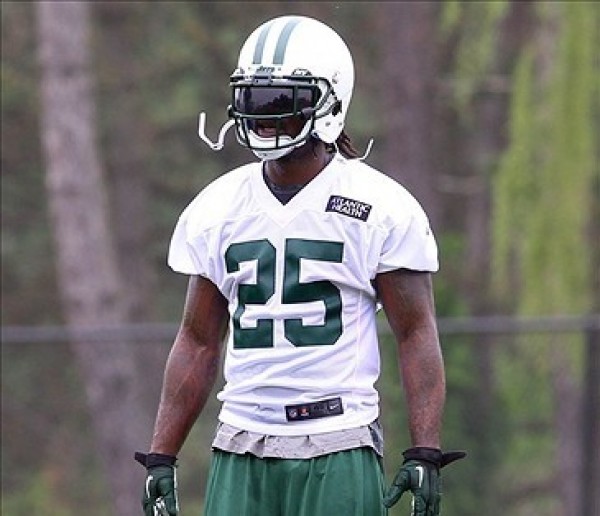 Former New York Jets running back Joe McKnight was killed in a shooting last week. We remember his life and career.
A traffic incident, a Louisiana road, and a man with a gun. Those three factors came together at the wrong time and the New York Jets family suffers a tragic loss of one of their own.
We all know by now that on Dec. 1, former Jets running back Joe McKnight was gunned down on the streets of Louisiana following a traffic confrontation with a fellow motorist. Last appearing in the NFL in 2014 with the Chiefs, he had been playing in the CFL with the Edmonton Eskimos followed by the Saskatchewan Roughriders.
After a solid college career, McKnight was selected by the Jets in the fourth round of the 2010 NFL draft. He had some fumbling issues, though he was brimming with talent. He was believed to be the next Reggie Bush, but he fell behind a large pool of running backs after suffering injury problems at USC.
He had difficulty early in his career remembering plays. As Rich Cimini of ESPN writes, the team realized that McKnight suffered from serious problems stemming from Hurricane Katrina. Growing up in New Orleans, he was displaced from his home prior to his junior year of high school and he had to with his high school coach upon his return to town. He was apart from his mother for a month, and forever traumatized by what he saw. He lifted his community with solid play, but he never forgot the experience.
The nightmares haunted him to the point where he was afraid to go to sleep—and it had an effect. McKnight had a hard time with his focus, but that never stopped him from being, as Darrelle Revis noted on the team website, a "joy to be around." Teammates and friends around the league noted his winning smile and positive attitude no matter the situation.
Though he posted a breakout game to end his rookie season, when he posted 32 carries for 158 yards in a win over the Bills, he never became a consistent performer at running back. Being behind the likes of LaDainian Tomlinson and Shonn Greene kept his chances to a minimum.
However, as a kick returner and special teams player, McKnight had some great moments. Jets fans will remember the 10th anniversary of the 9/11 attacks. It was Sunday Night Football to open the 2011 season and the Jets were taking on the Dallas Cowboys. With just over five minutes left in the game, the Jets were down and the Cowboys lined up to punt. Then, this happened:
The game was tied, the momentum was changed, and New York went on to win the game. Even with the great game-changing play, McKnight's quest was a bit different, as Randy Lange noted on the team website:
"I'm working hard to get people to like me," the likable McKnight said shortly after that blocked punt.
That same season, he ran a kickoff back 107 yards for a score against the Baltimore Ravens, his first career touchdown and the longest play in Jets history. He sure could fly, couldn't he? In 2011, McKnight led the league with an average of 31.6 yards per kickoff return.
He followed that up in 2012 with another 100-yard kickoff return for a score, this time against the Houston Texans:
McKnight was released by the Jets in August 2013 after a turbulent training camp, making a brief stop with the Kansas City Chiefs before ending up in Canada over the last two seasons.
Former special teams coach Mike Westhoff remembered McKnight fondly, as he told Rich Cimini of ESPN:
"This is such a tragedy," Westhoff said. "I couldn't be more upset. There's a very, very special place in my football memory and heart for Joe McKnight."
Jets fans know, Westhoff was a tough guy to please.
He was looking to make a comeback to the NFL, and his first CFL start went well. He started for the Roughriders in October and posted 150 yards on 17 carries.
McKnight is remembered as a loving father and kind person. As a football player, Tyrann Mathieu, also from New Orleans, tweeted all that needed to be said about him:
Everybody in the world wanted to be @ReggieBush , us in New Orleans wanted to run the ball like Joe McKnight.

— Tyrann Mathieu (@Mathieu_Era) December 1, 2016
The Jets will hold a moment of silence in McKnight's honor and Reggie Bush wore cleats in tribute to the former USC standout.
He is survived by his mother, brother, sister and son. McKnight was tortured by his past, but sought to simply be liked and bring others joy. Though it may not have been the career some would've hoped, he still found a way to do that for fans and teammates.
Joe McKnight, dead at 28. Gone too soon.
This article originally appeared on