New York Jets: Brandon Marshall Winning Without Even Playing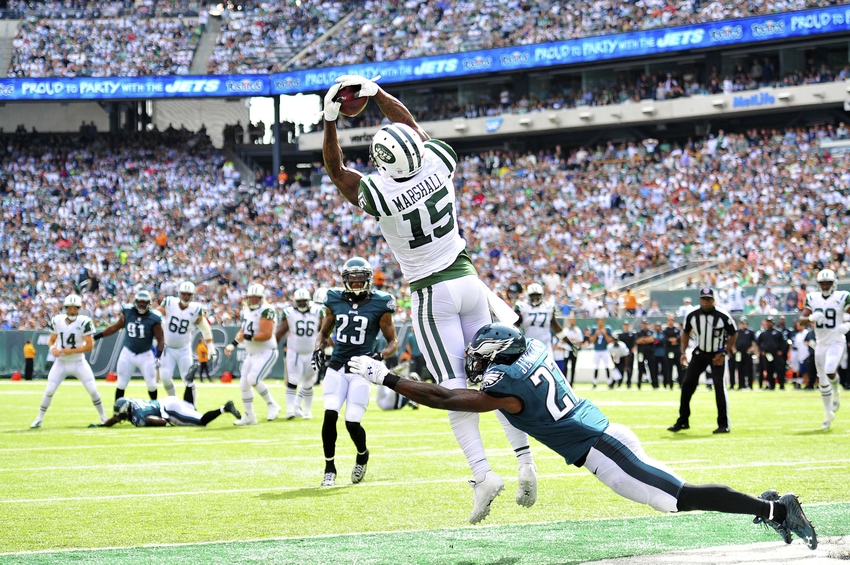 There are more ways to win than on the field, which is exactly what New York Jets receiver Brandon Marshall aims to do with mental health awareness
The New York Jets sure have had a rough start to their 2016 season. A 1-4 start isn't ideal for anyone but I guess there's a silver lining since the team was able to defeat a division rival when it played the Buffalo Bills. And while the team may not be winning games, it is winning when it comes to tackling mental health thanks to receiver Brandon Marshall.
Oct. 10 is Mental Health Awareness Day, but that might as well be everyday for New York Jets wide receiver Brandon Marshall. He has never shied away from speaking his mind on many issues, including one that effects him directly as he was diagnosed with Borderline Personality Disorder in 2011.
Since then, Brandon Marshall has become the face of mental illness durging his quest to break the stigma of it. When people think of mental illness, they may think of a disheveled, distraught "crazy" person who hears voices and has violent thoughts of harming others.
Rarely do they picture a future Hall of Fame wide receiver who's been torching defenses for 10 years. Rarely do they think of a father and husband who honors his family. Rarely do they picture a man so deeply grounded and rooted in his faith that keeps him together and guides him through any adversity.
Brandon Marshall is working to change what people picture—to make it something more than a stereotype. He realizes that he is fortunate enough to have his life together and a platform to educate the masses about mental illness. Following his diagnosis, he appeared in a public service announcement meant to raise awareness of mental health and encourage men to speak about it.
Marshall also took his mission to the field as he rocked lime-green cleats in October 2013 in support of mental illness awareness week, which the NFL unsurprisingly fined him $10,500 for. That didn't faze Marshall who matched the fine and donated it to charity.
Perhaps the greatest move made by the New York Jets receiver was taking his cause to the national level. In addition to starting the Brandon Marshall Foundation to raise awareness and provide resources to prevention and treatment programs, he headlined the first-ever Kennedy Forum, a mental health summit. Like Marshall, the Kennedy Forum aims to end the stigma associated with mental illness. He didn't stop there. After, he visited Congress to advocate for the Mental Health in Schools Act with the focus on children and adolescent mental health.
Brandon Marshall proves that mental illness isn't always what you think. It can effect even the most successful people. So often we neglect our mental health, which is vital to our overall health, because of the stigma associated with mental illness and we don't realize how this can be our downfall.
The New York Jets lucked out when they signed receiver Brandon Marshall. Not only did they sign a playmaker, they signed a highly influential man determined to end the stigma of mental illness. And because Marshall is so dedicated to this mission, he will win by accomplishing his goal. That's exactly why the Jets are winning even without playing.
This article originally appeared on