New York Jets at Miami Dolphins: Recap, Highlights, Final Score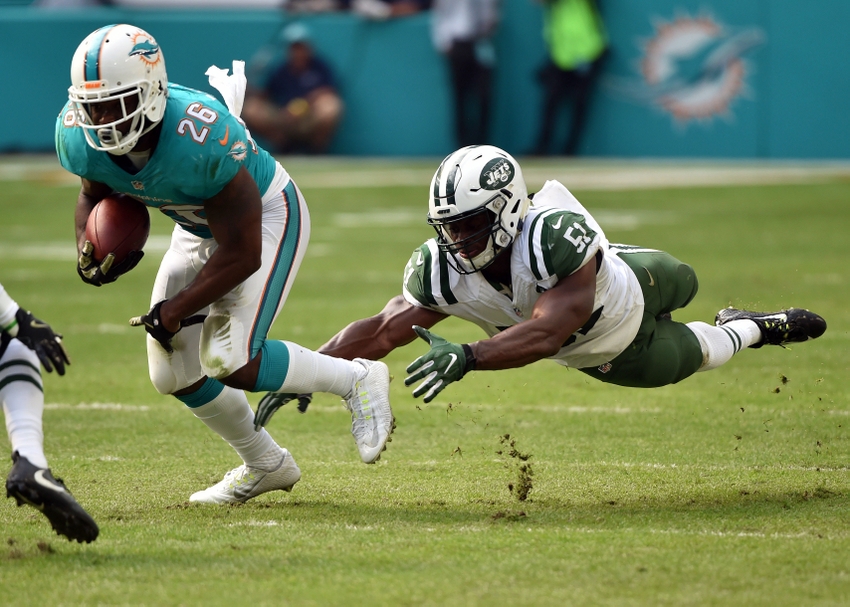 The New York Jets faced the Miami Dolphins in a big game on Sunday. Who was able to come out with the win on Sunday?

23

27
It was another tough Sunday for the New York Jets against the Miami Dolphins. After making a ton of mistakes, the Jets were leading late in the fourth quarter. Unfortunately, an offside penalty on the kickoff after the Jets took the lead would come back to bite them.
The Dolphins ended up taking the re-kick back all the way for what would be the game-winning touchdown. There were plenty of opportunities for the Jets in this game, but their ineffectiveness in the red zone came back to hurt them in the end. Settling for field goals and throwing interceptions in the red zone is not a recipe to win on the road.
It was another poor game for Jets quarterback Ryan Fitzpatrick. He threw two inexcusable interceptions in the game, one of which was a defensive tackle who dropped into coverage. Bryce Petty did make his NFL debut in this game, for an injured Fitzpatrick at one time, but he only played a few plays.
This loss will end the Jets' chances of making the playoffs, as 2016 has been a total disaster.
Three stars:
Kenyan Drake, Dolphins – One of the biggest plays of the game was the kickoff return by Kenyan Drake. After an offside penalty on the Jets, Drake to the kickoff to the house to give them the lead.
Matt Forte, Jets – Matt Forte didn't touch the ball often, but he was very effective when he did. In the loss, Forte totaled 92 yards on 12 carries with a rushing touchdown.
Jay Ajayi, Dolphins – Coming into the game, Jay Ajayi totaled at least 200 rushing yards in his last two games. Against the No. 1 rushing defense in the league, Ajayi totaled 111 rushing yards and one rushing touchdown.
Highlights:
Next up for the Jets will be a game at home against the Los Angeles Rams before they finally get their bye week.
More from Empire Writes Back
This article originally appeared on