New York Jets at Kansas City Chiefs: Recap, Highlights, Final Score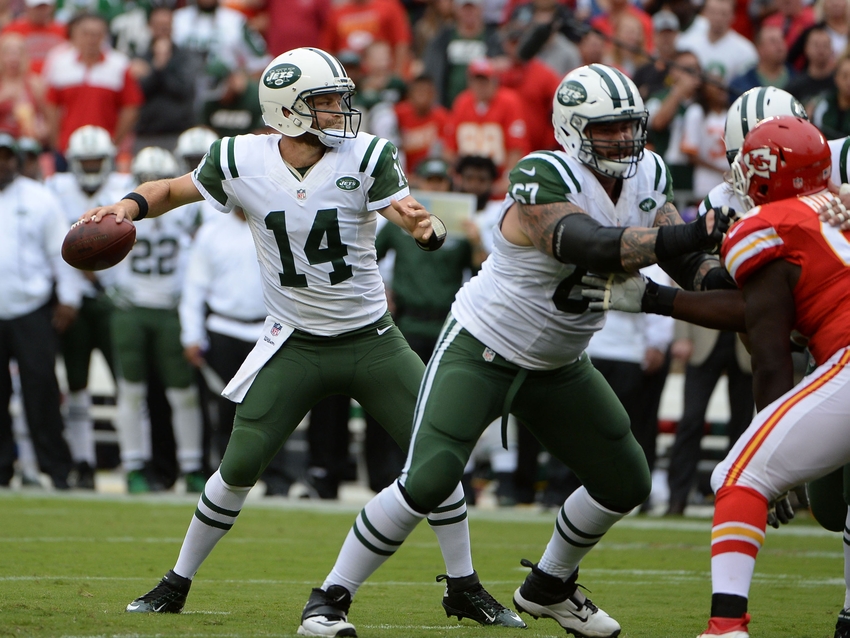 The New York Jets came out very flat against the Kansas City Chiefs in Week 3. The ugly performance resulted in their second loss of the season.
3
24
It was a very disappointing game for the New York Jets in Week 3 against the Kansas City Chiefs. Turnovers were the main problem for the Jets, as quarterback Ryan Fitzpatrick threw six interceptions. In addition to the interceptions by Fitzpatrick, Jalin Marshall also fumbled on a kickoff return.
Despite the turnovers, the Jets had multiple opportunities to come back in the game. The constant mistakes by the Jets, however, made that impossible. It was a very poor showing by Fitzpatrick, who made plenty of head-scratching throws. After one of his best games as a player on the Jets, it was a totally different Fitzpatrick against the Chiefs.
Three Stars:
Travis Kelce, Chiefs
On offense, it was clear that the Jets had no answer for tight end Travis Kelce. In the win, Kelce totaled six receptions, 89 receiving yards, and one receiving touchdown. The Jets had no plan on defense for Kelce, who was a matchup nightmare for them throughout the game.
Marcus Peters, Chiefs
One of the best players on the defensive side of the ball for the Chiefs was cornerback Marcus Peters. On a day where we saw a ton of interceptions, Peters led the way for the Chiefs with two. Peters was frequently matched up against the Jets' top wide receivers, and he held his own
Alex Smith, Chiefs
Unlike Fitzpatrick, Alex Smith played a very clean game. The mistakes by the Jets resulted in Smith not having to do a whole lot in the game. Smith finished with 237 passing yards and one passing touchdown. It wasn't a monster game, but it was an effective one.
Highlights:
Next Up:
Coming up next for the Jets will be another tough game against the Seattle Seahawks. The Seahawks are coming off an impressive win against the San Francisco 49ers, and they will be looking to keep their momentum going.
More from Empire Writes Back
This article originally appeared on