New York Giants: Top 5 Midseason Performers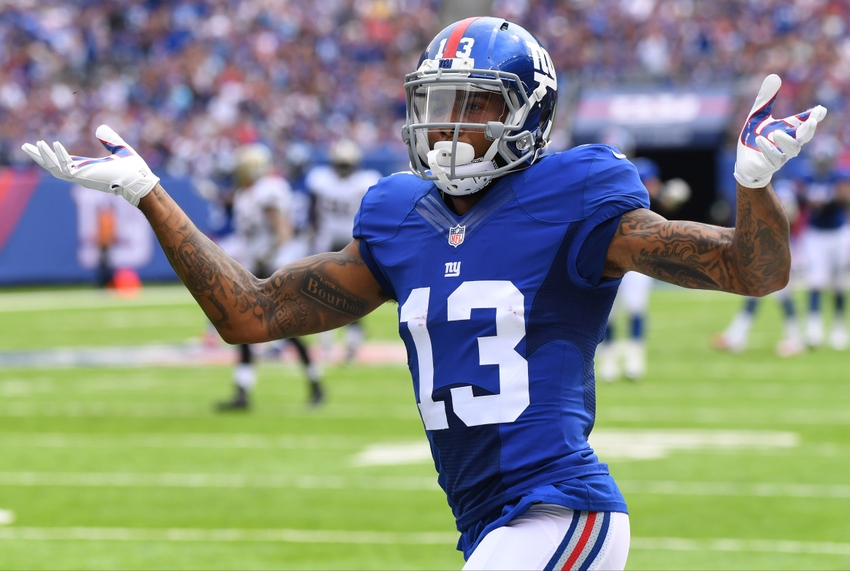 Coming off of their big Week 9 win against the Eagles, looking at the five best players on the New York Giants roster at midseason.
What an interesting first half of the 2016 NFL season for the New York Giants. There are certainly no shortage of question marks and skeptics heading into the second half of the schedule. Will the offense ever get on track? Can the defense keep up the great work and cut down their time on the field? Will Odell Beckham, Jr. spontaneously combust?
Had it not been for a couple mistakes against Washington, the G-Men could be 6-2 with an eye on the division crown. Instead, they sit at 5-3 and hope to lock up one of the two Wild Card spots. For this exercise, we're looking at the players who've contributed to New York's success. While a couple of the personnel on this list were expected to be among the top performers, there are a couple that are pleasant surprises. If these five teammates can continue to crush it, the Giants could become a dark horse contender for the NFC Championship.
Full transparency, the offense is poorly represented. For some reason, Eli Manning has been unable to get the ball to his trio of wide receivers, often opting for check downs and dump offs to running backs and tight ends. Sterling Shepard has tremendous upside and thus far, it's gone largely untapped. If he can put together more games like he did against Philly, the Giants should land in the win column more frequently. A workhorse running back has to emerge to keep defenses on their toes. Will it be Paul Perkins?
But first, here are some honorable mentions:
Keenan Robinson – The former Washington linebacker has been exceptional in pass coverage with five passes defended and is third on the team in tackles (30 solo, 16 assists). Who knows how the Eagles game would've turned out in Week 9 if it weren't for Keenan's touchdown-saving tackle on Darren Sproles' punt return that almost went for six. Philly would ultimately turn the ball over on downs, saving the Giants at least three points and possibly seven.
Olivier Vernon – He doesn't have the sack totals many had hoped for, but he's pressured the opposition into poor throws and picks.
Jason Pierre-Paul – The same could be said for JPP, few sacks, tons of pressures. The hand doesn't appear to have too much impact on his play and his blocked field goal in Week 9 against the Eagles brings back championship memories from 2011.
Dominique Rodgers-Cromartie – 10 passes defended, rarely gets beat, Pro Bowl-level player when healthy. He can still get it done.
Now, on to the five players earning their keep through the first eight games of 2016.
5. Jonathan Casillas, LB
The seven-year veteran had the best season of his career in 2015, totaling 62 solo tackles, two sacks, an interception, and five passes defended. The Jersey City, NJ native has followed up that banner effort with more production in 2016, notching 35 solo takedowns and 22 assists to go with three passes defended.
Casillas deserves to wear the "C" on his uniform, as he's provided a sorely needed emotional boost to that side of the ball. His best games came against the Dallas Cowboys in Week 1 and the Baltimore Ravens in Week 6. In the season opener, JC from JC had six solo tackles and four assists. In a must-win matchup against Baltimore, Casillas came up with six solo tackles and five assists.
The weak side or will-linebacker has been tough against the run and holds his own against the pass. Typically, you'll see him come out of the game in favor of Keenan Robinson on passing downs. If the Giants want a shot at the NFC East title, Casillas will be instrumental in conquering the Cowboys and their vaunted ground game.
If his historical stats are any indication, Jonathan's due for a forced fumble, sack, or interception in the second half of the schedule.
4. Damon Harrison, DT
Snacks has been the best defensive lineman in the league stopping the run. That hasn't changed in 2016 as the big man leads the NFL in run-stop percentage yet again. The big gripe a lot of haters had when the Giants signed Damon Harrison was the fact he'd only play half to two-thirds of defensive snaps; that he couldn't or wouldn't be used on passing downs. The critics cried, "Why pay premium dollar for a part-time player?" Well, for this exact reason. The Giants are getting their money's worth against the run.
Keep in mind, the Giants rush defense was downright despicable the last couple years. In 2015, the G-Men allowed 4.4 rushing yards per attempt (eighth worst in NFL) and 121.4 rushing yards per game (ninth worst overall). Enter Harrison and the opposition's rushing attack has slacked. Big Blue's run defense has only allowed 3.6 yards per carry, which is fourth best in the NFL, and 93.9 rushing yards allowed per game, 10th best league-wide. The Giants are 1-2 (and probably should've been 0-3) when allowing 100 rushing yards or more. The one game New York lost allowing fewer than 100 was that back-breaker to the Redskins at home.
Harrison's has 27 solo tackles and 13 assists along with a sack and a pass defended. He's on pace to have the best season of his five-year career. The Washington game was Harrison's most productive as he churned out nine solo tackles and an assist, all while limiting Redskins running backs to 90 yards on 30 carries. His next best effort came against the Los Angeles Rams in London when he had a sack, five tackles, and an assist. New York is 4-1 when Snacks has five or more combined tackles and 1-2 when he doesn't hit that mark.
3. Janoris Jenkins, CB
JackRabbit is tied for third most passes defended in the NFL with 10 through eight weeks. That number puts him tied for the team lead with Dominique Rodgers-Cromartie. Janoris Jenkins is also fourth on the team in solo tackles with 28. The G-Men are 4-1 when J.J. has three tackles or more and 1-2 when he has less. Jenkins is currently on pace to match or exceed his career averages. Yet, Jenkins faces the same criticism as Damon Harrison. He sports a hefty contract and, on the surface, hasn't dropped any jaws.
But, that's not who these players are. These additions are steady, stable, consistent, professional, and productive. They might not be making headlines like OBJ, but they're making a difference every single down they're on the field. Need proof? The 2015 Giants pass defense allowed the most passing yards per game of any team in the NFL. They also allowed opposing quarterbacks to complete more than 66 percent of their pass attempts (sixth worst overall) and 31 passing touchdowns (tied for fourth worst).
In 2016, opposing quarterbacks have completed fewer than 60 percent of passes (fifth best in NFL) and seven touchdowns (third fewest overall). Those same quarterbacks have a rating of 75.8, which is fourth lowest in the league. Why aren't more people talking about how good this secondary is? Because they've allowed a lot of passing yards per game. Why? Because they're on the field entirely too much. That group has only allowed 5.9 adjusted yards per attempt, which places them among the best in the league. Yet, they've been on the field for 574 snaps, sixth most league-wide. That makes the corps that much more impressive.
2. Odell Beckham, Jr., WR
I cringe to think where the New York Giants would be without Odell Beckham Jr. You could argue that the G-Men don't beat the Ravens or Eagles without Beckham. Some would argue that OBJ's having an off-year, that his antics and behavior have far outweighed his performance. However, his numbers—though slightly down from years past—are still on pace to mirror his previous two season averages. Oh, and he just turned 24.
Critics have to take into consideration that the Giants actually have other wide receivers to throw to now. Victor Cruz returned and has been clutch when the Giants needed a big catch most. Sterling Shepard has become dependable, an efficient route runner with above average mitts who's only scratched the surface of his potential. Roger Lewis has emerged as a touchdown threat. All those pieces have taken away targets and touches from Beckham and that's actually a good thing for Big Blue.
OBJ is seventh in the league in receiving yards per game, seventh in total receiving yards, and his five touchdown catches are tied for sixth most in the league. The second half of the schedule features six pass defenses that allow big yardage and high quarterback ratings: Detroit Lions, Cleveland Browns, Pittsburgh Steelers, Cincinnati Bengals, Washington Redskins, and Chicago Bears.
Other than Beckham's crazy temperament, a rising concern from anyone who's watched Giants games this season has been his insistence on the one-handed grab. There were a couple throws in Week 9 that could've been caught had Beckham laid out or used two hands instead of trying to cement himself as the most prolific one-handed catch-master.
1. Landon Collins, S
Before the season started, Pro Football Focus called Collins the "breakout player to watch," noting:
"In general, Landon Collins' rookie season was a disappointment; his 56.2 overall grade was 12th-worst among safeties. However, he already showed signs of improvement as the 2015 season went on. Four of his top six games came in the last six games of the season, while two of his worst three came over the first three weeks. He cut his missed tackles in half, with 10 over the first half of the year, to just five during the second half. His seven passes defended were second-most for safeties in 2015. Ideally, Collins continues his upward trend and is an asset to the New York defense in 2016."
And they were spot on. Collins followed up an admirable rookie campaign with a sophomore season that's the polar opposite of a slump. His interception return for a touchdown in Week 7 against the Los Angeles Rams woke the team up and could be considered one of the greatest defensive plays in Giants history. His play resulted in winning the NFC Defensive Player of the Week honors. Collins' interception on Philadelphia's first drive in Week 9 erased the drab start by Big Blue's offense and infused MetLife with playoff-like energy.
Collins has excelled as an extra linebacker in the box, yet can still cover enough ground on the pass to keep plays in front of him and limit the damage downfield. The Alabama product led the Giants in tackles last season and continues to do so in 2016 as he's on pace to have more than 110 solo tackles. His 55 solo takedowns is fifth most in the NFL. His three picks are tied for third most in the league. Oh, and he leads the team in sacks. Without question, he's been the best player for Big Blue at midseason.
This article originally appeared on