New York Giants: Odell Beckham Jr Scores TD, Does Thriller Dance (Video)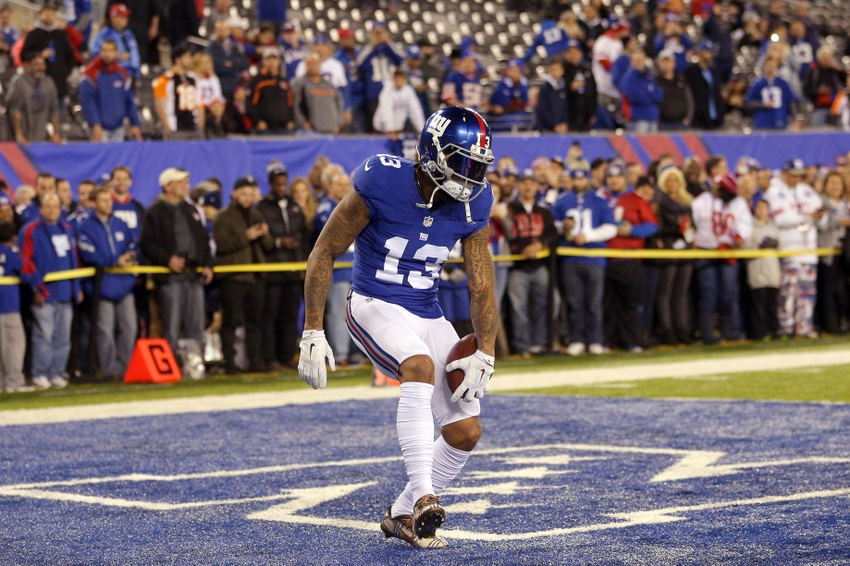 The New York Giants are playing a close game against the Cincinnati Bengals on Monday Night Football. Odell Beckham Jr. has made his mark on the game.
On Monday Night Football, the New York Giants are playing a close game against the Cincinnati Bengals. The Giants were able to get on the board first with a touchdown on their opening drive. Eli Manning was able to complete six passes on the first drive with the sixth pass going to Jerell Adams for a touchdown.
The Bengals would waste little time responding, as a strange formation led to a big play to Tyler Eifert. Following the big play down the field, Dalton would connect with A.J. Green for a touchdown.
Manning would make a big mistake in the game, as he threw an interception which gave the ball to the Bengals in the red zone. The Giants defense would stand tall, as a great play by Janoris Jenkins broke up a screen pass to force a field goal by the Bengals.
The Giants offense would respond nicely, as Manning would connect with Odell Beckham Jr. for his first touchdown of the game, and his sixth of the season.
During the game, Beckham also became the quickest player in NFL history to reach 3,500 career receiving yards. In the first half, Beckham has totaled eight receptions, 79 receiving yards, and the one receiving touchdown.
While the touchdown was big for the Giants, Beckham also busted out his version of the 'Thriller' dance. If the Giants are going to hold on to their lead in the second half, they would be wise to keep targeting Beckham.
More from Empire Writes Back
This article originally appeared on