New York Giants Must Avoid Trap vs Cleveland Browns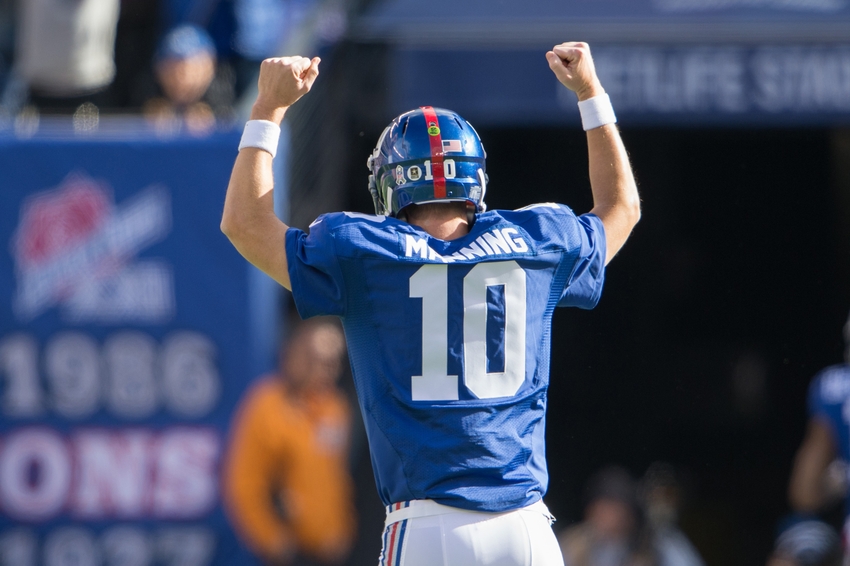 The New York Giants need to treat this Sunday's game against the Cleveland Browns as a must-win contest, because that's exactly what it is for Big Blue.
The 7-3 New York Giants absolutely could lose to the 0-11 Cleveland Browns on Sunday. Anybody who thinks differently clearly hasn't been paying attention to these two clubs or to what has been going on around the NFL this fall.
New York, obviously, should defeat the winless and hapless Browns when the two teams meet at FirstEnergy Stadium on Sunday. The Giants are better than the Browns in every aspect, and Big Blue failing to notch a victory over a team that already has one foot into 2017 could be a devastating blow as New York pursues a playoff spot.
Could and should are often two different things, though. And the Giants will learn that the hard way on Sunday afternoon if they take the Browns lightly in any way.
The Browns have nothing but games, literally, left to lose between now and Jan. 1. Cleveland is eliminated from the playoffs, local fans are choosing to stay warm indoors rather than make treks to the stadium for games and the club seemingly still doesn't have a franchise quarterback. Rookie  Cody Kessler recently suffered a second concussion in five weeks and the only reason Kessler will return to the lineup before next season is if head coach Hue Jackson decides the future health of the first-year quarterback isn't worth protecting at this point.
In Kessler's place this Sunday will be veteran Josh McCown, a 37-year-old who doesn't care the Browns are winless, who has a stronger arm than Kessler and who will fight to the final whistle of Sunday's game if the Browns are within a touchdown of the Giants. That, on its own, should concern the New York defense.
Yes, Cleveland's offensive line is a disaster and a unit that, simply put, doesn't belong in the NFL today. Cameron Erving is a historically-awful center and Austin Pasztor has been a liability in pass blocking. Even Joe Thomas, respected as the best left tackle of his generation, has seemed to quit on plays this season.
None of that slows McCown down. The journeyman gets up time and time again during games and he keeps the pressure on an opponent like he's a real-life Rocky Balboa. McCown may not be an All-Pro, but he's the best quaterback Cleveland will have available on Sunday.
One thing McCown does significantly better than Kessler is utilize tight end Gary Barnidge. Kessler, for whatever reasons, appeared to forget about Barnidge during games. The tight end went 10 weeks without a score until he and McCown hooked up for a touchdown pass in last Sunday's loss to the Pittsburgh Steelers.
Those who have watched the 2016 Giants know the team has struggled against even decent tight end. Zach Miller of the Chicago Bears hit the Giants for a touchdown in last weekend's game at MetLife Stadium, Moreover, Miller could've torched New York even further had he not suffered a foot injury during the contest.
Barnidge could prove to be an absolute nightmare and have his best game to date in 2016 against the defense of the Giants.
Cleveland's defense, meanwhile, is sneaky. The Browns surrendered over 200 offensive yards to Pittsburgh running back Le'Veon Bell in Week 11, but the team's defense held the offense of the Steelers to only a touchdown and a pair of field goals. Pittsburgh's last touchdown of the game came off a strip-sack of McCown in the Cleveland end zone.
Linebacker Jamie Collins, acquired by the Browns in a trade with the New England Patriots, will be utilized in blitz packages, particularly in third-down situations. Defensive backs Joe Haden and Briean Boddy-Calhoun are prone to give up big plays, but both also made multiple stops versus the Steelers.
It's also worth noting, looking ahead, that current forecasts predict it will be windy and cool (low 40s) in Cleveland on Sunday. New York's rushing attack has improved over the past couple of games, but the Giants are still averaging only 3.4 yards per carry as a team. Eli Manning may have to carve through the wind and the Cleveland defense if the Giants are to prevail.
Scariest of all about this upcoming game is the Giants' propensity to play down to bad opponents. New York began the contest versus Chicago flat and largely lifeless and the Bears nearly completed a comeback on their final offensive drive of the contest.
The Browns are the worst second-half team in football, but Cleveland hasn't been blown out in the first halves of games. Expect this to be a one-score contest at the halftime break.
Losing to the Browns needs to be seen as an unacceptable result for all who will represent the Giants on Sunday. A win would put New York and 8-3 and keep the club within striking distance of the red-hot Dallas Cowboys in the division standings. A loss to Cleveland would be a demoralizing result for a Giants team that has five difficult games left on its schedule.
The Giants should easily defeat the Browns on Sunday. You know it, I know it and just about everybody reading this sentence knows it. Nevertheless, the Giants must view the Browns as a dangerous opponent if they are to avoid what would be a devastating and potentially season-crushing defeat.
This article originally appeared on