New York Giants List Nat Berhe, Not Darian Thompson, As Starting Safety vs. Dallas Cowboys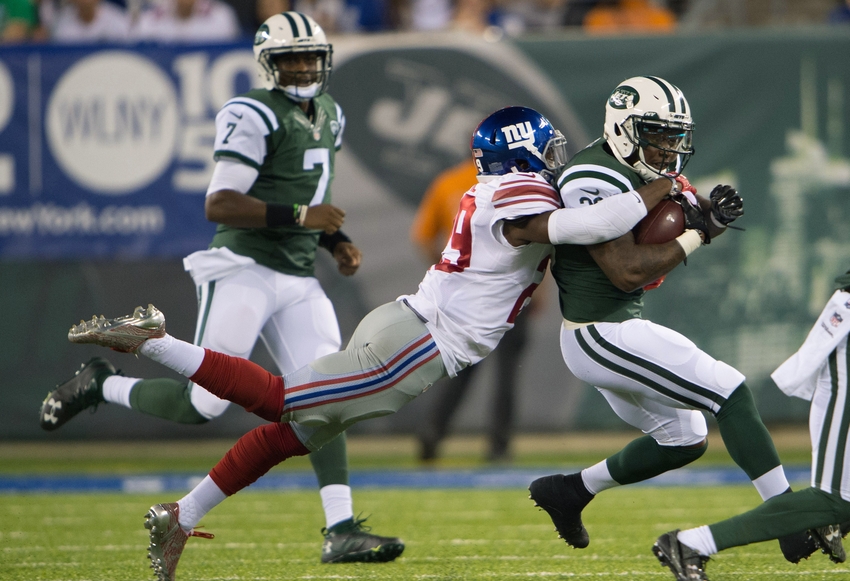 The New York Giants have free safety Nat Berhe, not rookie Darian Thompson, listed as the starter for their Week 1 matchup vs. the Dallas Cowboys. The Giants will release an update on Thompson's shoulder injury Wednesday.
According to the depth chart released by the New York Giants on Tuesday, Nat Berhe will make his first career start against the Dallas Cowboys in Week 1. Rookie Darian Thompson was penciled in as the starter during much of the summer, but he suffered a shoulder injury in the second preseason game on August 20. Thompson hasn't been able to practice fully since the injury.
"We all know this league is one play away from anybody getting in and playing," Berhe said in August after Thompson's injury and now he will be the starter against Dallas. "I've always had confidence in myself. For me, opportunities are unlimited as long as you think they are."
Berhe was a fifth-round pick in 2014, playing mostly on special teams, and missed the entire 2015 season with a calf injury. Berhe made Pro Football Focus's All-Pro Special Teams unit in 2014 and has played well subbing in for Thompson.
Thompson will be the starter when he is finally healthy, but before the draft, it was Berhe's job to lose. Berhe had outplayed Mykelle Thompson, who made the 53-man roster, and Bennett Jackson and Cooper Taylor who were cut.
Thompson has the ball hawking skills the Giants coveted in the draft to play alongside hard-hitting Landon Collins. The Giants will miss Thompson on the field in Week 1, but it would have been his first NFL start, so don't expect any kind of drop off with Berhe.
The Giants will release a full injury report on Wednesday with more information about Thompson's injury. He was last listed as week-to-week.
More from GMEN HQ
This article originally appeared on