New York Giants: Is Eli Manning's Replacement in 2017 NFL Draft?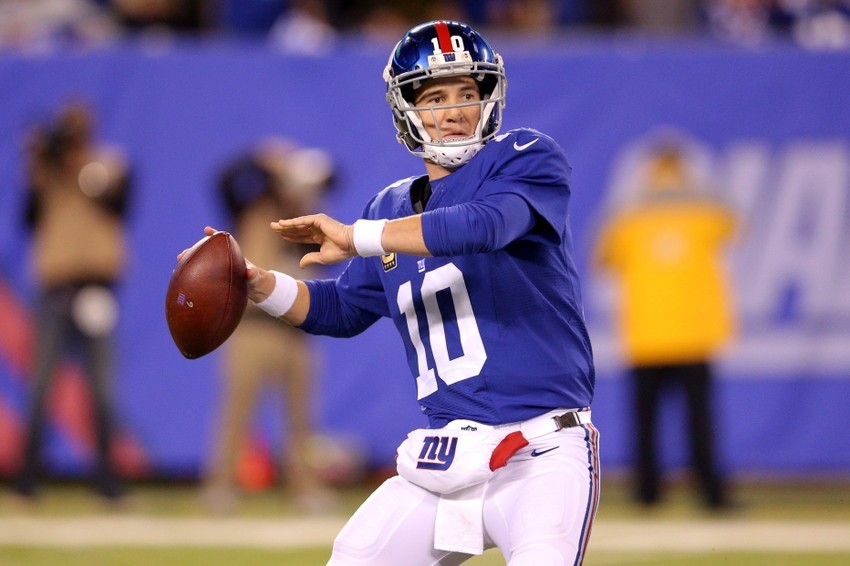 The New York Giants are currently pursuing postseason football, but sooner than later, they will have to find a replacement for Eli Manning.
This is the second time in 2016 I've given serious thought to what the New York Giants will do once the Eli Manning era at the club ends. The first instance was this past February before the 2016 draft. Names such as Cardale Jones, Connor Cook, Jacoby Brissett and Christian Hackenberg came to mind as possible targets for the Giants. Big Blue, obviously, took fliers on none of those players, instead electing to keep Ryan Nassib as Manning's backup through the 2016 campaign.
The famous saying teaches you don't know what you've got until it's gone. And that may be the case with Nassib. Nassib turns 27 years old next March and he may choose to celebrate that birthday by entering free agency. We can only guess what Nassib will be as a starter in the NFL, if he ever even receives such an opportunity. However, it seems unlikely he would remain a member of the Giants past the conclusion of the current season, barring unforeseen circumstances.
Manning turns 36 years old next January and, per Spotrac, the terms of his contract will keep him the starting quarterback of the Giants for at least one more year unless he is sidelined because of injury. This means Manning must begin grooming his replacement starting next summer. Perhaps Nassib would be willing to remain where he is comfortable, take less money than he would receive on the open market and attempt to earn his spot as New York's starter of the future.
Assume that doesn't happen, if only for the purposes of this piece.
The Giants shouldn't be in a place to draft a quarterback in the first round of the 2017 draft. New York sits at 6-3 heading into contests versus the lowly Chicago Bears and winless Cleveland Browns. Thus, it isn't an overstatement to suggest the Giants need to finish the season with no worse than a 9-7 record. Otherwise, this team couldn't consider this year anything other than a complete disaster.
The most recent updated mock draft offered by Walter Cherepinsky of WalterFootball.com as of Nov. 20 has quarterbacks DeShone Kizer and Mitch Trubisky going off the board early in the first round. Pat Mahomes and Deshaun Watson are selected in the second round in his mock.
Watson's draft status may be the most interesting football story to follow from the middle of February up through the opening night of the draft. Watson began the college football season as a guaranteed top-five pick and maybe the top overall prospect for a Browns team starved for a franchise quarterback. But Watson's stock has plummeted throughout the fall.
Yes, multiple mock drafts still have Watson as a top-five pick. Walter Football currently lists Watson third among quarterbacks who will and may enter next year's draft. But Cherepinsky also wrote a pair of NFL playoff teams told him they have a "third-round grade" on the Clemson product. Another club suggested Watson could fall to the bottom of the first round as did Teddy Bridgewater back in 2014.
Watson could probably use time to learn the NFL from the sidelines and also work on his mechanics. The Giants, theoretically, could sit Watson for two years assuming Manning stays healthy and continues to play well enough to remain in the lineup. However, let's move on from Watson for now.
Walter Football currently predicts the Giants will select Brad Kaaya out of Miami with the 58th-overall pick. It's worth noting, as of Saturday, Nov. 19, Kaaya isn't an option for the Giants or for any other NFL team. As Matt Porter of PalmBeachPost.com explained in a piece published on Nov. 15, Kaaya hasn't yet officially made a decision about his future beyond his junior year.
Walter Football has Kaaya seventh among quarterbacks in 2017 draft prospects, saying this about the Hurricanes signal-caller:
One general manager of a playoff team that is very skilled at quarterback evaluation said they had Kaaya as fifth-round pick. They feel he has no mobility, can't throw well while under pressure, and his arm is decent, but doesn't blow them away. Two other teams said they graded Kaaya as a late third-, early fourth-rounder.
Yikes.
Oklahoma State's Mason Rudolph is another player Giants fans will want to follow over the next several months. While Walter Football has Rudolph falling all the way to the third round, Trevor Sikkema of Draft Wire/USA Today has Rudolph going fourth-overall to the Chicago Bears:
Rudolph is my QB1 right now. He's the only quarterback in the class who shows an NFL arm on short, intermediate and long throws. Coming from the Oklahoma State offense where he's told to throw up 50-50 balls all the time worries me a bit, but he's pretty much the only quarterback I've seen thus far who is worth investing in if a team really needs one at the top.
You can erase the name of Ole Miss quarterback Chad Kelly from the list of possible replacements for Manning. Kelly's senior season ended early because of a knee injury and a photo recently emerged showing Kelly allegedly preparing to smoke marijuana. Much can and will happen between now and the draft, of course, but one has to imagine head coach Ben McAdoo and those running the Giants wouldn't love the idea of such a prospect serving as the future face of the franchise.
Then again, the Giants could choose to take a flier on Kelly if he drops to the final day of the draft.
Whoever replaces Manning down the road will find himself in quite the unique scenario. He will face the obstacles every rookie or young quarterback encounters, and he will also be tasked with replacing the greatest quarterback in franchise history of what is the top football team in the top sports market in the United States. It took Manning four years as a member of the Giants before he silenced critics and doubters. The Giants need to replace Manning with a player who is equally as tough on and off the field.
This article originally appeared on