New York Giants can't afford to look past the Saints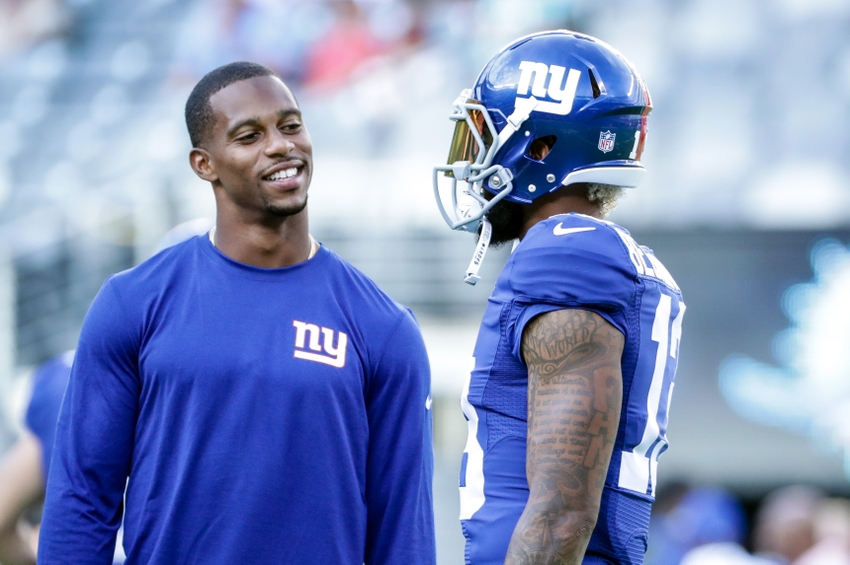 Victor Cruz, Josh Norman war of words needs to take a backseat; Giants must stay focused on New Orleans.
The New York Giants are 1-0 for the first time in six years. Their 20-19 victory over the Dallas Cowboys saw Big Blue catch the breaks that had evaded them in recent years; they exercised their late-game demons and came out relatively healthy.
While winning their first game was the start Ben McAdoo needed, the NFL is a week-to-week league. You're only as good as your last time out. After consecutive six-win seasons under Tom Coughlin, the Giants will have to prove themselves every Sunday, Monday and Thursday. The New Orleans Saints, a team they've struggled with in recent years, await them in Week 2.
The G-Men can't afford to take anyone for granted, they haven't built that equity. In the late 2000s you could maybe pencil in wins over teams like the Rams, but this is a different time. Their focus all week-long must be game planning and execution. That hasn't been the case this week.
Victor Cruz, Josh Norman & Janoris Jenkins trash talk
Victor Cruz and the Redskins' Josh Norman engaged in a war of words on Wednesday. Norman, Washington's high profile 'shutdown' CB signee, has been roundly criticized for not covering Pittsburgh Steelers' stud receiver Antonio Brown on "Monday Night Football". Brown torched the 'Skins for eight catches, 126 yards and two scores. Cruz chimed in, questioning Norman's competitive fire in a post on NBC's Pro Football Talk on Sept. 15, 2016
"Especially if (Norman) calls himself — I don't call him this, he calls himself — the best corner in the league, then you have to cover the best receivers on the other team. Going in I thought he was going to follow AB all over the place, but he didn't, so it is what it is. He made his choice."

–Victor Cruz
With not so subtle digs. Janoris Jenkins got involved as well, calling it "unusual" the league's highest-paid corner wouldn't travel with the opponents' best receiver, in a New York Daily News article on Sept. 15, 2016.
Norman jabbed back on SI.com Wednesday: "When you're at the top of your profession, someone is always trying to grab at you just because they're not at the top of your profession."
Norman is, of course, no stranger to the Giants. His feud with Odell Beckham, Jr. boiled over on the field last season, as a member of the Carolina Panthers. It's only intensified since he signed with Washington, the Giants' NFC East rivals.
With Cruz back, things should be interesting when the Giants and Redskins face-off. Problem is that won't be until next week.
The veteran Cruz couldn't pass up an opportunity to shade Norman on behalf of Beckham, that's understandable. Norman has certainly dug his own hole, but allow ESPN First Take, Fox Sports Undisputed and Twitter to pile on him.
This Sunday is about New Orleans, who hung 52 points on them last year, and the Giants need to take care of that business first. Norman will still be there next week.
More from GMEN HQ
This article originally appeared on