Game of the Week: Giants must take page from Pats to beat Bills
After an emotional loss to the Patriots in Week 2, Bills head coach Rex Ryan refused to acknowledge the still-smoldering great day of work put in by New England scat-back Dion Lewis — a player whose name Ryan claimed he didn't even know during the practice week. After the loss, an angry Ryan proclaimed, "I still don't know his name. Next time run the ball."
The clear source of Rex's frustration was that his team never got to play the kind of game they prefer against the Patriots: the ol' backyard brawl. In football parlance, this means more power running game and less of everything else.
Throughout that practice week, Ryan tried from the podium to goad New England into using more of their big-back packages, specifically those with running back LeGarrette Blount. Ryan asked for left, the Patriots gave him right — exploiting space throughout the game.
As the New York Giants head to Western New York this weekend, they'd be wise to take a page out of the Patriots' playbook.
GIANT SIMILARITIES
The Giants aren't the Patriots, but they do have enough similar elements on their offensive side of the ball to safely assume that Rex hopes the Giants aren't able to emulate the Patriots' game plan.
Experienced pocket passer? Check. Catch-magnet? Check. Sub-package waterbug running back that can hurt you from a number of places and ways in the offense? Check. Rob Gronkowski is a bit of an outlier, but that three-man game between Eli Manning, Odell Beckham Jr. and Shane Vereen has the potential to cause similar problems for this Bills defense that Tom Brady, Julian Edelman and Lewis did.
Provided, of course, the Giants don't do things Ryan's way.
When you have players who excel in space you must create that space for them. The way to do that is through formation. This doesn't necessarily mean playing every snap from shotgun or empty. But you do let big, physical defenses off the hook when you compress the formation for them. Defensive coordinators love it when offenses with mismatch weapons opt to play the game in a hallway.
There was a moment early in that Bills-Patriots contest where the Patriots set up in a look that cut off nearly half of the width of the field (below). This is all well and good if you've got a speed back like Jamaal Charles to race to the edge. But when your back has more of a power-style, this approach usually doesn't go the offense's way (see below).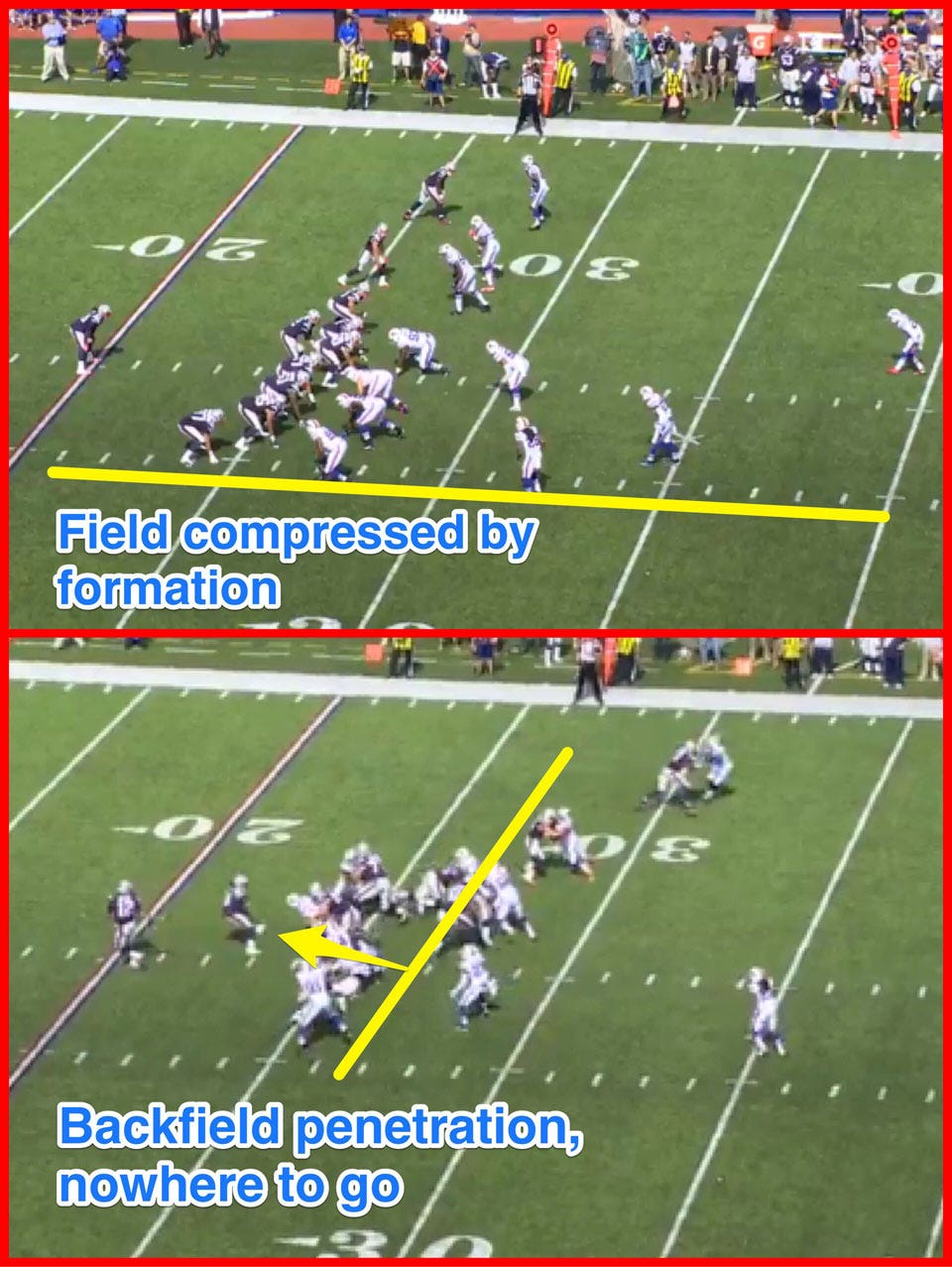 The temptation to establish at least some running game against the Bills' talented front seven will undoubtedly be there for New York. But it's always easier to run against a front six (or five), so luring as many Bills bodies out of the box is a proven good place to start. Creating a mosh pit will just get your offense mashed.
TAKE WHAT'S THERE
One of the hallmarks of Ryan's defense is scheme creativity and flexibility. One week he may bring lots of pressure. The next week he may drop most everybody into coverage. He keeps you guessing, but every defense has a weakness. The best defensive minds like Ryan just make that weakness harder to find.
A big key for Manning in this contest will be using the play clock wisely and manipulating his own tempo at the line to get the Bills defense to declare their intentions. When they show their hand, Manning must take what they give him. In the case of the Patriots game, it was a matter of locating the off-coverage player (see below).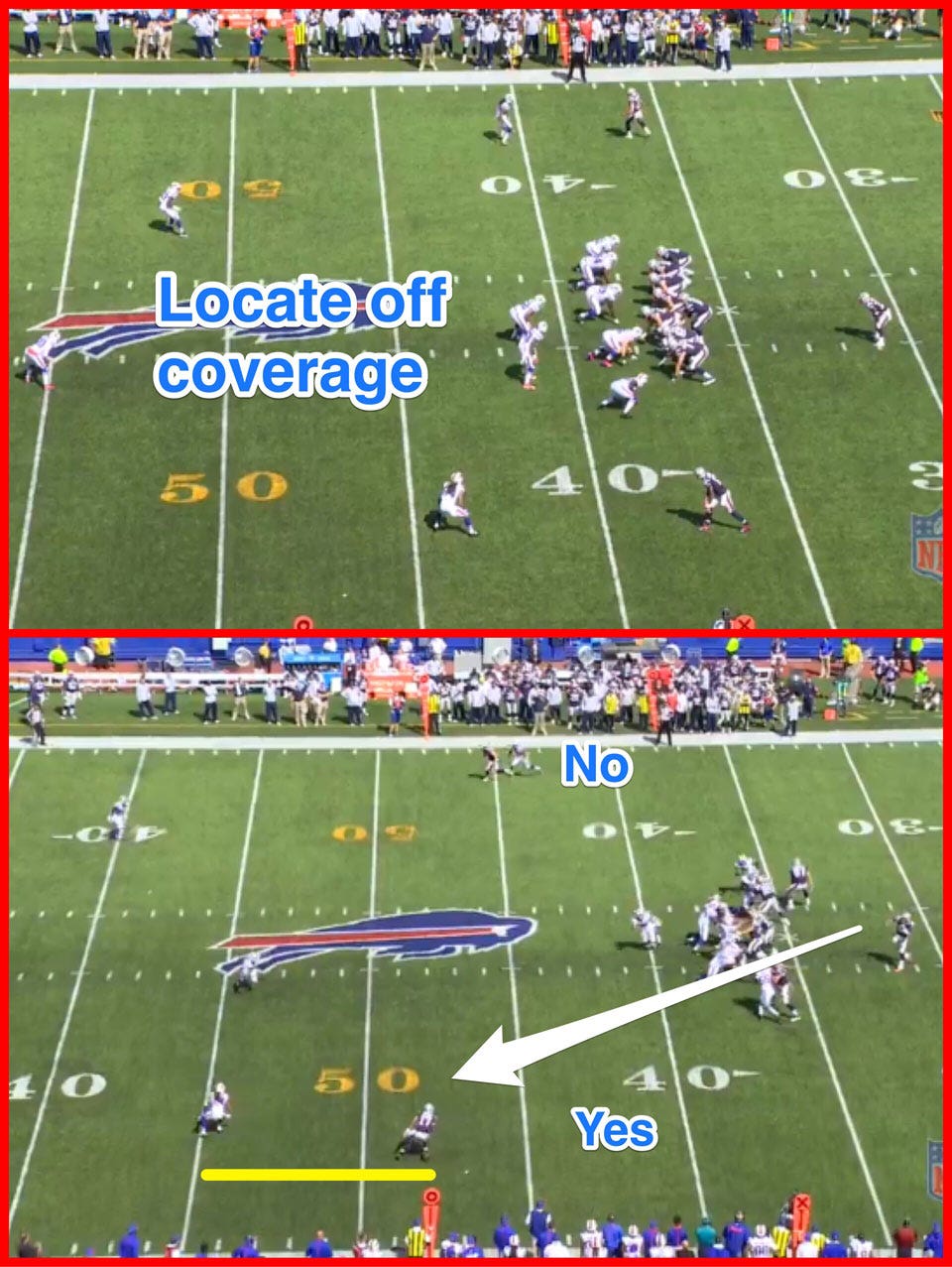 One consistent theme when Manning has struggled this year is long incompletions on tight-window, down-field throws, which gets the offense behind schedule. Against the Bills, you have to take what they give you, exploiting the yards that are available in those scheme concessions.
It would be nice if Manning could push the ball downfield play after play to Rueben Randle and Beckham. But the savvy play is to not do so until the coverage has loosened around them. Getting burned consistently by intermediate players like Vereen, and even tight end Larry Donnell, could do that trick against the Bills.
A wasted first down against the Bills is a drive killer; they thrive in second- and third-and-long. That's when Rex's creativity peaks, so avoiding that situation is of the utmost importance.
There will be occasions in Sunday's game where the Bills are forced to match either Beckham or Vereen with an off-the-ball player — whether it is a safety or a linebacker. These should be the easy decisions for Manning. That 8 or more yards of space begs for a quick, decisive throw and a cheap 5-yard reception (see below).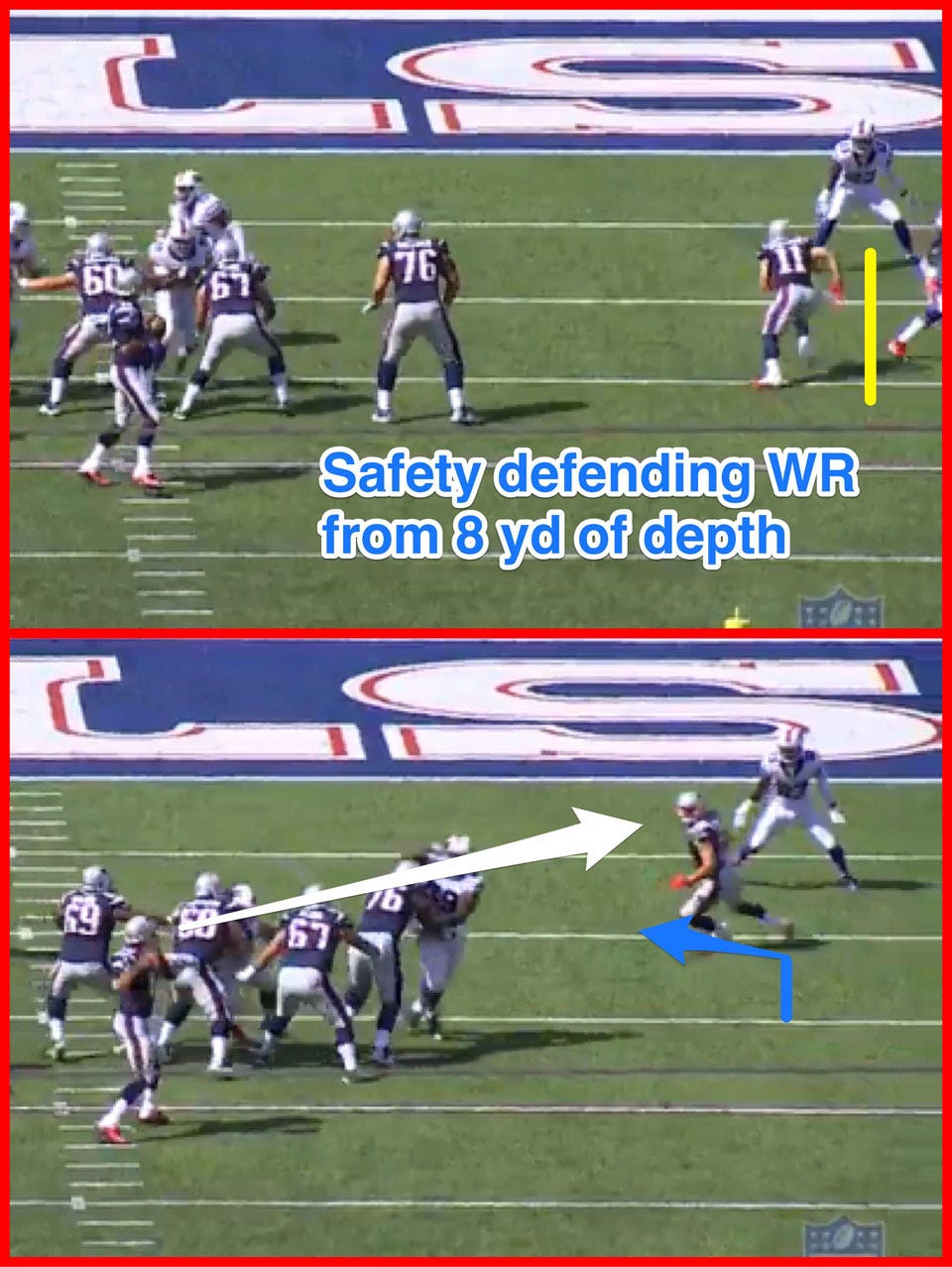 These kinds of alignments also provide opportunities for the new fad in NFL football: "rub" concepts, or pick plays. This is where you find the off-the-ball defender and run some type of route combination across his face, forcing him to make a decision to go either under or around the "rub" element to get to his coverage. When the Patriots found themselves in this situation against the Bills, Brady consistently went immediately to it (see below).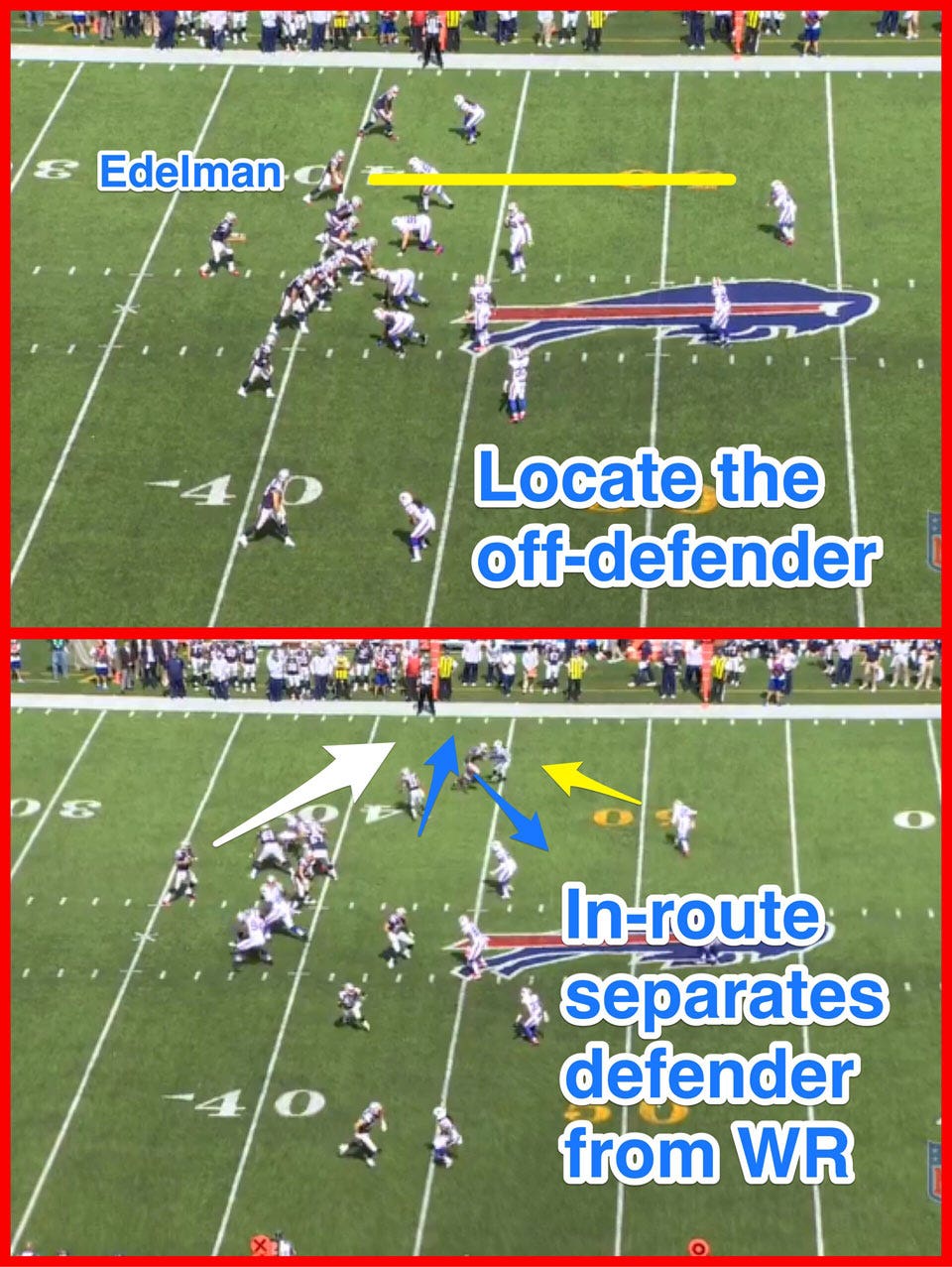 The two Giants players most likely to find themselves in a similar position are Beckham and Vereen (see Vereen below). When these opportunities present themselves, Manning would be wise to take them (see below).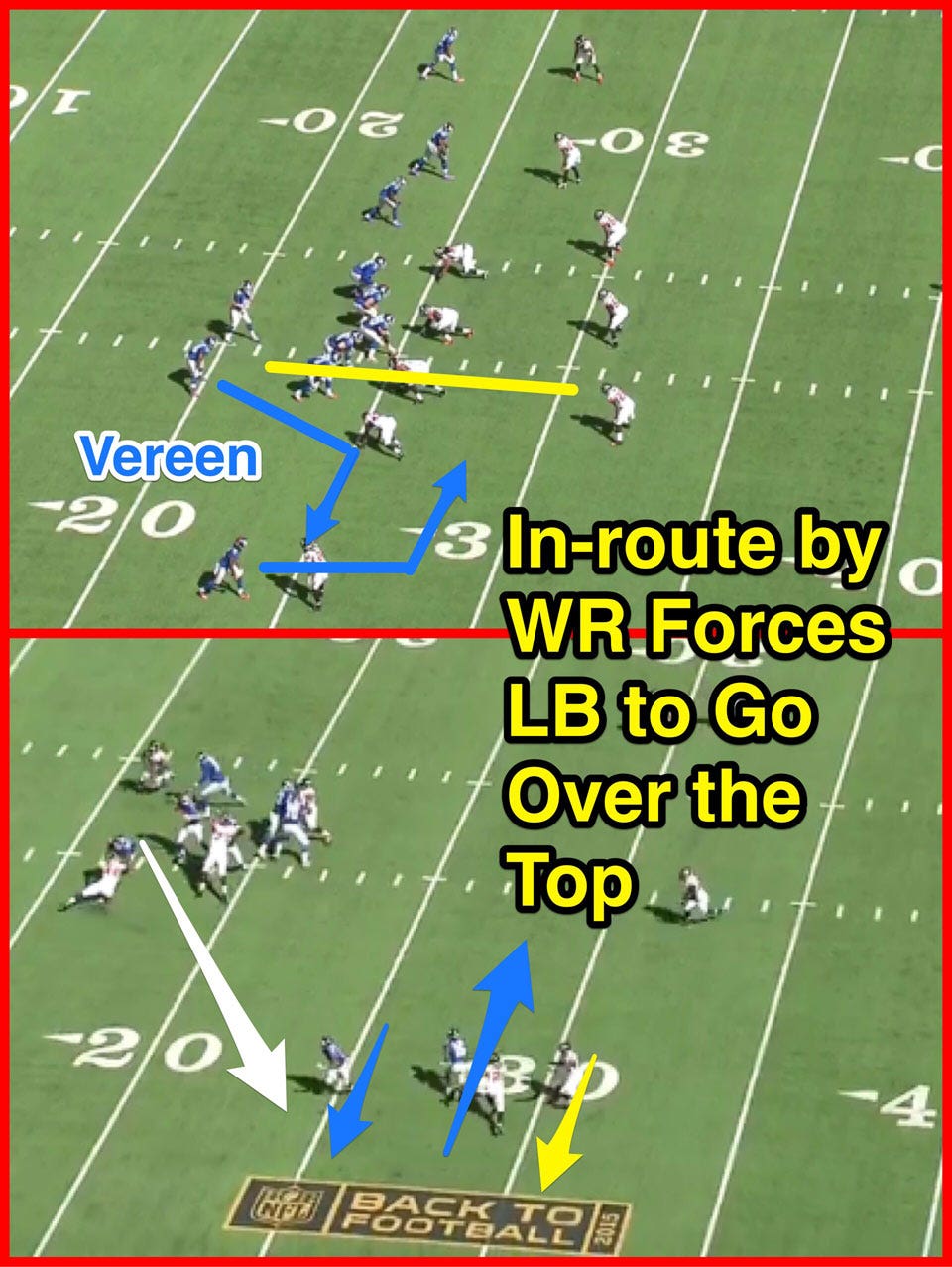 A huge part of game-planning in the NFL is taking past successes other teams have had against a group you're about to face, looking hard at your own personnel and scheme, and creating a way to make it work for you as well.
Ryan would love the Giants to pack themselves in tight and hand it off to running backs Rashad Jennings and Andre Williams. Ryan's defenses are hard enough to score on as it is. The least you can do as an offense is not do them any favors.
STORIES FROM FOOTBALL BY FOOTBALL
Four interesting things for Week 4
Oregon on same path of unrealistic expectations as Texas A&M in 2014
Knee Jerk's: Monday's best press-conference material
Matt Chatham played for the Patriots and Jets over nine seasons in the NFL, winning three Super Bowls. He is also the founder of footballbyfootball.com. You can follow him on Twitter.