New York Giants: Best-Case Scenario for Second Half of 2016 Season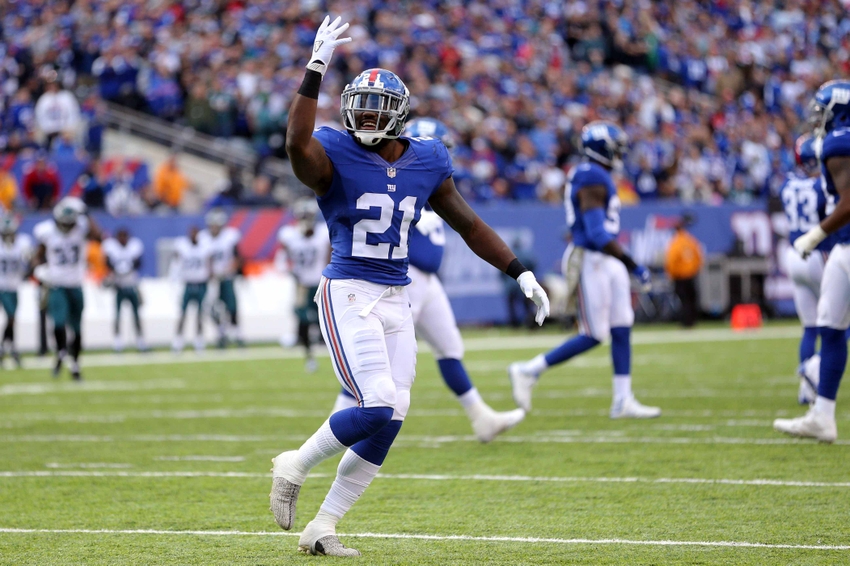 With the first eight games of the 2016 NFL season in the books, what will it take for the New York Giants to be successful in the second half of their schedule?
Had the 2016 New York Giants had their 2015 defense through the first eight weeks of this season, they'd most likely be 1-7. Fortunately, the new additions on the defensive side of the ball—namely Damon Harrison, Janoris Jenkins, Olivier Vernon, Keenan Robinson, and Eli Apple among others—have managed to make late stands to preserve wins. If only the Giants offense could regain the late-game form of 2011, the Giants could be 6-2 instead of 5-3.
On the bright side, as ugly as this team has played, they're still 5-3. That means if they can eliminate the mistakes, flip time of possession, and find a ground game, they could duplicate that record in the second half.
Odell Beckham Jr.'s big play capability has captivated audiences and won ballgames. Landon Collins has caused havoc from the safety position. Rookies Sterling Shepard, Paul Perkins, and Jerell Adams have cracked the lineup and could play integral roles down the stretch. Should the pass rush turn hurries into sacks, the Giants will be in a position to contend in the NFC.
Historically, the G-Men have been a disastrous second-half squad. Take a look at how the franchise has fared since Tom Coughlin's (and Eli Manning's) first year with the Giants in 2004. Eight of 12 seasons started .500 or better, but ended the year on a stretch of .500 or below football.
That's eight seasons that started with playoff potential and only three that ended with a spot in the postseason. The 2013 and 2014 seasons were lost causes from the get-go while the 2005 season saw only a one-game slide in record from first to second half (six to five wins) en route to a division title.
But, that was under Coughlin. Now, Ben McAdoo is at the helm and his mantra since day one has been: "Evolution, not Revolution." If McAdoo desires to evolve from Coughlin's run, he'll have to coax this roster to do better over the next eight weeks and finish strong, not taper off.
Why did Coughlin's teams lose steam in the second half? Injuries. So far this season, the 2016 Giants have managed to stay relatively healthy (please knock on wood wherever you are). The two weeks they had lengthy injury reports, they lost: Week 4 against the Vikings and Week 5 against the Packers.
Not having Justin Pugh for an extended period (out for 3 – 6 weeks with a sprained knee) will hurt, but Brett Jones proved he can be a suitable replacement when filling in against Philadelphia in Week 9. Promising rookie safety Darian Thompson doesn't appear ready for return from a foot injury, but undrafted free agent Andrew Adams has improved week-over-week in his place. Then, there's Victor Cruz whose sprained ankle shouldn't keep him sidelined. Undrafted wideout Roger Lewis could provide a spark in Cruz's absence as two of Lewis' three grabs have been for touchdowns.
If the Giants want a shot at a playoff berth, they'll need to take care of business the next three weeks against the Cincinnati Bengals, Chicago Bears and Cleveland Browns. Big Blue has been awful on Monday Night Football, but at least they're not playing the Bengals in Cincinnati where the Giants are 0-6! In East Rutherford, the G-Men are 3-0 against Cincy. Unfortunately for New York, the Bengals get back linebackers Rey Maualuga and Vontaze Burfict.
The Bears should be feeling pretty good about themselves heading into their Week 11 matchup with the Giants. Chicago upset the Vikings in Jay Cutler's return and, following a bye week, will face a Buccaneers team that can't win at home. A rested and confident Bears squad featuring Jordan Howard and Zach Miller could cause problems for New York.
Months ago, I stated this would be a game the Giants defense would have to win as Eli Manning has been brutal against the Bears. The Giants defense has been winning games all season, but do they have enough in the tank to keep it up?
Any time I've chalked up a runaway win, the Giants have surprised me. That's why the Cleveland game in Week 12 could be the biggest trap of all. It has post-Thanksgiving hangover written all over it. At 7-3, it will be McAdoo's mission to maintain checks and balances; make sure the team doesn't flick on the autopilot switch against a Browns team that could be 4-5 and not 0-9.
The last five games will be hell on Earth. Giants fans can only hope their team escapes with a win or two, and 9-7 or 10-6 is enough to secure a Wild Card.
Week 13: at Steelers, December 4 – The Giants have played tight games against Pittsburgh in their past three meetings and won at Heinz Field in 2008. The Steelers are currently in a tailspin, so it might be moot to sweat this matchup. But Pitt's as unpredictable as they come. With Big Ben banged up, he's not as mobile and not as deadly, so the Giants defense should be as aggressive as possible to eliminate the deep ball.
Week 14: vs. Cowboys, December 11 – Big Blue squeaked past Dallas in Week 1 thanks to a brain fart by Terrance Williams. The Cowboys have steamrolled since then. New York had lost the previous three home games against Dallas before the win last season when the Cowboys were without Tony Romo. If the Giants actually see Romo this time around, it might be to their benefit as Dak Prescott has been playing out of his cleats all year. This matchup will most likely determine who wins the NFC East.
Week 15: vs. Lions, December 18 – Who would've thought the Lions would be better without Calvin Johnson? But, here we are. Matthew Stafford's in the running for league MVP and the NFC North title isn't a pipe dream for Detroit anymore. The Giants have won three of the last four meetings, but have lost three of the past four to the Lions at home. If the defense doesn't contain Stafford, this could be a devastating dagger into the heart of New York's playoff chances.
Week 16: at Eagles, December 22 – Let's be honest. If Doug Pederson opts for field goals in Week 9, Philly probably beats Big Blue. It was New York's first win against the Eagles since 2013, which was an ugly 15-7 affair that featured Matt Barkley at quarterback. Since 2009, New York's 2-5 in Philly. If the Giants can go 2-for-3 against the Steelers, Cowboys, and Lions, they could build on that momentum to gut out a sweep. If the G-Men come in on a slump, they could get pummeled. My gut says they'll learn from the near collapse in Week 9 and pull off playoff-caliber football and a win.
Week 17: @ Redskins, January 1 – After winning five in a row against Washington, the Giants have lost back-to-back battles to the 'Skins. The G-Men are 2-3 in Landover since the 2011 regular season. With Round 2 of Beckham vs. Norman and a playoff spot on the line, this could be one of the best games of the NFL season. If turnovers are still an issue for the Giants, they lose. If they can find a way to get on the plus side of the differential, they get to the postseason for the first time in five seasons.
This article originally appeared on