New York Giants Are Wise to Play Victor Cruz in Preseason Finale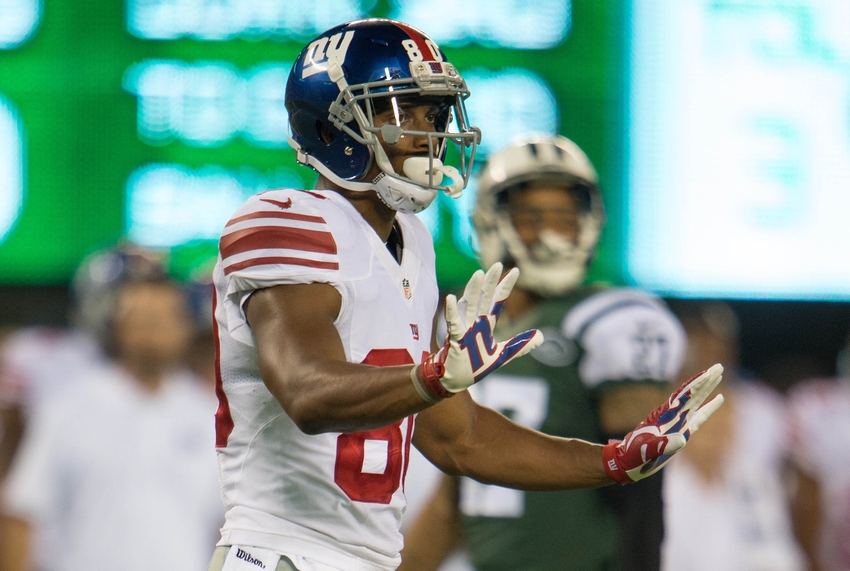 The New York Giants have had a disappointing preseason so far, and that might result in some starters playing in the preseason finale.
The New York Giants were able to win their third preseason game against the New York Jets, but it wasn't because of their starters. The Giants' offense looked very poor in the win, and some things need to be addressed.
One player that is likely to see some more action in the preseason finale is wide receiver, Victor Cruz. According to Jordan Raanan, Cruz will be playing in the preseason finale. After dealing with leg injuries for the past two seasons, Cruz finally made his return to the field against the Jets.
During his first game since missing nearly two full seasons, Cruz was able to total one reception in the win. While it was certainly good to see Cruz on the field, he didn't get much work to tell if the rust is truly off. Against the New England Patriots, expect to see Cruz for a series or two
"I would like to," he said to Jordan Raanan of ESPN.com. "I know in the Coach Coughlin era, if we didn't play well in the third one, he'd give us a series or two in the fourth. We'll see how it goes. I definitely would love to play and obviously to continue to build some rapport with Eli and kind of just continue to build on what I've already put out there, but that's obviously up to Coach McAdoo and we'll see what he says."
The Giants are making a very smart move to play Cruz and possibly some of the other starters against the Patriots. Getting some of the starters like Cruz into a groove before the start of the regular season is very important.
Finally, the Giants should target Cruz early and often against the Patriots. Getting him three or four receptions on a drive or two would be extremely beneficial.
More from Empire Writes Back
This article originally appeared on