New York Giants 2016: Midseason Grades For Each Unit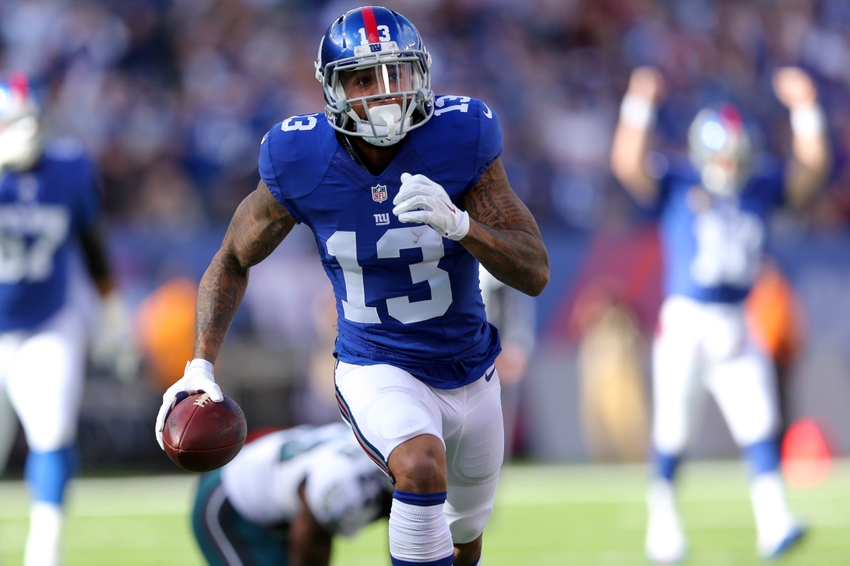 Sitting at second-place in the NFC East, how do the New York Giants grade out throughout the offense, on defense, in special teams, and overall at midseason?
When you spend what the Giants spent on the defensive side of the ball in free agency, you expect results. On the surface, it might not look like Big Blue got their money's worth, but dig deeper into the numbers and you'll see the pack of acquisitions and lone retainee have been solid. The 2015 defense was unreliable and susceptible to big plays.
The 2016 defense, however, has stood firm when it counts and is one of the best in the NFL when it comes to yards per play. How come more people aren't talking about that unit?
New York's offense has been about as abysmal as one can imagine, which could be the most mind-boggling trend of any team in the league. This was the unit that kept New York in games last season, but has nearly cost them wins in 2016.
Ben McAdoo and Odell Beckham Jr. revitalized Eli Manning's career in 2014. Giants fans frothed at the mouth thinking about getting back Victor Cruz and adding second-round draft pick Sterling Shepard into the mix in 2016. With that top-notch trio, the G-Men shouldn't have any issues scoring points.
But that unit has struggled. Big time. The Giants offense has been unable to get kick-started nor stay on the field long enough to give their defense a breather. The time of possession difference has been atrocious. Tons of three-and-outs, bad throws, dropped balls, untimely penalties, questionable play calls, and inefficiency have all contributed to this offense being frustrating.
Before their big win at home against the Philadelphia Eagles in Week 9, the Giants weren't part of the playoff discussion. They've failed to crack the top 10 of power rankings for more than a month. The loss to Washington at home was killer. Seeing the Eagles take down the Minnesota Vikings and the Dallas Cowboys dismantle the Green Bay Packers have caused spirits to plummet since Big Blue lost to both NFC North favorites. But, even with the odds against the G-Men, their ugly, underachieving first half play still resulted in a winning record. The consensus has been the Giants are better than their 5-3 record.
At this midseason point, we'll break down the offense and defense by units and assess grades. We'll do the same with special teams before handing out an overall grade. Let the evaluation begin!
Offensive Line: B-
Through the first five weeks, the New York Giants offensive line was ranked as the third best in the NFL and the best in the NFC East after a preseason ranking of 20th, according to Pro Football Focus. PFF previously called that group the team's "biggest concern." However, they've since changed their tune and rightfully so.
Pass protection hasn't really been an issue, despite what some critics may claim. The Giants O-line has allowed a sack on only 3.8 percent of pass attempts, which is third best in the NFL. They've only allowed 27 hits on Eli as well, which is second fewest in the league.
The running game has been a totally different story as backs are only able to muster 3.2 yards per carry, which is second worst league-wide. NFL.com has a stat called "Rush Power," which measures the rushes on third or fourth down with two yards or fewer to go that result in either a first down or a score. It also factors in first and second down plays with goal-to-go from the 2-yard line or closer. Here's how the Giants have fared in that category:
Up the middle, behind center Weston Richburg, the Giants have a 60 percent conversion rate. To the left, behind guards Justin Pugh or Brett Jones and tackle Ereck Flowers, it's 71 percent. The left side also leads the line in rushing first downs with 15. To the right behind guard John Jerry and tackles Marshall Newhouse or Bobby Hart, it's only 50 percent. Though the right side of the line has fewer rushes for negative yards, that's most likely due to fewer attempts.
Newhouse missed a handful of games to injury and replacement Hart has held up admirably. McAdoo used Newhouse as an extra lineman/eligible receiver in Week 9 and the move appeared to pay off. Pugh left Week 9 with a sprained knee and might miss some time, but fill-in Brett Jones scored the highest rating of any lineman against the Eagles from PFF.
If the Giants could just muster some form of progress running the ball, they could be dangerous heading down the stretch. Fifth-round draft pick Paul Perkins might just be the answer.
Running Backs: F
Harsh assessment, I know. But Big Blue is tied for second worst run-efficiency ratio in the NFL with the Cleveland Browns. The running game has gotten to the point where it almost feels like a stall tactic. Run plays have become an unofficial timeout or break in the action. A rush used to be a way to advance the ball and wear down the defense. Now, with the 2016 New York Giants, it's just a way to give the wide receivers a breather. New York hasn't had a 1,000-yard rusher since 2012 when Ahmad Bradshaw just barely eclipsed that mark in 14 games played.
However, I'm not sure you can really blame the backs. Rashad Jennings has been hurt. Shane Vereen ran well, but was lost for the season. Orleans Darkwa is the hardest runner of the group, getting the tough yards, but has fallen out of favor for some reason. Free agent pickup Bobby Rainey has become Eli's crutch on third-down passes.
With Rainey sidelined, rookie Paul Perkins picked up some of the slack and had a couple nice touches against Philadelphia in Week 9. Perk's cutting style is somewhat reminiscent of Bradshaw and appears to be New York's best chance at improving the ground game.
Would things have turned out differently if the Giants drafted Todd Gurley in 2015? Would circumstances be any different if they drafted Ezekiel Elliott in 2016? Hard to say. Gurley has struggled in his sophomore season while the Cowboys line has compiled record-breaking stats.
McAdoo has his hands full in figuring out how to get more balance. Paul Perkins and Bobby Rainey have provided sparks here and there, but nothing that can be considered consistent. It's time McAdoo went all in on Perk.
Wide Receivers: B
NFL Spin Zone had the Giants receiving corps as the 4th best in the league before the 2016 season began, as did Bleacher Report. Entering Week 7, Pro Football Focus ranked Big Blue's receiving corps 10th after ranking them 16th before the season started.
In between the 20s, I don't think you'll find a better wide receiving group. However, in the red zone, Giants wide receivers disappear. Odell Beckham Jr. has been targeted seven times and only caught two. Victor Cruz has only been targeted five times inside the opponent's 20 and Sterling Shepard just three times. The G-Men are 26th in the league in red zone touchdown percentage and only 0.5 points better than last season. What's even crazier is the Giants are way worse at scoring touchdowns inside the 20 at home than on the road.
Cruz sprained his ankle and could miss some time while Beckham took a head shot, but managed to stay in the game. While the group has somewhat underwhelmed, you see why most football pundits rank them so highly. Most people would take these Giants wideouts against almost any secondary in the league.
As Eli gains more trust and confidence in Shepard and rookie Roger Lewis, we should witness this unit flourish as the postseason nears. This group is capable of powering the offense to 28 or more points on a consistent basis, so expect more production similar to the Eagles game than the output versus the Vikings and Packers.
Tight Ends: D-
Will Tye has averaged more than 22 receiving yards per game, which places him 36th among tight ends. Meanwhile, Larry Donnell averages about 13-15 receiving yards per game, putting him in the 40s. To be honest, any time a Giants tight end is leading the team in receptions or receiving yards in a game, that's going to amount to a loss.
Nearly 20 percent of Eli's passes have gone towards tight ends. That number was eclipsed in the Week 9 game against the Eagles as 20 percent went to Will Tye and another four passes went in Adams' direction. Almost 31 percent of attempts went to tight ends.
The good news, I guess, is that Giants tight ends are fairly sure-handed with catch percentages that are in the high 60s and above. It's what Giants tight ends have done with the ball after the catch that's disheartening. Watching Zach Ertz gash the Giants for big yards in between the numbers highlighted how badly this team needs a high-caliber tight end. Could Adams be the answer?
It appears Larry Donnell has lost his starter designation with Will Tye seeing more snaps. Donnell has been leapfrogged by sixth-round draft pick Adams, whom many fans are excited about.
Quarterback: C-
After back-to-back seasons in 2014 and 2015 that saw Eli put up gaudy numbers thanks to Beckham, Manning has fallen back to mediocrity in 2016. Prior to his four-touchdown explosion in Week 9 against the Eagles, Manning's touchdown percentage was three percent, which was tied for fourth worst in the league with Brock Osweiler, Brian Hoyer, and Cody Kessler. Only Ryan Fitzpatrick, Russell Wilson, and Joe Flacco were worse. Following Week 9, that stat jumped up to 3.9 percent and placed him 14th overall.
The 2.6 percent interception rate is 11th worst, but that figure doesn't fully capture just how unfortunate Manning's luck has been. Eli has been the king of fluke picks over his lengthy career. Tipped balls, wrong routes, and ridiculously athletic plays by the coverage have contributed to his unattractive interception totals. That "interception" on the Odell Beckham slant in Week 9 was an abomination and the refs should have lighter wallets as punishment to restore balance to the universe.
Eli's average yards per attempt, yards per completion, and quarterback rating are all below the league average, despite having the sixth highest passing yards per game. Those numbers have prompted many fans and experts to call for the deep ball. The best season for any quarterback throwing the ball long was Eli Manning in 2011.
In that 2011 season, Eli also led the league in game-winning drives and fourth-quarter comebacks. Four of the five wins the Giants have in 2016 have featured a game-winning drive by Manning. His four game-winning drives in 2016 are second only to Matthew Stafford. If Eli can start connecting on the deep ball like he did against the Eagles, the Giants have a fighter's chance to advance to the postseason. If Manning continues to misfire, New York will be watching the playoffs from the comforts of their couch.
Entering Week 6, Pro Football Focus ranked Eli as the 22nd best quarterback in the league. What's more, his grade from PFF has dropped tremendously. Where he graded at 74.7 in 2015, he sits at 49.5 after nine weeks in 2016.
Break out the broken record. Manning has been bad in the red zone, completing less than half of his passes inside the 20 and only 30 percent of attempts inside the 10. Only four of his 12 touchdowns have come in the red zone.
On the bright side, Eli looks like he's not as flustered by the pass rush in the past few weeks, moving in the pocket, stepping up, and delivering solid throws. If he can extend the play by even half a second, his wideouts should be able to win one-on-one battles. Still, as any Giants fan can attest, Eli has a confounding way of making questionable decisions. Just when you feel comfortable with his play, he'll throw a curveball.
Front Seven: B-
Defensive Line: B+, Linebackers: C+
Pro Football Focus ranked Big Blue's front-seven as the 12th best in the league entering the season. New York's pass rush has come under fire for not notching a lot of sacks. The G-Men don't have a single player in PFF's Top 25 Pass Rushers list. Big Blue's sack percentage is the worst in the NFL as they've only tallied 11.
However, the G-Men are seventh in the league in hurries. Jason Pierre-Paul has 16, which is tied for fourth most in the league, and Olivier Vernon is one behind with 15 on the year.
2015 third-round draft pick, Owamagbe Odighizuwa, lost snaps to undrafted free agent Romeo Okwara following the bye week and Devon Kennard saw more pass-rushing opportunities against Philly. The payoff was a frazzled Carson Wentz firing inaccurately.
Damon Harrison has the highest run-stop percentage in the league according to PFF. The Giants run defense has only allowed 3.6 yards per carry, which is fourth lowest in the NFL. Captain Jonathan Casillas and free agent pickup Keenan Robinson have materialized into solid players and leaders.
Secondary: A-
Cornerbacks: A-, Safeties: A-
Entering Week 7, Pro Football Focus ranked the Giants secondary 8th after having them 19th in the preseason. Cornerback Janoris Jenkins is tied for third most passes defended in the NFL with 10 through eight weeks, tied with fellow corner Dominique Rodgers-Cromartie. Both defensive backs are in the top five for "plays on passes," which combines interceptions with passes defended.
There have been some minor complaints here and there about Eli Apple, but the 21-year-old has shown maturity beyond his years. Though he hasn't flashed anything worthy of a highlight reel, he's quietly blanketed opposing receivers. Free agent Leon Hall has also been an unsung hero.
The Giants pass defense has allowed 6.5 net passing yards per attempt, which is tied for fourth lowest in the league. The seven passing touchdowns allowed is third fewest overall. Opposing quarterbacks are only completing 59.3 percent of passes, which is fifth lowest in the NFL, and have thrown touchdowns on only two percent of pass attempts, which is third lowest league-wide.
Landon Collins has been the team's top performer through the first half of 2016 and was named NFC Defensive Player of Week yet again in Week 9. Darian Thompson played well when healthy and Nat Berhe has shown he can hit with the best of them. But Andrew Adams has really stepped up, playing the best game of his rookie season against Philly.
SPECIAL TEAMS: C
Punter: C, Punt Returner: D+, Kick Returner: A-, Kicker: A-, Punt Return Defense: D-, Kick Return Defense: B
The Giants brought in Brad Wing because he was so adept at placing the ball inside the 20. That hasn't happened too often in 2016 as he's tied for fourth fewest in the league. Though his net yardage is right around the league average, OBJ's best bud has five touchbacks, second worst in the NFL.
Josh Brown was suspended for the first game against the Cowboys and, after further investigation, was released before the Week 7 game against the Rams in London. Some believed that move came way too late and the Giants have come under heavy scrutiny for their lack of action.
In Brown's place, former Chicago Bear Robbie Gould has been perfect on all kicks. Gould's career percentage is around 85 percent, so one has to wonder when the other shoe will drop.
The big story on special teams has to be the field goal block team. Johnathan Hankins came up with a block in Week 2 against the New Orleans Saints that Janoris Jenkins scooped and scored on. In Week 9, Jason Pierre-Paul got a block that ultimately saved the Giants from a last-minute defeat. That unit now has a reputation that forces opposing coaches to second-guess attempts and go for it on fourth down.
In 2015, Dwayne Harris was electric returning the ball and earned a Pro Bowl nod for his work. He averaged 10 yards per punt return, which was tied for sixth best with former Buc and current Giant Bobby Rainey. His 28.7 yards per kick return was third most in the league. In 2016, Harris has been erratic returning kicks and punts. While he holds the third highest kick return average in the league at 26.2, his decision to bring the ball out of the end zone has put the Giants offense in a really unfavorable position multiple times. Dwayne's punt return average has been below average.
The punt return defense has been awful, allowing 12.3 yards per return, which is the sixth highest in the league. The only factor keeping that unit from getting an 'F' is the fact they haven't allowed a touchdown.
For the kick return defense, it's been another story, allowing 19.9 yards per return, good enough for 10th in the league. Giants kickers have done a respectable job of giving the returner a tough decision to make: take the knee and the 25-yard line or bringing it out. So far, the choices have worked out in New York's favor.
Overall: C+
If the Giants want to compete for a playoff berth, they'll need to move their differentials from the negative to the positive. After eight weeks of play, the G-Men have a -7 turnover differential and a -4 "big play" differential. Offensive turnovers have killed scoring opportunities and game-clinching drives while the defense has just started to take away the ball in bunches the past two games (Week 7 against the Rams, Week 9 vs. the Eagles). The offense's 16 turnovers is sixth most in the league.
While the defense has allowed scores on almost 39 percent of opponents' drives, they've only allowed 20.5 points per game, which is 10th best in the league. That unit has allowed 22 field goals, which is third most overall. The major concern for the D heading into the second half of the season is the amount of time they're on the field. Opponents average 6.5 plays and 2 minutes and 59 seconds per drive, which is second most in the league.
When it comes down to it, the Giants defense has been excellent against quarterbacks, above average versus running backs and wide receivers, but below average against tight ends. Responsibility for that shortcoming falls on the linebackers and safeties. Then again, how many tight ends can win games?
On the other side, the average drive for the Giants offense lasts 2 minutes and 20 seconds, second worst league-wide. That unit's 1.54 points per drive is fifth worst in the NFL. Fans have to wonder how much longer the team can win with that disproportionate trend.
The offense has scored on only 30.8 percent of drives, 10th lowest overall, and has turned the ball over on more than 16 percent of drives, fourth worst in the NFL. With those kind of numbers, one would think this squad would be 1-7, not 5-3. As morbid as that sounds, it means any sort of improvement will assure this team inks victories and a long-awaited trip to the postseason. The future looks bright for Big Blue.
This article originally appeared on