New Orleans Saints: Rookie kicker Wil Lutz shines in win over Seahawks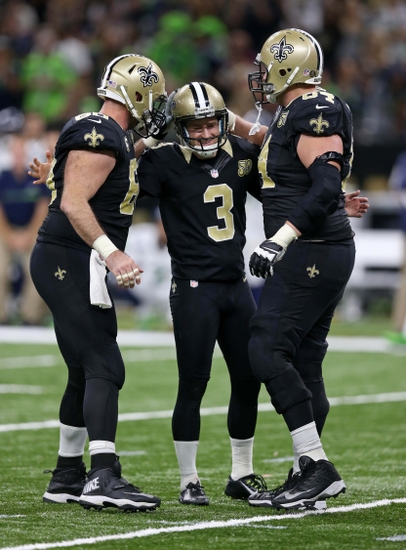 Wil Lutz has taken his lumps in 2016, but he had a career day in the Mercedes Benz Superdome Sunday against the Seahawks.
It was a typically controversial Sean Payton move in the last week prior to the beginning of the 2016 season. Both incumbent place kicker Kai Forbath and contender Connor Barth had been battling to be the Saints' starter since early in training camp.
After the last preseason game, New Orleans Saints' Head Coach Sean Payton brought in undrafted rookie free agent Wil Lutz, who had just been cut by the Baltimore Ravens and named him the starter.
Lutz, out of Georgia State, was known to have a very strong leg but struggled collegiately with accuracy. It was on a recommendation from Ravens Head Coach John Harbaugh and an impressive tryout, that Payton decided to hand kicking duties over to Lutz.
It was a shaky start to the season with some potentially game winning misses and some blocks. The blocks, however, still made it through due to Lutz's leg strength.
On Sunday in the Superdome the rookie came up in a big way. Lutz went 4 for 4 on field goals and made his only extra point attempt. The field goals were from 22, 53, 21 and 36 yards accounting for half of the Saints' scoring for the day.
Going forward this day will surely help build the young kicker's confidence level and Sean Payton has claimed he'll be kicking for the Saints long after he's gone as head coach. Every one of those field goals were critical in today's victory over the Seahawks. Wil Lutz has now arrived in the NFL at just the right time.
This article originally appeared on