New Orleans Saints: Nick Fairley ineffective against his former team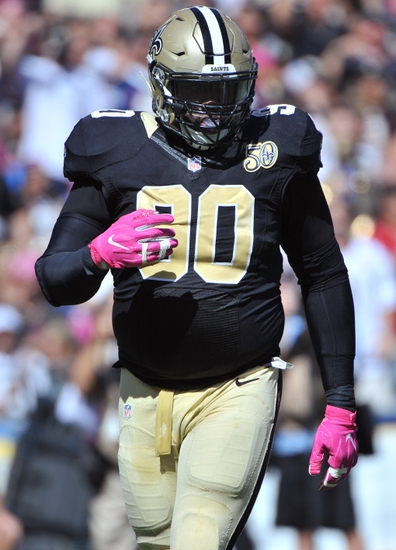 When former Auburn defensive star Nick Fairley was drafted by the Detroit Lions in 2011, there was one word many scouts and analysts used to describe him: Disruptive.
The Saints didn't see any of that yesterday. And disruptive he was, as he contributed to a formidable Lions defensive front that included a young Pro Bowl player in Ndamukong Suh, a veteran Pro Bowl player in Kyle Vanden Bosch, and a solid presence in Cliff Avril. The trio's best year was 2013, which also happened to be Fairley's best season in terms of sacks (6).
It's now several years after the Detroit Lions decided not to renew Fairley's contract. The heavyweight defensive tackle finds himself with the New Orleans Saints. The Saints' defensive front is not nearly as dominant as what he was used to in the Motor City. The unit has just 22 sacks through 11 games this year.
The Saints defense overall, in fact, scares very few teams. Prior to this game, they had done a decent job stopping the run (99.1 yards per game, 12th overall), but their pass defense (271.4 yards per game, ranked 27th) and scoring defense (27.9 points per game, ranked 30th) leave a lot to be desired.
In the Saints' 28-13 loss to Nick Fairley's former team, his play was on par for the course in terms of the defense.
Although Fairley does have the second-most number of sacks on the team (4.5), he was, for this game, mostly invisible.
Other members of the defensive front stepped up their game today. Daniel Ellerbe and Sheldon Rankins each managed to sack Detroit Lions QB Matthew Stafford once. However, it was again the Saints secondary that was the weak link of the defense. They gave up 341 yards through the air. Several big plays, including a 66-yard touchdown pass to Golden Tate in the fourth quarter, put the Lions up 25-13.
The only significant time Fairley did make his presence felt was an illegal face mask grab of Matthew Stafford in the first quarter. Fortunately the penalty was not called by the officials, despite Stafford's visible frustration. These were the same dirty tactics used by Ndamnukong Suh in Detroit. It appears as if his former teammate is bringing the dirt to the Big Easy.
On paper, it looks like Nick Fairley has plenty of potential to be the disruptive force he was at Auburn. But for now, there are still some growing pains to go through with Dennis Allen's defensive scheme first.
And perhaps Fairley could hold off on the dirt until those pains subside.
This article originally appeared on