New Orleans Saints: Five bold predictions vs. Panthers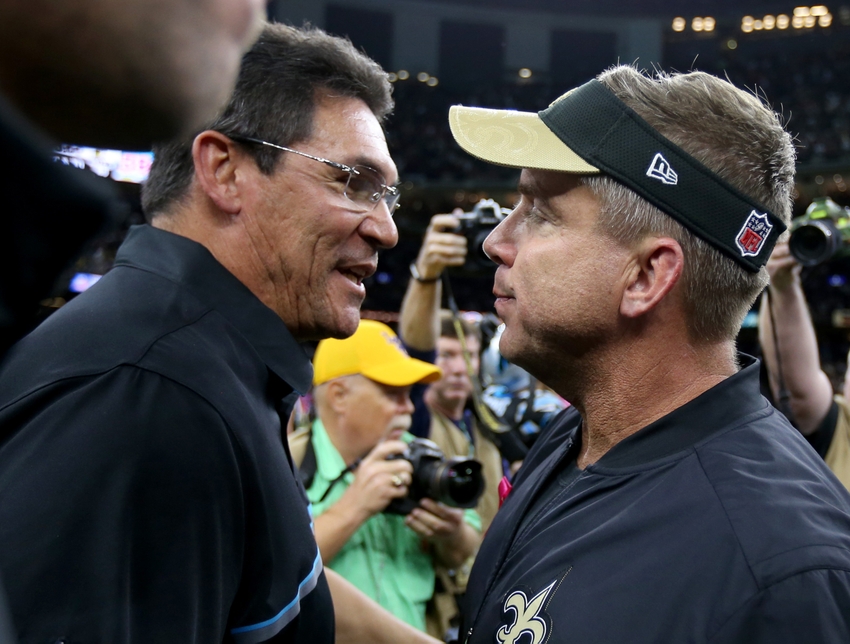 The Saints are fighting to get back to .500, and have a shot at it against the Panthers tonight.
It's Thursday, and already gameday. I do like that TNF means a game this quickly, but it's going to feel like years before our Week 12 game now. So we'll have to make this one count. The Panthers are a better team than when the Saints faced them earlier in the year. But so are the Saints. No doubt this one, like all Saints games, will come down to the wire. Who Dat Dish has a few bold predictions for how this one might play out. Let us know what you think.
Cam Newton runs in for a score
Newton was responsible for three touchdowns the last time he played the Saints,  including a 1-yard run and a succesful 2pt conversion. And he was badly hobbled, coming off a concussion. He'll have no such hinderances tonight.
I think it's safe to say that, whether or not Newton runs one in, he's going to be a different kind of threat than he was last time. And that could mean problems for this Saints defense. We've had trouble setting the edge and containing runners.
Having Vaccaro available is pretty clutch. Let's hope he stays active for the rest of the year. But the reason for optimism has to be the players that have come back from injury since their last meeting. Sheldon Rankins should help with gap discipline in the middle. Delvin Breaux should allow the safeties to play more freely around the field. And Dannell Ellerbe's range will help contain any big runs.
But this is Cam Newton. He's going to be a problem either way.
The first of my bold predictions: Cam Newton, at least one rushing TD.
Greg Olsen lights the Saints up
I feel like it happens every year against the Panthers. And the Saints haven't even been blowing TE coverages as often this season. But game after game with these guys, Greg Olsen goes nuts.
Last game he led the Panthers with 94 receiving yards. The game before, 129 yards. Well, okay, not bad, what about before that? 134 yards, two TDs.
I think I'm seeing a bit of a pattern here. I'm not sure.
We'll see how the Saints choose to cover Olsen this time. Maybe we'll switch something up. I wouldn't mind trying some combination of Bell or Ellerbe on him. Vaccaro obviously struggles with the matchup.
But again, I think it's safe to say that Olsen puts in work.
The second of my bold predicitions: 100+ yards, one TD.
Dannell Ellerbe intercepts Cam Newton
I firmly believe that this game will come down to turnover differential. Both teams know eachother very well. They execute at a similar level. Neither team is going to blow the other out of the water with pure talent or scheme.
So who wins the turnover battle?
I think Ellerbe's return to the lineup will pay huge dividens for this one. It's the perfect game for him. A run-happy QB, a run-heavy offense, plenty of underneath and TE action.
We've all seen Ellerbe's range and tackling ability. Now I want to see him cover. We know he can do it.
The third of my bold predicitions: Ellerbe pulls in an INT, his first as a Saint, the fourth of his career.
Delvin Breaux doesn't allow a reception.
Coming into the season, this didn't seem like such an outlandish claim. Saints fans were gushing over Breaux, and with good reason. He was a lockdown corner.
Then he broke his leg, and after months of recovery is finally back in the lineup. Unfortunately, he really struggled against the Broncos.
I'm sure some of that had to do with his incomplete recovery from the injury. But I think most of it was rust, and I'm confident he'll have it shaken off by tonight.
This is certainly the boldest of my bold predictions. Not only does he have to face Kelvin Benjamin, a tall, fast, and talented young receiver. But he is also questionable for the game.
Obviously, if I had to guess, I'd say he plays. I don't think there's much concern for reinjury with a broken leg. If he can play through the pain, he will.
So the fourth of my bold predictions: Delvin Breaux returns to top form, doesn't allow a single reception.
Michael Thomas scores twice.
It's vindication time for #13.
After basically costing the Saints the game against the Broncos with two fumbles and a fumble-interception, Michael Thomas gets back on track for his monster year with two touchdowns.
It's no secret that Thomas has become a dangerous red-zone threat. More than a few times, Brees has checked out of goal line runs to throw to Thomas on a slant in single coverage. Brees and Payton are clearly comfortable with those matchups.
But after the 49ers game, I think it's also clear: Brees trusts Thomas going deep. That really opens up his route-tree. He'll always be most dangerous on curls and slants, as he's a threat after the catch. But the deep ball will open those plays up.
He's a star in the making, and today, he shines.
The fifth of my bold predictions: Michael Thomas, two TDs.
'Bold Predictions' final score: Saints 31, Panthers 21
I think there really is a chance for the Saints to open this one up. But, knowing them, it's going to be close for most of the night. Still, a few big plays to close out the game mean a convincing 10 point win. Who Dat!
This article originally appeared on