New Orleans Saints: Dean Mullen's 2017 Mock Draft 1.0
Dean Mullen/FanSided via Who Dat Dish

Fansided
This 2017 NFL Draft will be the most important in Sean Payton's tenure. Above all, this one could be the one to get the Saints moving in the right direction.
Delving into the past 11 drafts since 2006, there is some trends that have been evident. In the first three rounds, there have been 10 defensive backs taken. Second to that, defensive lineman have been picked six times. Breaking that down, nearly 50% of the picks of the 33 in total, have been one or the other. In 2017, there's a good chance once again that both positions will go again in the top three.
Of course every year is different. This year, there will be more pressure to get this one right. Another losing season could bring Who Dat Nation to start to doubt both Loomis and Payton. Regardless, Who Dat Nation is gonna be eager for the next three months. Of course, this draft will assume the Saints will pick in each round. So starting the first pick…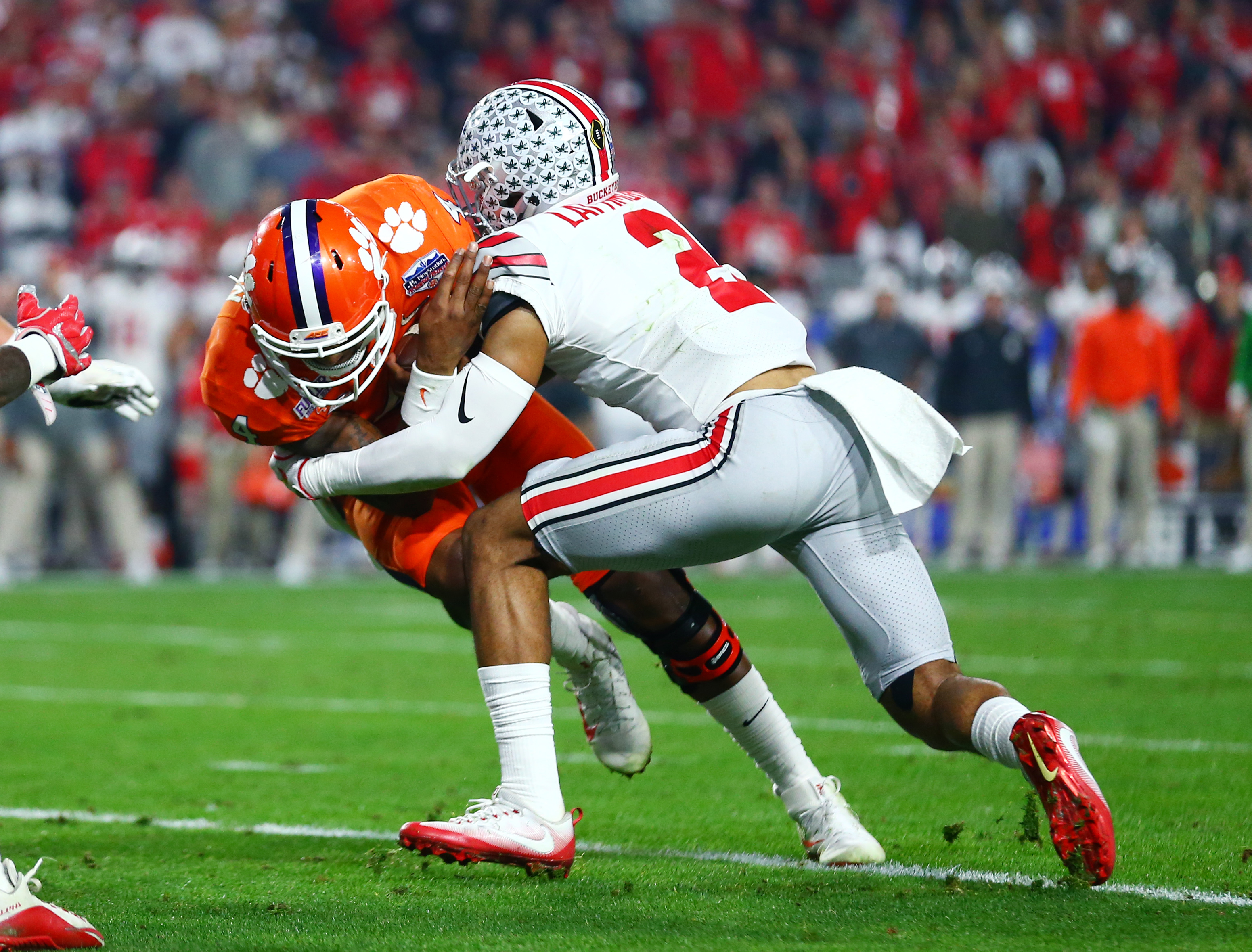 Height: 6'0″
Weight: 192 lbs.
Projected 40-yard dash: 4.50
Projected Round: Top 20
Hail Buckeyes! The Saints add another player from The Ohio State University. Lattimore will join WR Michael Thomas and S Vonn Bell from last year's draft. Both those picks seem more than worthy. Lattimore will bring some more of that Buckeye magic to the Black and Gold. Lattimore is a third year redshirt sophomore, and he had four interceptions last year.
Mel Kiper had this to say about Lattimore:
When you look at Lattimore, every time you watched him you saw a guy that could be a shutdown corner. He was able to elevate his game and a player that really jumped out at you as a player. The one guy that I think has a chance to be one of the top three corners in the league is Lattimore.
Kiper has Lattimore going very early to the Jets. Hopefully, the Saints will get a crack at taking Lattimore. Additionally, Lattmore could be a key piece lacking in the secondary in 2017. Especially, with all the injuries sustained the past year. Lattimore could come in and start playing right away.
Saints fans will definitely scoff at this pick. However, this running back from Texas is just too special to pass up if he's around. Just let this sink in for a moment. Foreman ran for 2,028 yards on 323 carries. Together with a 6.3 yard per carry, the Saints can't afford to pass on him.
Foreman is a bulldozer standing at 6-foot-1 and 249 lbs. He has decided to forego his Senior year and enter into the 2017 NFL Draft. Foreman is ranked #5 on the running back list at Sports Illustrated. He is also the first running back at Texas to run for 1,000 yards since Jamaal Charles in 2007. Forget that, he went for 2,000 plus yards.
In addition to his huge stature, Foreman also runs a 4.4 40-yard dash. Are you kidding me? This guy is scary. That's all I can say.
Finally, the Saints will pick an EDGE rusher in the NFL Draft. Who Dat Nation may wanna pray that Tanoh is still on the board. He is quickly rising up draft boards. There was a buzz at the Senior Bowl all week when everyone got to see this GIANT of a man.
He stands at 6-foot-7 and 280 lbs. His arms are like an octopus that resembles the Lochness Monster. The scouting community stood in awe as they looked on at the Senior Bowl's weigh-in. A player that is that big is not supposed to have only 4% body fat, but that's exactly what this guy has.
In spite of all the qualities, scouts will be quick to point out that he went to a small school in Villanova. To be honest, it wouldn't matter if they found this guy shopping for crawfish at the local Rouses. This mammoth behemoth will be a star in the NFL. Let him loose. The man runs a 4.74 40-yard dash too. And get this. He has a degree in finance and accounting. Draft him!
Some of these highlights were against Michigan.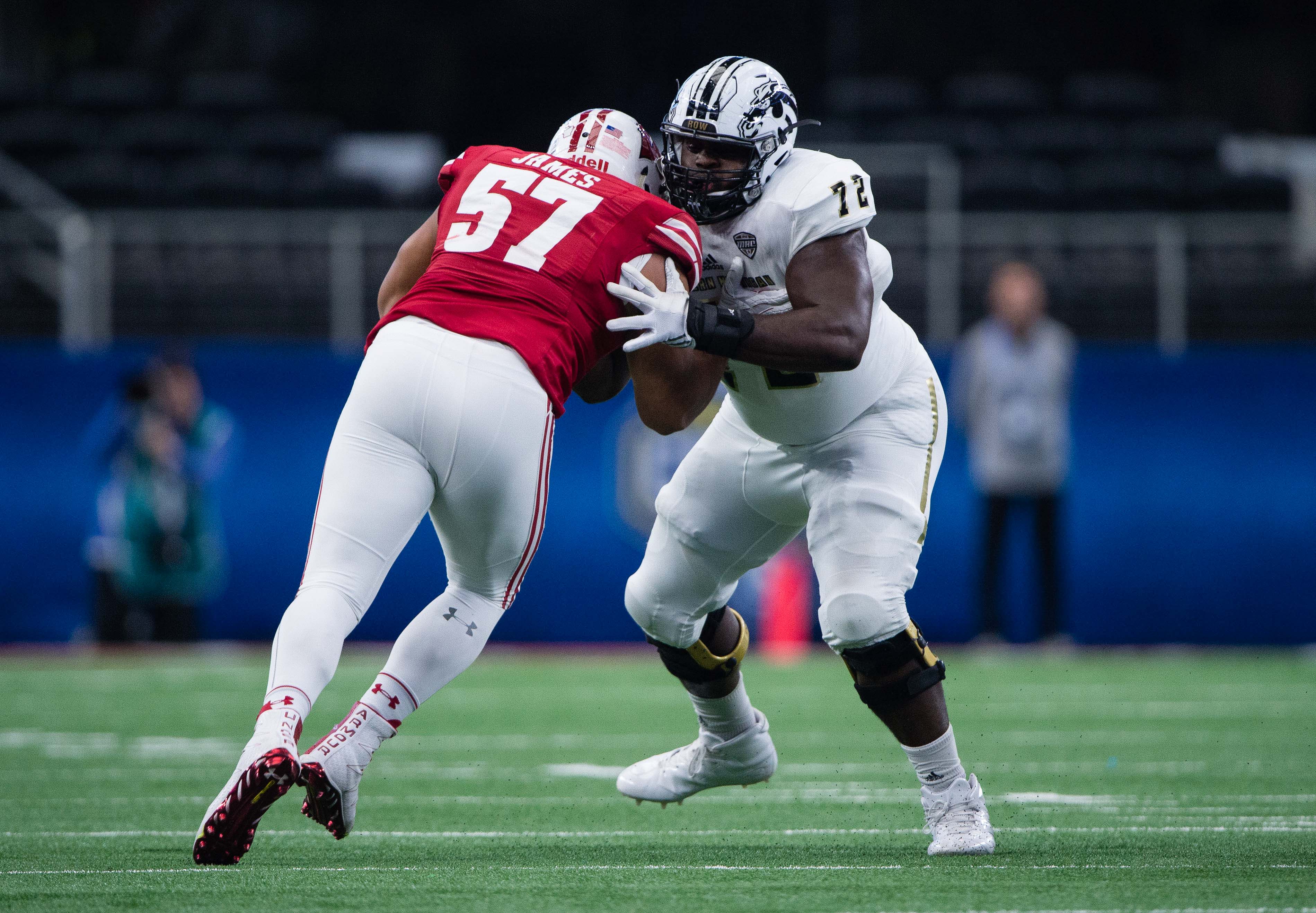 The Saints will go offensive lineman here, and Taylor Moton would be a nice addition to the line. Moton stands at 6-foot-5 and 328 lbs. First of all, remember that Western Michigan completed an 11-0 season and went to the Cotton Bowl. People may forget. The guy can squat 570 pounds and can bench press 400 lbs. with no problem.
"He's got tremendous power. He's tremendously strong." -Western Michigan offensive line coach
Moton also had this to say about going up against Ohio St. last season
"I haven't seen defensive lineman like Ohio St. last year. It's one of the best defensive lines you'll ever play. It did a lot for my confidence."
Moton hasn't exactly been a blue chip recruit coming out of high school either. In 2012, he was ranked 178th for offensive tackles. Now though, he has helped Western Michigan to become the 13th ranked rushing offense in the country. In fact, Moton is now ranked #6 at the offensive tackle position in the draft. Furthermore, he also said he would play guard if an NFL team needs him to.
The Saints will no doubt be looking to bring someone in to push for the starting job. Moton may be the guy.
Could the Saints end the streak of not picking an LSU player? The last last time the Black and Gold picked someone from LSU was seven years ago in DT Al Woods. Duke Riley would be a great player to bring in to end that mark. Riley stands at 6-foot-1 and weighs around 230 lbs. He's projected to go somewhere between the 4th-6th round by Walterfootball.com. Riley had 93 tackles with 1.5 sacks included.
Riley also made seven tackles in the game and looked impressive in the win against the North team 16-15. Riley also was also 6th in tackles in the SEC per game at 7.8. Moreover, He also was a big part in shutting down Louisville in the Citrus Bowl against Louisville.
He had eight tackles and a fumble recovery in the 29-9 win over the Cardinals. Riley's motor was constantly running at the Senior Bowl practices as well. The Saints would love to have a young guy come in and bring some much needed energy in the middle.
Now is the time for really sharpening the pencils and zooming in on some hidden talent. The 6th and 7th and rounds have provided some great NFL talent. Nevertheless, this is the time that separates the talented eye vs. the blind one. Cornerback Ezra Robinson will surely battle the odds to make an NFL roster. He's ranked 27th at the cornerback position. Plenty of guys will get drafted before him. However, it doesn't matter where you start. The only thing that matters is making the most of your opportunities.
Standing at 5-foot-11 and 185 lbs. will put a chip on his shoulder for sure. Surely, there's stats to support the pick. Robinson had five interceptions with two going all the way for a touchdown. Robinson will have to shine in camp. In the same fashion, the NFL Combine may be another way to get his name out there.
Other players will have the brand and a huge university to push the high profile name with the logo on it. Robinson will simply have to demand notice. The only way to earn respect is to make plays when it counts. He actually received a scholarship from Michigan State at first but then decided to head to Tennessee St. to see more playing time. Time will tell.
Finally, the Saints will draft a quarterback. The reason that I believe the Saints will wait till the 7th round is because they are not in a rush. The Saints are going to likely keep Drew Brees for another couple of years. Now, whether Drew Brees decides to stay is another story.
Regardless, the plan will be to bring in someone that's willing to sit for a couple of years patiently. The Colorado Buffaloes brought a team in 2016 that was relevant for once. A big part of that was quarterback Sefo Liufau. Liufau is the toughest guy out of all the quarterbacks. He's played hurt before, and he'll put his life on the line to play.
Liufau will need to work more on his pocket passer as he's been a dual threat in college. Last year he ran 165 times for 494 yards. No doubt, that his running ability is off the charts. However, if he wants to have a long career in the NFL, the running will have to curtail. What better player to learn from than Drew Brees. The Saints won't lose much if this long shot plan doesn't work.
This article originally appeared on