New Orleans Saints' Brees and Strief call out NFL Commissioner Roger Goodell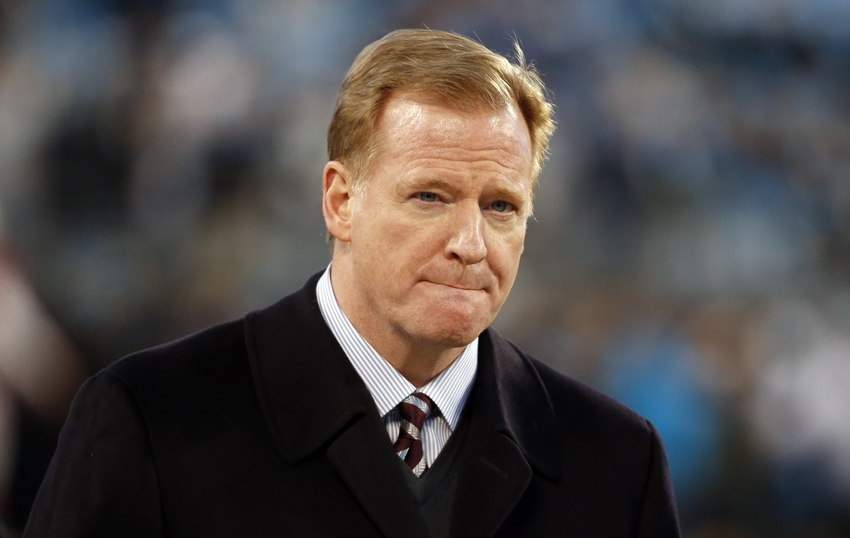 There are players in the NFL, Richard Sherman and Odell Beckham, Jr. to name a couple, from whom you expect outspoken criticism of the NFL's leadership. Drew Brees and Zach Strief? Not so much. Yet on Tuesday, November 8 an article landed on ESPN.com from New Orleans Saints beat writer Mike Triplett with some comments from Brees and Strief regarding NFL Commissioner Roger Goodell that demonstrate the dire state in which the NFL is finding itself under his leadership.
From the Saints' own Bountygate scandal to Tom Brady and Deflategate and from the domestic abuse cases of former Baltimore Raven Ray Rice and former New York Giants kicker Josh Brown, accusations of overofficiating, blown calls, the league becoming know as the "No Fun League", Goodell's leadership is being called into question.
The article is a must read and can be found here.
Some quotes from the article from Saints quarterback Drew Brees:
"I know the players don't have any faith in the way that things are conducted within the front office in the NFL — certainly when it comes to any type of investigation, when it comes to any type of commissioner discipline," Brees said. "It's really kind of a joke at this point, unfortunately. And it shouldn't be like that."
Brees went on to say:
"I think it's just been a culmination of a lot of things over the last three years that unfortunately might have just turned people off or caused them to be less engaged. And unfortunately we've never felt that feeling reciprocated from their end. In fact it's very much been a, 'We're gonna do things behind closed doors. And you just kind of believe what we tell you.' And unfortunately that's jumped up and bit us, and I named all those cases … where you certainly can't trust anything that's coming out of the league office at this point.
Those are some very bold statements and will certainly cause some ripples in the league going forward. The NFL's owners will let a lot of things slide but, with declining TV viewership directly affecting their pocketbooks, Goodell may be nearing the end of his tenure as commissioner.
Saints right tackle Zach Strief, currently the team's player representative, added:
"The NFL front office has seemed to have found a way to make everything somewhat contentious. It feels like there's this constant assault on the players, like we're two entities. It's like they don't think they need us to do this. And I think over time, as it's constantly in the media and it's constantly a public issue, I think the fans start to feel a similar way. It's just a constant contentious issue. When you take Brady and say it affected Tom Brady and it affected the New England Patriots, well the fans feel like they're a part of that. It does affect them and it does affect their team and it does affect how you feel about the league, and it does turn you off. At the end of the day, the relationship between the front office and the people who are not in the front office has probably never been worse."
Certainly there's a cloud over Roger Goodell's time as NFL Commissioner. There seem to be more penalties being called than ever, players aren't allowed to celebrate scoring, no one is sure what a catch is anymore.
With the current hopes that the NFL can spread to Europe and other markets in the future, it would greatly benefit Goodell and the NFL ownership to watch some European soccer games and see what the fans overseas expect. The top soccer leagues in the world in Germany (Bundesliga), France (Ligue 1), Italy (Serie A), England (Premier League) and Spain (La Liga) feature a game that is fluid, exciting and one in which celebrations are big, as they should be.
To sell a game to Europeans featuring frequent stops for penalties, intrusive TV commercials and tamed down celebrations is a fool's errand. Expansion, hard enough as it is, under the guidance of Goodell may be too high a hill to climb. If Americans are losing interest how can it be expected that the rest of the world will be any different?
The NFL ownership is surely taking notice. If Goodell stays on as commissioner in 2017 it will certainly be under some new mandates to fix the damage done to this point. But it would be surprising to no one if the group decided to move on with another choice who can revive what was once seen as a product which would continue its dominance for the foreseeable future.
The chinks in the armor of the NFL as exposed by current TV ratings declines may be attributable to things out of Goodell's control, the election, millennials' focus on other forms of media, etc. But, ultimately, the buck stops at the desk of Roger Goodell. And with calm and respected voices like Brees and Strief questioning his leadership, the writing would seem to be on the wall for the end of his regime.
More from Who Dat Dish
This article originally appeared on