New England Patriots: Who is the favorite target of Tom Brady in 2016?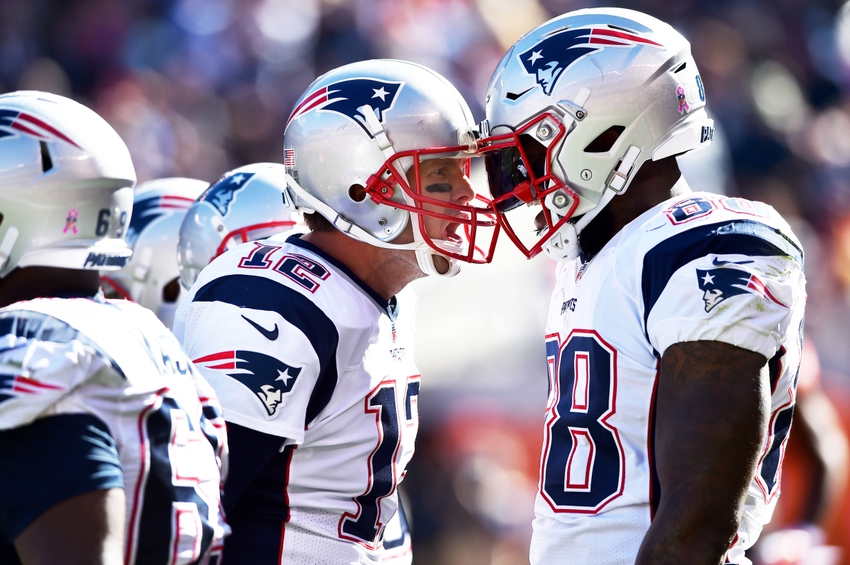 The New England Patriots have Tom Brady back under center and we couldn't be happier. Neither could the following five players.
After throwing for 406 yards and three touchdowns in Week 5, Tom Brady is clearly enjoying his receiving corps. But who is his favorite target?
The case for Julian Edelman
This is probably the safest choice, as Edelman has literally declared his love for Brady. It was Edelman who Brady his on his first pass attempt of the 2016 season for a first down.
Through the first five games, Edelman has caught 24 of his 37 targets for 231 yards. He has yet to reach the end zone (something which is surely bugging No. 11), but Edelman ranks second on the team with 12 first downs.
At age 30, Edelman has been in the league for some time now. In his eighth season with the Patriots, he has been teammates with Brady longer than any other player on this list, which certainly counts for something.
The case for Rob Gronkowski
That the Patriots waited to unload Gronkowski for real until Brady returned from his suspension indicates just how much the Patriots value the Brady-Gronk connection.
We finally saw Gronkowski explode this season in Week 5 when he caught Brady's second pass attempt of the season. After the Browns game, Gronk's stat line for the season reads six catches on 10 targets for 120 yards. Five of those six catches have translated into first downs.
The most dynamic receiving threat in the game, Gronkowski is as long as he his bulky and as speedy as he is powerful. There is no one bad part about Gronkowski's game, except that maybe he is a bit too injury-prone for his own good (a byproduct of his physical style of play, of course).
Gronk just may be Brady's favorite target because if he's matched up one-on-one with virtually anybody, Brady is going to lick his chops.
The case for Martellus Bennett
Bennett could very well be Brady's favorite target in 2016 because he has simply been the best pass catcher on this Patriots roster.
Bennett leads Patriots receivers in the following categories: yards (314), touchdowns (four), 20-yard gains (five) and first downs (13). Bennett also boasts a yards per catch average of 15 as well as 189 total yards after the catch.
What makes Bennett so appealing to Brady is the simple fact that when he's on the field with Gronk, Bennett is almost always going to draw single coverage. And here's the kicker: Bennett is just a hair less good than Gronk in almost every category. In other words, Bennett in single coverage is more desirable to Brady than Gronk in a crowd.
Furthermore, Bennett is fully invested in the Patriots' way of doing things. The wily veteran is loving it in New England, and Brady loves that.
The case for James White
Unlike Jimmy Garoppolo and Jacoby Brissett, Brady knows how to use his pass catching backs. That much was clear in Week 5 when White ripped off several big gains after snagging short passes from Brady.
Through five games, White boasts 17 receptions, 165 yards and seven first downs. 134 of those 165 yards have come after the catch, which isn't too surprising considering where White normally receives passes on the field.
In many ways, this is a dream scenario for White. He is almost the forgotten man in the Patriots' passing game, as opposing defenses are much more preoccupied with Edelman, Gronk and Bennett than they are with the undersized Dion Lewis clone.
Brady loves using those running backs out of the backfield, especially when the pass rush gets in his face. The case for White as Brady's favorite target may not hold much water in comparison to Edelman, Gronk and Bennett, but it's worth remembering the value of White nonetheless.
The case for Chris Hogan
Last but not least, we have Hogan, the offseason acquisition who has flourished in New England thus far. From the start, we knew that Hogan would do well in 2016; his first catch was a touchdown against the Arizona Cardinals.
Thus far, Hogan has caught 12 of 20 targets for 236 yards and that touchdown. He ranks second only behind Bennett in yards and 20-yard gains (four); Hogan also ranks third on the team with eight first downs up to this point.
Remember what Brandon LaFell did for the Patriots in 2014? That is essentially the void Hogan is filling in the offense. He's not a scorching deep threat, but he finds his way down the field effectively. Hogan is a dependable possession receiver and a capable blocker, making him the perfect No. 2 wide receiver behind Edelman and the de facto No. 4 target behind Edelman, Gronk and Bennett.
Who do you think is Brady's favorite target out of this list?
This article originally appeared on