New England Patriots Week 3: 5 things to know about the Houston Texans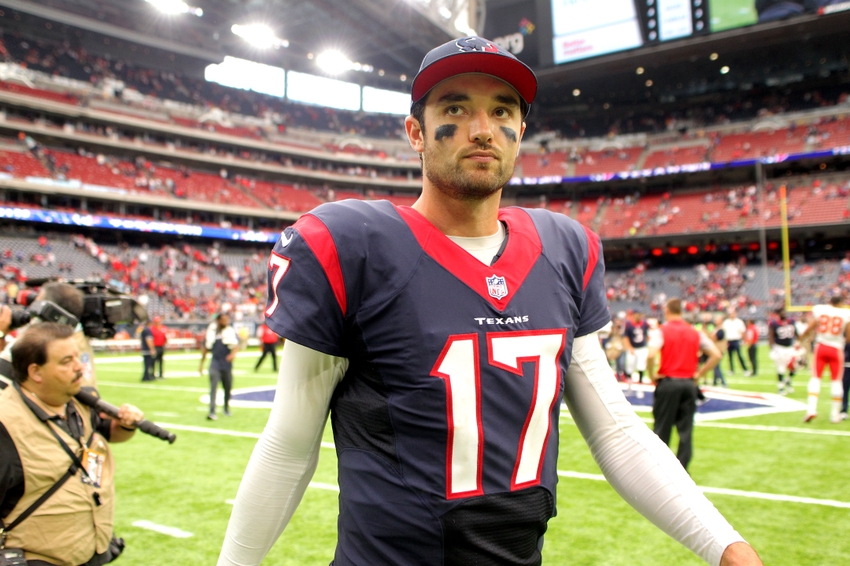 As we get set for Thursday night's game between the New England Patriots and Houston Texans, here are five things Patriots fans should know about Houston.
5. Rushing defense is suspect
Patriots fans should know that t
he Texans are allowing an average of 4.9 yards per carry to opposing running backs, the fourth-highest amount in the league.
In Week 1, Jeremy Langford was held in check to just 57 yards, but on Sunday, Chiefs running backs Charcandrick West and Spencer Ware combined for 118 yards on just 16 carries.
Yes, it is too early to say the Texans have a big problem stopping the run, but keep in mind that the Patriots will be pounding the ball all night with LeGarrette Blount to mask the shaky quarterback situation and to slow the lethal Houston pass rush. Blount currently is fourth in the NFL with 193 rushing yards.
It is good for the typical Patriots fan to be aware that the Texans can be exploited by running the ball, or at least that is one possible way to strategize against the current leaders of the AFC South.
4. Brock Osweiler is throwing interceptions
Only Jameis Winston has thrown more interceptions than Osweiler so far this season. The former Denver Broncos quarterback tossed a pick in Week 1 and then two interceptions in Week 2.
To put it in perspective, Osweiler has already thrown half as many interceptions as he did in all of last season. It becomes a little bit tougher to play quarterback once you get outside of Denver.
Not counting Duron Harmon's gift-wrapped interception in the end zone to close out Week 2, the Pats have had only one real interception through two games, and that was the Jamie Collins' theft of Ryan Tannehill on Sunday. This writer is looking for a member of the Patriots' cornerback group, be it Malcolm Butler or Logan Ryan or Justin Coleman or Cyrus Jones, to come up with a big play in Week 3.
3. Lamar Miller is almost exclusively taking handoffs
As evidenced by his 53 rushing attempts through two games, Miller is receiving the lion's share of the backfield work in Houston right now. In fact, only DeAngelo Williams has taken more handoffs than Miller. At least Miller is making the most of that workload, having converted those 53 attempts into 189 yards, good for fifth in the league (but still behind Blount).
What is also interesting to note is the fact that the Texans have only given the ball off to a non-quarterback not named Miller a total of 10 times. Essentially, no one else on the Texans' roster, except for the occasional Alfred Blue appearance, takes carries away from Miller.
From a Patriots' perspective, stopping Miller is the first step toward stopping the Texans. Without Miller, the Texans' offense will stall.
2. Will Fuller is stretching the field
Averaging a whopping 23.4 yards per catch through two games is the rookie Fuller, whose nine catches rank second on the team and 211 yards first. Furthermore, those 211 yards rank fourth in the league among all pass catchers. Fuller also reached the end zone for the first time in his career on Sunday.
With Fuller presenting a substantial deep threat for the Patriots to cover, we may see safety Devin McCourty shade a bit more toward Malcolm Butler's side on Thursday night. It is expected that Logan Ryan will resume his battle with DeAndre Hopkins, a guy Ryan was able to keep in check last year. Butler will most likely be tasked with handling Fuller in single coverage.
The Patriots need to make sure than Fuller doesn't continue to build an Offensive Rookie of the Year candidacy in Week 3.
1. Texans have notched league-leading nine sacks through two games
Without a doubt, this is the most important thing to know about the Texans. They have done a better job getting to the quarterback than any of the other 31 teams in the league so far this season.
The distribution of the nine Texans sacks are as follows: John Simon with 2.5, Whitney Mercilus with two, J.J. Watt with 1.5 and Benardrick McKinney, Jadaveon Clowney and A.J. Bouye all with one quarterback takedown.
It will be paramount that tackles Nate Solder and Marcus Cannon keep the Texans' edge rushers from completely taking over this game, or else it will be some pretty tough sledding for Jacoby Brissett. Also central to this effort is the ground game; Blount needs to get going early and often so that Watt, Mercilus and company can't tee-up on the offensive line.
Stay tuned all week here on Musket Fire leading up to Thursday night's game for fresh points of analysis and previewing of the AFC power matchup.
This article originally appeared on