New England Patriots vs Atlanta Falcons: 5 Matchups to Watch in Super Bowl 51
Hal Bent/FanSided via Musket Fire

Fansided
The New England Patriots will be playing the Atlanta Falcons in Super Bowl 51. Here are five matchups to watch for the game.
The New England Patriots are in their second Super Bowl in three years after falling short last year in the AFC Championship game. While they face former Seattle Seahawks defensive coordinator Dan Quinn again in the big game, this time his defense is lacking the star power of those Seattle Seahawks defenses of 2011.
The Falcons are in the Super Bowl on the strength of their offense. This season they piled up 540 points in the regular season, the best in the NFL (all stats from Pro-Football-Reference.com unless otherwise noted). The defense finished the regular season 27th in the NFL allowing 406 points in sixteen games.
Super Bowl 51 features the top scoring offense in the NFL against the top scoring defense of the New England Patriots. The Patriots allowed just 250 points all season and allowed more than 25 points just once all season. New England also finished third in points scored with 441 even playing without Tom Brady for the first four games of the season.
The Falcons are confident in their defense after shutting down the high-flying offenses of the Los Angeles Rams (23rd in the NFL in points scored), San Francisco 49ers (32nd–dead last), and Carolina Panthers (26th) in the second half of the season. They gave up 32 points to the Saints in Week 17.
Atlanta piled up 80 points on offense the past two weeks against Seattle and Green Bay. Topping 40 points against Green Bay was not surprising, but dropping 36 points on Seattle in the Divisional round made everyone take notice. The young defense of the Falcons was impressive playing at home and with the lead.
Now in a neutral site, the Falcons' offense has a tough matchup against the Patriots defense. Against top-ten defenses, Atlanta scored 23, 24, 15, and 28 points in the regular season. Their defense, which gave up more than 30 points six times this season, will play a top offense that will put up a bigger challenge than the decimated Green Bay offense and terrible Seattle offensive line.
The number one offense versus the number one defense. The third-ranked offense (second since week five when Brady returned) against the 27th-ranked defense. An intriguing Super Bowl awaits. Here are the top-five matchups for Super Bowl 51:
Eric Rowe, Malcolm Butler, and Logan Ryan vs Julio Jones, Mohamed Sanu, and Taylor Gabriel
This is the most talked about match-up going into Super Bowl 51: How do the Patriots cover Julio Jones? Simply put, they are going to feature all three cornerbacks in coverage at some point or another–because that is what they do.
The expectation is that the best cornerback for New England–Malcolm Butler–will cover the best receiver for Atlanta–Jones. It does not seem like the move that the New England defense under Matt Patricia would normally do.
Butler covers the top receiver–but only when there is not a significant size difference. With a long-armed finesse receiver like Jones, the Patriots traditionally try a different tactic. Last year against Demaryius Thomas in Denver it was Logan Ryan playing aggressive man coverage with safety help (either Devin McCourty or Duron Harmon) over the top. Thomas had one catch on 14 targets that game.
In week six against the Bengals this season, A.J. Green was held in check with just six receptions for 88 yards. Butler covered him for only a handful of plays while Logan Ryan and Eric Rowe (in his first significant action with the Patriots) roughed up the long, finesse receiver at the line of scrimmage and played tight man coverage with McCourty over the top.
What is likely is when Atlanta has three receivers on the field Rowe–with his size and strength–will be on Jones with safety help, Butler will be on Logan Ryan's college teammate at Rutgers Mohamed Sanu, and Ryan will be in the slot using his size to try and lock down third-receiver Taylor Gabriel. With two receivers and a tight end, look for the man-coverage to have Ryan or Rowe on Jones and Butler again on Sanu with McCourty or Patrick Chung taking tight end Austin Hooper.
Despite the size matchups, the Patriots would be best served putting their best coverage cornerback on Julio Jones. That would be Malcolm Butler. Rowe and Ryan are adequate and have done well with safety help on a premier target, but they can matchup with Sanu and Gabriel and leave Butler and Pro Bowl safety McCourty to show why they are among the best at their position.
Either way Butler will get his share of coverage on Jones and New England is not going to play man-to-man coverage the entire game. The Patriots always incorporate zone looks during the game and Butler will find himself responsible for Jones during that those times as well. With 83 catches for a staggering 1,409 yards, Jones is the big match-up for the New England secondary in Super Bowl 51.
Jones averages 17 yards per reception and like against Pittsburgh in the AFC Championship game, the Patriots will key on him to take away the big plays. Sanu is more of a possession receiver like he was in Cincinnati. Gabriel, like most third wide receivers, sees only a few targets per game but is explosive and turn a short crossing route into a touchdown in a hurry.
This is a big test for the New England secondary. Fortunately, they match-up well with Rowe and Ryan being able to stay with Jones and use their aggressiveness and strength to get him off his route at the line of scrimmage. With Butler able to take away the second option, it should again force the opponent to find third or fourth options and increase the likelihood of drops, bad routes, and turnovers.
Malcolm Brown and Alan Branch vs Andy Levitre, Alex Mack and Chris Chester
Atlanta keys off their passing attack with a play-action passing concept similar to New England. Matt Ryan works best with his rushing attack creating space in the middle of the field and sucking down linebackers to free up lanes for his receivers.
Atlanta has lead back Devonta Freeman and his 1,079 yards rushing and 4.8 yards per rush average leading the way. Behind him, Tevin Coleman has 520 yards on the ground and a 4.4 average. Excellent receivers as well, this pair of running backs is hard to stop when they get going.
New England brings their excellent run defense to Super Bowl 51 and that unit is keyed by Alan Branch and Malcom Brown in the middle. Controlling the run game while in the nickel package (be it the three safety look or three cornerback look) is vital to slowing the Atlanta passing attack. That was a key part of the Philadelphia Eagles' game plan on defense against Atlanta in Week 10 when the Falcons scored just 15 points.
New England has not faced an offense as strong as Atlanta's all season. However, they have only allowed a 300-yard passer in just three regular season games (and a lot of garbage yards against Pittsburgh last week in the AFC Championship game). Yes, there has been a lack of elite passers going against them, but they have played good quarterbacks.
Ben Roethlisberger, Joe Flacco, Russell Wilson, Andy Dalton, Ryan Tannehill, and Carson Palmer are hardly terrible quarterbacks but none is as good as Matt Ryan (2016 Matt Ryan, 2015 Matt Ryan not so much). Ryan has been excellent in 2016 (with a 29-point jump in quarterback rating) and will be the best quarterback New England's secondary faces this season.
Mack and Levitre are among the best in the NFL at their position. Mack was arguably the most valuable free agent signing as he has stabilized the interior offensive line and protected Ryan while making space in the running game. Levitre is paired with a Pro Bowl player next to him and upped his game.
Chester is a liability in the passing game and may see a lot of defensive end Trey Flowers in passing situations as the Patriots will try and match him up against the weakest link on the offensive line. Brown and Branch need to hold their own against Mack and Levitre but need to dominate when they get lined up against Chester.
A couple of big plays by Brown and Branch early against the run could set the tone and force Atlanta off their balanced attack. Making the offense one-dimensional removes the play-action threat and limits the Atlanta passing attack better than any other strategy. Expect Belichick to plan on stopping the run first and foremost with Branch and Brown shouldering much of the burden.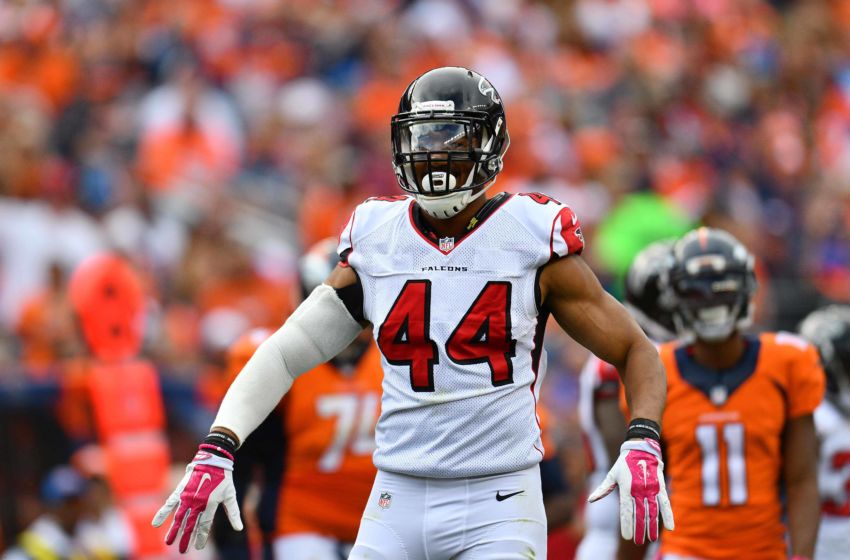 Marcus Cannon and Nate Solder vs Dwight Freeney and Vic Beasley
The big question for the Atlanta Falcons' defense is how they choose to attack quarterback Tom Brady. Brady, at age 39, appears more mobile than ever and has continued his unparalleled success. There still seems to be one tried and true method to slow the New England passing offense.
In 2007 and 2011 the New York Giants provided the groundwork on how to slow the Patriots: pressure with three or four pass rushers and flood the secondary with tight man coverage and additional defenders dropped to disrupt passing lanes. Of course, other than Baltimore in 2012 and 2013 and Denver last year (with Jason Wolfe and Von Miller playing out of their minds), few teams have the strong coverage secondary and ferocious interior pass rush to carry out the plan.
Atlanta is already missing their top interior pass rusher with defensive tackle/end Adrian Clayborn having injured his biceps and out for the playoffs. Amazingly, without Clayborn (and cornerback Desmond Trufant) healthy, the Falcons' defense has 15.5 sacks from edge rusher Vic Beasley and 11.5 sacks from the rest of the defense.
Beasley is a talented edge-rusher but he is not often used as a mobile piece in the defense. In fact, he spends an inordinate time on the sidelines when teams are not in an obvious passing look or in an obvious passing down. With their formations and hurry-up offense, the Patriots could easily keep Beasley on the sidelines or run the ball at him non-stop.
The Falcons combatted their lack of pass rush (Beasley feasted on weak offensive lines and was invisible against good teams with all his sacks in nine games and being shutout seven times) with a blitz-happy attack designed to keep Russell Wilson and Aaron Rodgers from extending the pocket and giving their receivers time to get open downfield.
Tom Brady is at the point of his career where blitzing him is suicide for a defense. Wilson and Rodgers were blitzed to make them get rid of the ball quickly–Brady wants to get rid of the ball quickly: the New England offense is a matchup nightmare for the Falcons' defensive style.
The only chance the Falcons have on defense is to have the secondary smother the receivers and get intense pressure from the pass rush. The two best pass rushers are past-his-prime Dwight Freeney and Beasley.
Freeney had just three sacks in 2016 and going against Nate Solder is a tough matchup for him where his edge speed has been negated by age. Solder has been a rock in 2016 holding up in pass rush and devastating as a run blocker. Freeney (and Brooks Reed) will have his work cut out for him against Solder.
On the other side, Marcus Cannon has been one of the best right tackles in the league after a broken toe robbed him of his mobility last season. After being a turnstile against Von Miller in the 2015 AFC Championship game, two weeks ago he he was a stonewall in shutting out Pittsburgh's Bud Dupree in the 2016 AFC Championship game.
Beasley has struggled against big and athletic tackles and Cannon is the prototype. Cannon is massive and with Dante Scarnecchia coaching him up has learned to use his long arms to redirect edge rushers out of the play. Inside moves allow Cannon to use his excellent footwork to get his huge body in position to simply overpower edge rushers who are usually 100 pounds lighter.
Without inside pressure, Beasley and Freeney are the best hope for Atlanta to disrupt Brady. Otherwise, it could be a long game with Grady Jarrett (three sacks), Jonathan Babineaux (0 sacks) and Ra'Shede Hageman (two sacks) being counted on to collapse the pocket. If Atlanta has to start blitzing, New England will test the young secondary of the Falcons and likely succeed.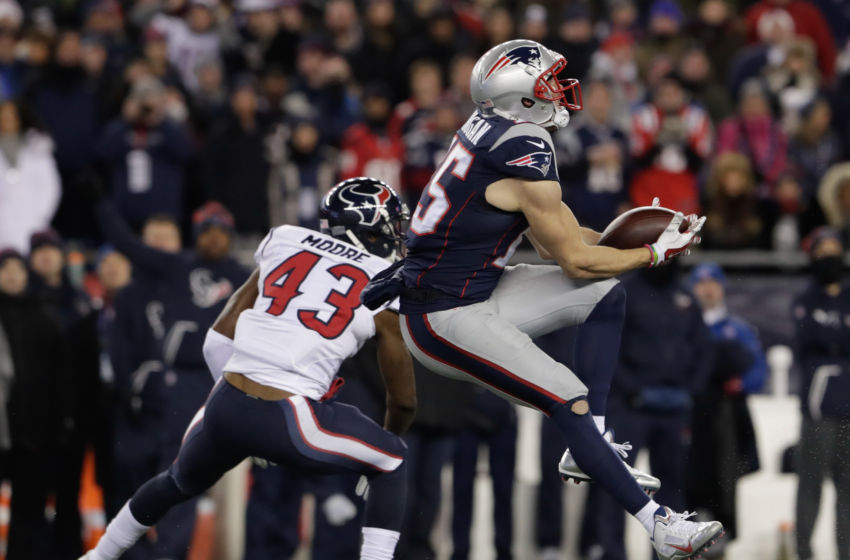 Julian Edelman, Malcolm Mitchell, and Chris Hogan vs Brian Poole, Robert Alford, and Jalen Collins
In the AFC Championship game there was a lot of talk by the national media of the Steelers having a young secondary and the advantage they would have with their speed against Tom Brady and the New England wide receivers. Instead, the young secondary was exposed as Brady went after Artie Burns, Ross Cockrell and veteran William Gay while manipulating safeties Malcolm Mitchell and Sean Davis like a marionette.
All that speed was useless when New England used formations and routes to create free releases for their pass catchers. Without the pass rush to force Brady off his spot, New England found open wide receivers with ease and carved up the Steelers' defense with ease.
The Falcons–like the Steelers–have a young, aggressive and fast defense. Unfortunately, they are also inexperienced and will have a serious on-the-field crash course on recognizing routes and formations with Tom Brady in the pocket looking to pick them apart.
The Falcons are missing their top cornerback with impressive young veteran Desmond Trufant on injured reserve. Trufant has all the skill to be a number one cornerback and his loss will be evident on Sunday. Robert Alford and nickel cornerback Brian Poole are undersized while young Jalen Collins has excellent size but lacks experience.
Alford and Poole will struggle if matched up with Chris Hogan or Malcolm Mitchell if New England can manipulate that matchup. Collins has the size to hang with Hogan and Mitchell but lacks the quickness to stay with Julian Edelman. Atlanta knows that the matchups they want and the Patriots will try to keep them from getting into those sets.
In the AFC Championship all attention was on Chris Hogan as he got ridiculously wide open multiple times and piled up 180 yards and two touchdowns on nine receptions. Credit offensive coordinator Josh McDaniels and quarterback Tom Brady for manipulating the Pittsburgh defense to get him in position to make these big plays.
Julian Edelman had the quietest 118-yard receiving game in a while as he did his usual yeoman's work picking up tough first downs and making big plays. He is basically uncoverable in this offense and if a defense works to get him out of rhythm and out of the offense the Patriots will adjust and use formations, rubs, and crossing routes to find a way to get him open.
The Houston secondary is the best the Patriots have seen his postseason. The Pittsburgh secondary was supposed to have been improved and their speed was supposed to negate Edelman, Hogan and the rest. Atlanta's secondary could desperately use Desmond Trufant but he is not able to play being on injured reserve.
This is a poor matchup for the Falcons' secondary as their young cornerback Brian Poole will have his hands full dealing with veterans Edelman and Danny Amendola in the slot. Collins and Alford are solid back-end of the rotation cornerbacks but will struggle against Hogan and Edelman. Whether it is Malcolm Mitchell or Michael Floyd, Atlanta needs to find a way to makes sure Collins in across from him.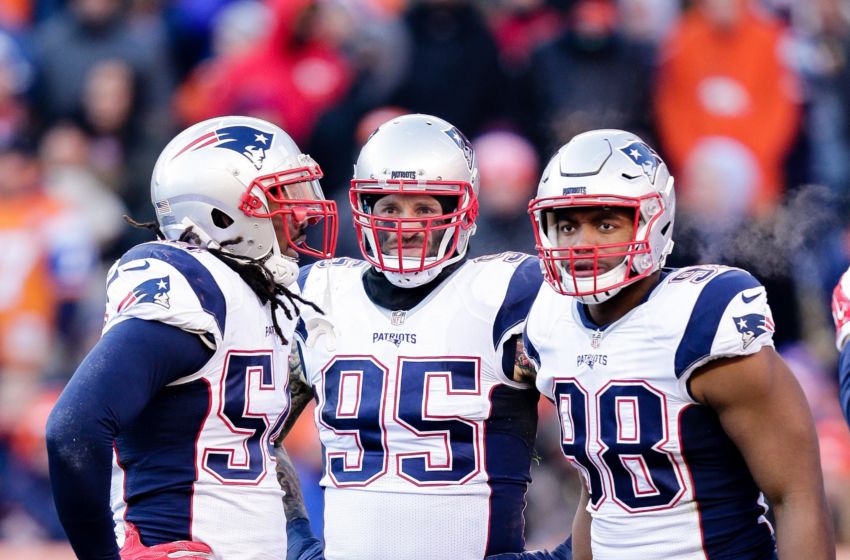 Jabaal Sheard, Chris Long, Trey Flowers, and Rob Ninkovich vs Jake Matthews and Ryan Schraeder
The Atlanta offense has improved significantly in 2016 as offensive coordinator Kyle Shanahan has maximized the talents of quarterback Matt Ryan and his supporting cast. A big part of the improvement has been the offensive line. A solid interior line is book-ended by tackles Jake Matthews on the left side and Ryan Schraeder on the right.
Ryan was actually sacked nine more times in 2016 than 2015 but the addition of Alex Mack at center has made the offensive line better. Where Atlanta has struggled is with the tackles. Jake Matthews is still inconsistent and struggles with speed rushers. He will have to face a plethora of pass rushers as New England rotates through Jabaal Sheard, Chris Long, Trey Flowers and Rob Ninkovich.
The New England quartet of outside pass rushers combined for 20 sacks in 2016 as the rotation has kept the group fresh and allowed a strong pass rush to emerge late in games. Flowers has often kicked inside on passing downs but is an excellent technician with strong pass rush skills and strength on the edge against the run.
Long has a strong motor and the limited snaps have made him a force when the team has a lead and has allowed the defense to keep from giving up too many cheap garbage-time touchdowns. Jabaal Sheard has had an up-and-down season including being benched for a game, but he still has had his share of pressures and sacks. With the steady veteran Rob Ninkovich, the New England pass rush will eventually get to the quarterback.
If New England can get just a bit of pressure on Matt Ryan, they can throw the Atlanta offense out of rhythm. With New England seeming to have a favorable matchup on the offensive side of the ball, they may not need a perfect game on the defensive side. A few timely pressures could do just enough to deliver a fifth Super Bowl title to Foxboro.
This article originally appeared on